New Cubs already a hit with fans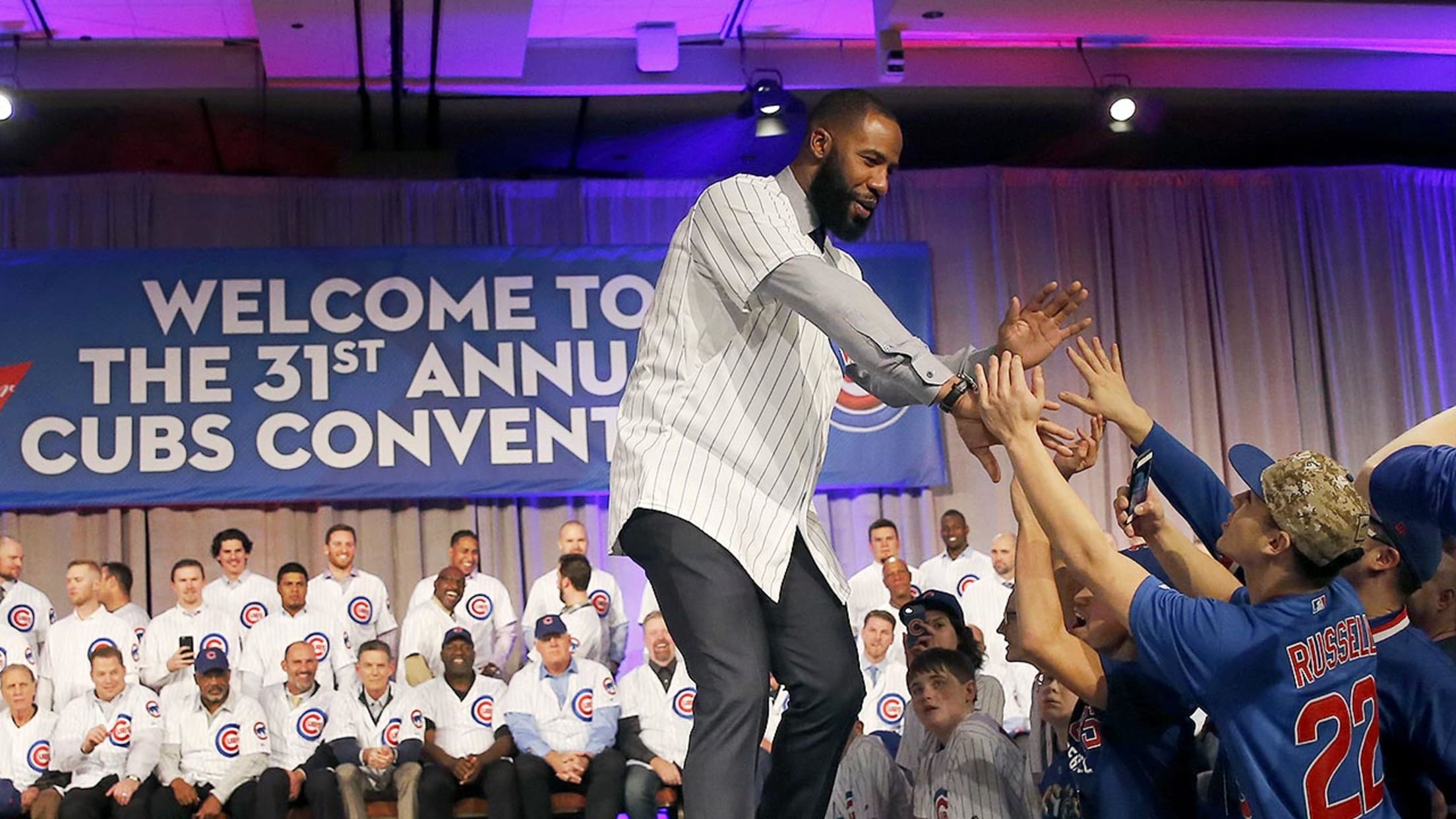 One fan apologized for booing Jason Heyward during his time with the Cardinals. (Cubs)
CHICAGO -- Jason Heyward and Ben Zobrist admitted they would like to have heard legendary broadcaster Harry Caray announce their names. John Lackey admitted he likes playing day games so he can have dinner with his family. Rex Brothers said he needed to study Wrigley Field's quirky conditions some more.And
CHICAGO -- Jason Heyward and Ben Zobrist admitted they would like to have heard legendary broadcaster Harry Caray announce their names. John Lackey admitted he likes playing day games so he can have dinner with his family. Rex Brothers said he needed to study Wrigley Field's quirky conditions some more.
And all of the new Cubs said they came to Chicago to help the team win a World Series.
Heyward, Zobrist, Lackey, Brothers and Adam Warren took part in a seminar titled "Meet the New Cubs" at the Cubs Convention, which gave fans a chance not only to ask questions but also apologize.
One fan admitted to yelling at Heyward from the Wrigley Field bleachers during a game and said he was sorry. Heyward smiled, and said it was all good. Another fan asked Lackey and Heyward how they felt about leaving the Cardinals and now being with the "real best fans in baseball."
"We chose you," Heyward said, trying not to add any more fuel to the Cubs vs. Cardinals rivalry.
Another woman drew applause by saying, "Welcome to our family."
Heyward, Lackey and Zobrist signed with the Cubs as free agents, while Brothers and Warren were acquired in trades. Brothers came over from the Rockies in a deal for Minor League lefty Wander Cabrera, and Warren was acquired in the Starlin Castro trade. None of the new Cubs said they had ever been part of a fanfest like the Cubs Convention.
Zobrist was popular with Cubs fans from downstate Illinois since he grew up in Eureka and still has family there. He recalled the first time he saw Wrigley Field during an Interleague game between the Cubs and Rays.
"I said, 'This is the way baseball is supposed to be,'" Zobrist said. "I'm so excited to try to win a championship here."
There was good camaraderie among the new guys already. Lackey and Zobrist were asked how it felt to play in a World Series, and Heyward, who has yet to do so, quipped, "I'll just listen."
.@JasonHeyward says hey. #CubsCon pic.twitter.com/1leiv1rX5n

— Chicago Cubs (@Cubs) January 16, 2016
Heyward also wanted to know how Zobrist got his nickname, "Zorilla." Cubs manager Joe Maddon gave the super utility player the moniker when they were together in Tampa Bay. However, Zobrist also discovered it's the name of an African skunk.
Heyward, Lackey and Zobrist turned down more lucrative deals to sign with the Cubs. Why?
"Money is a good thing," Heyward said. "Money is stability, money takes care of your family.
"I didn't want any regrets. If I didn't chose Chicago at that time when I had a choice, I would always wonder 'what if.'"