Castellanos in limbo as Spring Training looms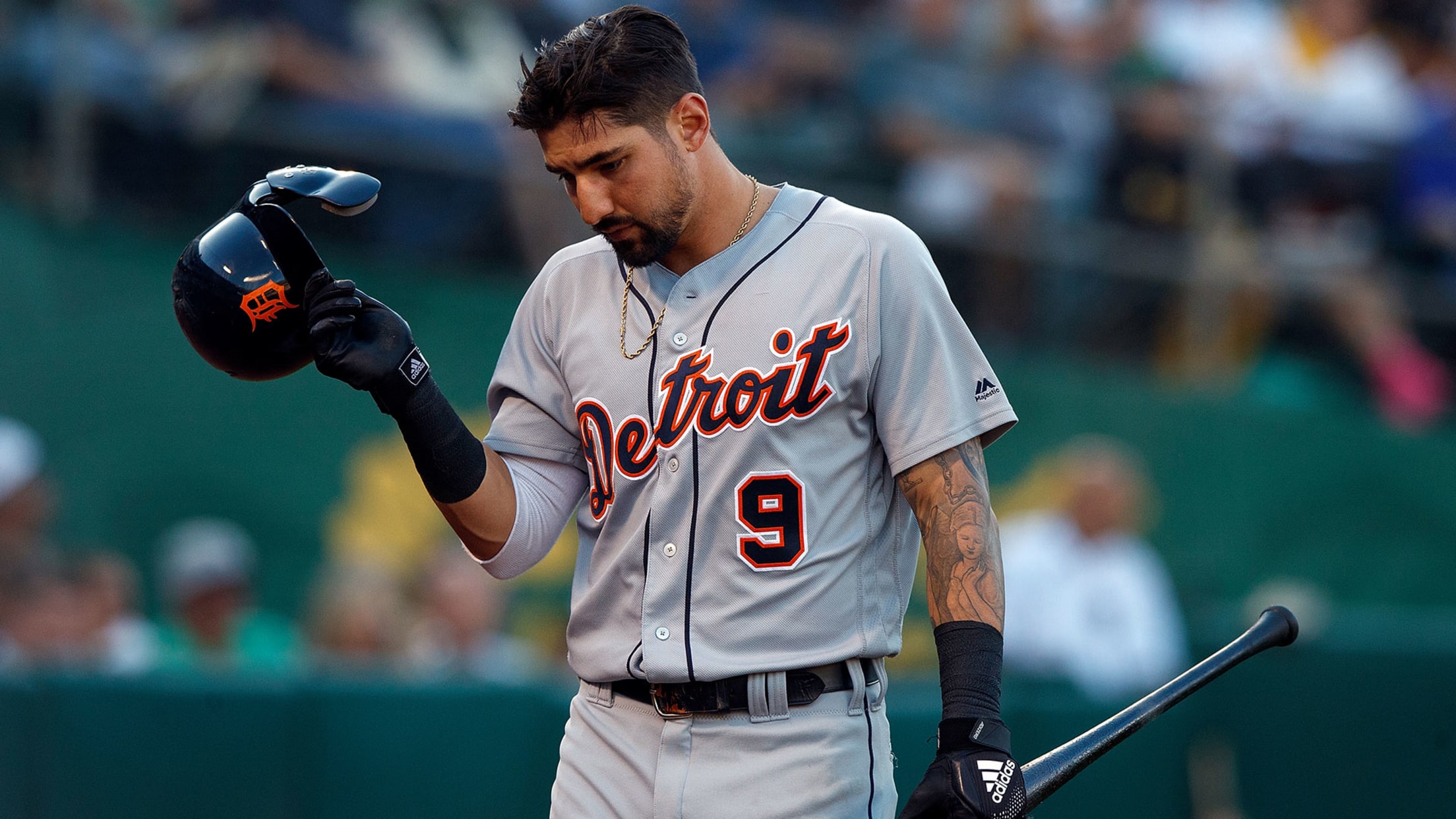 DETROIT -- Tigers fans have spent much of the offseason bracing for the day when they won't see Nicholas Castellanos wearing the Old English D. That time isn't here yet, though Castellanos was not among the players at TigerFest on Saturday.It wasn't the result of any pending roster move, nor
DETROIT -- Tigers fans have spent much of the offseason bracing for the day when they won't see Nicholas Castellanos wearing the Old English D. That time isn't here yet, though Castellanos was not among the players at TigerFest on Saturday.
It wasn't the result of any pending roster move, nor was it any reaction on Castellanos' part to trade speculation.
"He called and gave us plenty of notice that he had a family commitment," general manager Al Avila explained.
The absence of his outgoing personality was felt, even for just a few days of TigerFest and the preceding Winter Caravan. The void that a trade or free agency will leave is bigger. But that isn't expected anytime soon.
At this point, Castellanos is a Tiger in limbo, still a key part of a young, rebuilding club, but not expected to be a long-term piece. With no trade talks ongoing, Avila is planning on Castellanos as a Tiger when Spring Training begins next month, and likely when the regular season opens six weeks later.
"I know Nick, and Nick has been working out like a horse, like he does every year," Avila said. "He'll come in great shape, and he'll come in and compete, and obviously he'll be one of our better hitters in the lineup, and I expect him to have a great season."
Avila's remarks followed quotes from Castellanos' agent, David Meter, who told the Detroit Free Press that his client would prefer any trade be completed by Spring Training so he can make his transition before the season.
"He felt like he needed to express that publicly. That's fine," Avila said. "We've talked about it. I don't think it's something that is out of the ordinary, but it's something that can't be forced. It has no effect on the team or his performance coming up or anything like that. He'll be in Lakeland for Spring Training and he'll be ready to go."
The market for Castellanos has been tepid all offseason. While teams have inquired, nothing has progressed past the exploratory stage. The Tigers continue to set a high price for Castellanos, according to an industry source.
Castellanos was the fulcrum of the Tigers' offense last year, with the best offensive season of his career. The 26-year-old batted .298 with 46 doubles, 23 home runs, 89 RBIs and a career-best .854 OPS. He ranked ninth among American League players in Win Probability Added, despite playing on a 64-win team.
With the bulk of the Tigers' contending roster already dismantled, Castellanos is one of the few chances left for Avila to trade an established player for quality prospects who can accelerate the team's rebuilding effort, which is why the price remains high. On the flip side, Castellanos is eligible for free agency next winter, and his defense remains a concern for clubs, some of whom see him as a better long-term fit at first base or DH. And with potential suitors making free-agent signings -- the Braves bringing back Nick Markakis for a year, the Dodgers signing A.J. Pollock -- the market isn't improving.
This is the conundrum in which Avila and Castellanos are stuck, for now. Tigers manager Ron Gardenhire, for one, isn't complaining if Castellanos stays in Detroit a while longer.
"He is my right fielder, no doubt about that," Gardenhire said Saturday. "The big boys haven't signed yet. There's still free agents out there. Once those two giants [Bryce Harper and Manny Machado] sign, then I think there's going to be a flurry of things going on, and then you see what happens. Until then, we don't know. Once they sign, who knows? We'll see."