Bucs' rotation struggles continue with Kingham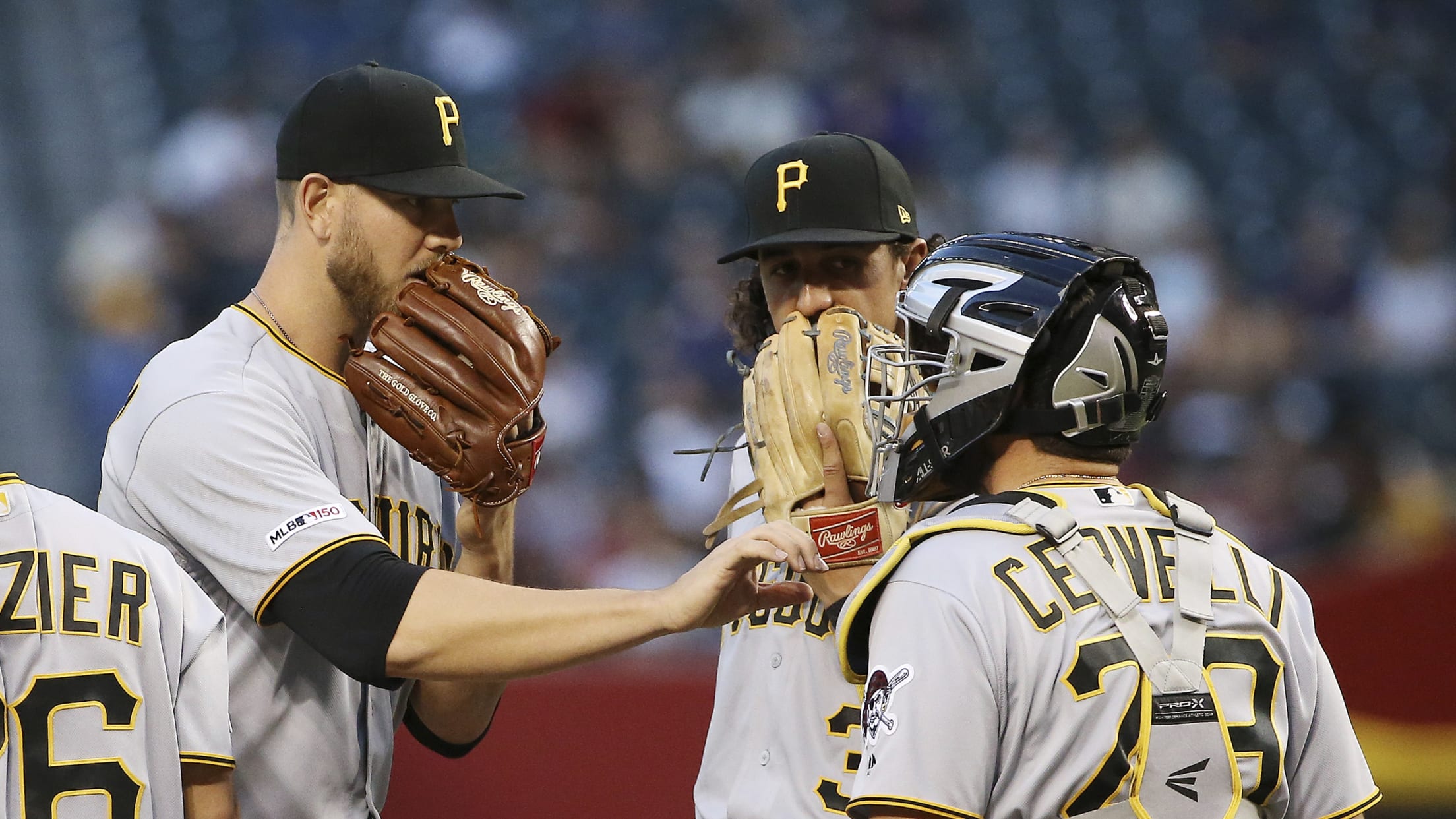 PHOENIX -- The Pirates built this year's team around their starting staff, believing that a five-deep rotation would allow them to be competitive in every game they play. That plan played out in April, when Pittsburgh led the National League with a 3.15 starters' ERA. May hasn't followed the same
PHOENIX -- The Pirates built this year's team around their starting staff, believing that a five-deep rotation would allow them to be competitive in every game they play. That plan played out in April, when Pittsburgh led the National League with a 3.15 starters' ERA. May hasn't followed the same script.
Right-hander Nick Kingham gave up seven runs on 10 hits over four innings in the Pirates' 9-3 loss to the D-backs on Monday night at Chase Field. His performance was similar to that of left-hander Steven Brault on Sunday, but unlike the series finale in St. Louis, the Bucs' lineup could not bail out Kingham as they fell to 0-5 against Arizona this season.
"I don't think he was ever really able to establish any one pitch," manager Clint Hurdle said of Kingham. "The overall execution wasn't there. Mistakes up and over the middle. … It was a short outing."
Kingham and Brault each moved out of the bullpen to make two starts over the last week because the Bucs are playing without starters Chris Archer (right thumb inflammation) and Jameson Taillon (right elbow flexor tendon strain). Archer will rejoin the rotation on Wednesday, but Taillon won't be back until July at the earliest. So the Pirates must find a way to fill one spot in their rotation for the foreseeable future.
Brault gave Pittsburgh a chance to win in his first start of the season, a four-inning outing in which he allowed two runs. Kingham followed suit with a nearly identical pitching line on Wednesday, but the Pirates' bullpen blew a late lead. Over the last two days, Brault and Kingham have combined to surrender 13 runs on 19 hits while forcing the bullpen to cover 9 1/3 innings.
With Taillon and Archer sidelined and Joe Musgrove struggling in his last two starts, Pirates starting pitchers have allowed 40 earned runs in 53 1/3 innings this month. Despite that, Pittsburgh is still 7-4 in May after Monday's defeat.
• Phoenix native Cole Tucker makes Chase Field debut
Lately, even the starters who are pitching well have struggled to get through the first inning. Kingham threw 36 pitches as he allowed two runs in the opening frame on Monday, the fifth time in the last six games that a Pirates starter has thrown at least 30 pitches in the first inning.
Kingham was hit hard in the second, when Eduardo Escobar launched a two-run triple off the top of the right-field wall and David Peralta smacked an RBI double off a diving Josh Bell's glove. He gave up another run in the third when Christian Walker doubled and scored on Alex Avila's single, then Escobar led off the fourth with a homer to right field.
Kingham threw 92 pitches on the night, and the D-backs only swung and missed on four of them. Getting the ball in the strike zone wasn't an issue, but getting it past Arizona's bats was another matter.
"I feel like everything they were swinging at, they were touching pretty good," Kingham said. "It's just one of those nights where it doesn't go my way."
And where do the Pirates go from here? It's unclear, but getting Archer back into the mix should help stabilize their staff. The Pirates also have an off-day on May 20 that they can use to reshuffle their rotation, if they want to do so.
"We'll take it one day at a time. I don't need to get in front of all that right now. We've already started the conversations," Hurdle said. "We're just looking for Joe's next outing tomorrow. This one's already over. We didn't get the distance we wanted out of our last two guys, but we won one of the games. Tonight, we got beat. We got barreled up and got beat. We'll get ready for tomorrow."
Injuries already forced the Pirates to dig into their bullpen depth. Half of the relievers who set up shop in the visitor's bullpen at Chase Field on Monday night weren't with the team on Opening Day. Right-hander Michael Feliz balked in a run in the fifth, and Walker homered to right-center off reliever Clay Holmes in the seventh. Right-hander Montana DuRapau, another recent call-up, was the only Pirates pitcher to take the mound without allowing a run.
The Pirates scored two runs in the first inning, when Josh Bell extended his hitting streak to 13 games with an RBI single, then D-backs starter Robbie Ray shut them down through the fifth. They showed some signs of life in the seventh as Jake Elmore, Adam Frazier and Starling Marte strung together three straight singles with nobody out. But right-hander Jimmie Sherfy struck out Melky Cabrera, Bell and Bryan Reynolds in order to escape unscathed. Marte singled and scored on Cabrera's double in the ninth.
"Overall, I still like the fight at the end," Hurdle said. "But there wasn't enough offense. They scored nine runs."
Adam Berry covers the Rays for MLB.com and covered the Pirates from 2015-21. Follow him on Twitter @adamdberry.