Velasquez staying in 'pen, Pivetta to rotation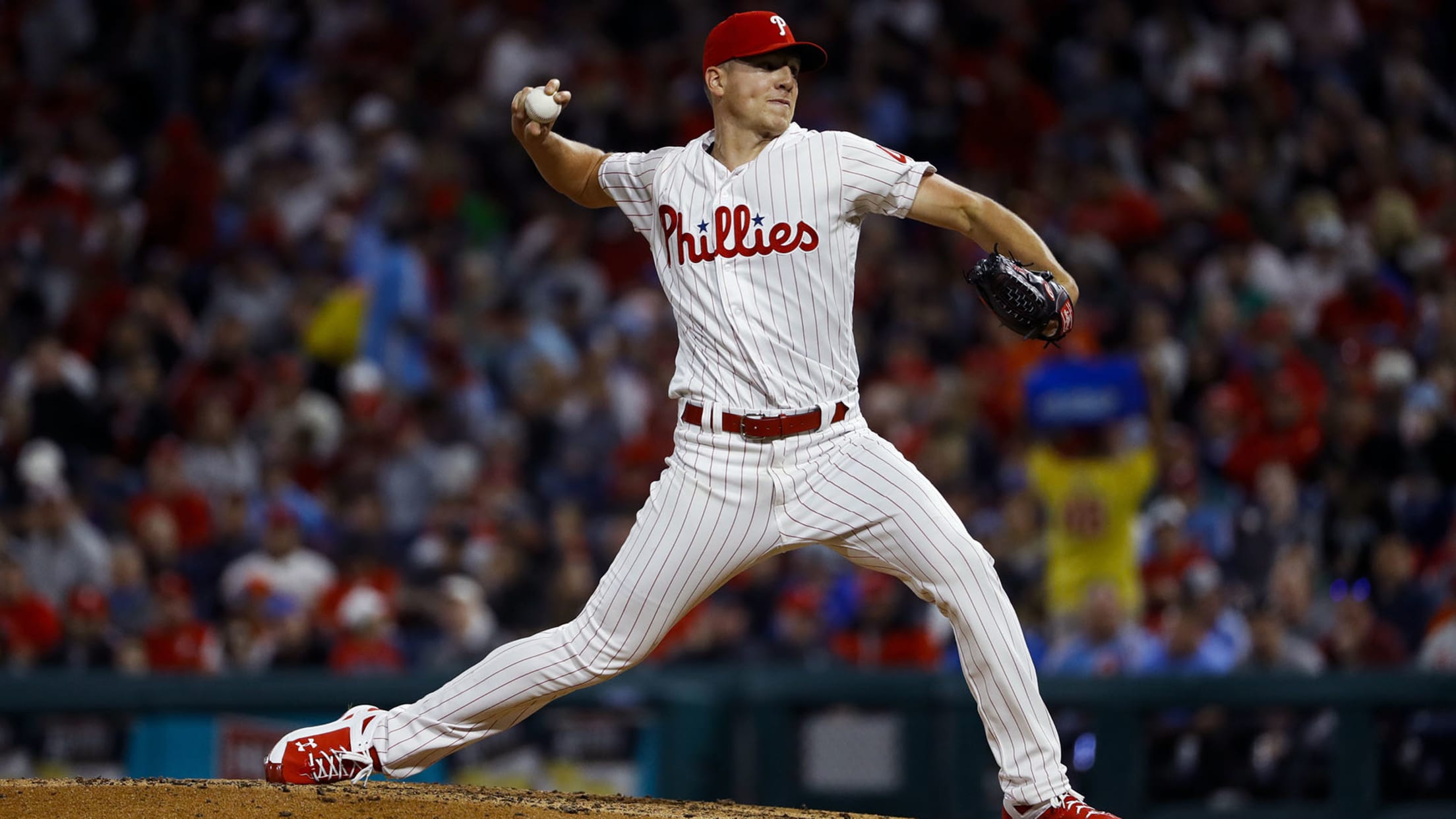 MILWAUKEE -- Nick Pivetta will return from Triple-A Lehigh Valley to start on Tuesday when the Phillies open a three-game series against the Cardinals at Citizens Bank Park. Vince Velasquez will remain in the Phillies' bullpen for the time being. After returning from the injured list Friday, Velasquez pitched out
MILWAUKEE -- Nick Pivetta will return from Triple-A Lehigh Valley to start on Tuesday when the Phillies open a three-game series against the Cardinals at Citizens Bank Park. Vince Velasquez will remain in the Phillies' bullpen for the time being.
After returning from the injured list Friday, Velasquez pitched out of the bullpen that night and impressed manager Gabe Kapler with two scoreless innings. Velasquez allowed his first two batters to reach base, but retired five in a row, including four via strikeout.
"That was as good as we've seen him," Kapler said following that outing. "I can't remember the last time he looked that good. His second inning of work was really impressive."
Things didn't go quite as well on Sunday. Velasquez took over in the fifth inning with the Phillies trailing 3-0, and immediately served up a leadoff home run to Christian Yelich. Velasquez allowed four runs on five hits, including two homers, while recording just two outs.
"I think it's going to be a bit of a process," Kapler said of Velasquez's transition. "We're going to need to demonstrate some patience and introduce him to situations at the right times, and do our best to put him in good positions to succeed. But I think he is confident in the process.
"Today, he missed location with his fastball and there was not enough execution with the slider against some very good hitters. That was kind of the story of that inning. They were prepared to swing, and swing early, and got the barrel to the ball."
When Velasquez returned from the injured list, Kapler said he wanted to wait and see how Velasquez's body recovered from pitching in relief before deciding on whether to leave him in the bullpen or return him to a starting role. When Velasquez reported no issues following Friday's outing, the Phillies ultimately opted to bring back Pivetta, who went 2-1 with an 8.35 ERA in four starts before he was sent to Triple-A on April 17.
"Performance matters," general manager Matt Klentak said at the time. "In Nick's case -- I believe his fastball, the depth on his breaking ball -- what he can do on the mound gives him a chance to be a front-of-the-rotation starter. But he needs to get them out, too. And I think he will. I don't want it to sound like this is some punitive measure. We really believe that Nick needs to go down and regain his confidence, get into his groove and come back up here pitching like the guy we know he can be. But every game matters right now.
"The competitiveness of the division, this team, our playoff aspirations contribute to a shorter leash than potentially in prior years."
Pivetta made six starts for the IronPigs, posting a 3.41 ERA and 1.14 WHIP, while racking up 50 strikeouts and 20 walks over 37 innings. Pivetta will fill the rotation spot that had been left open after Cole Irvin was sent back to Lehigh Valley after going 2-1 with a 5.60 ERA in three starts for Philadelphia.