Senzel makes push for job in center field
Bell on his transition to CF: 'I feel like he can do it'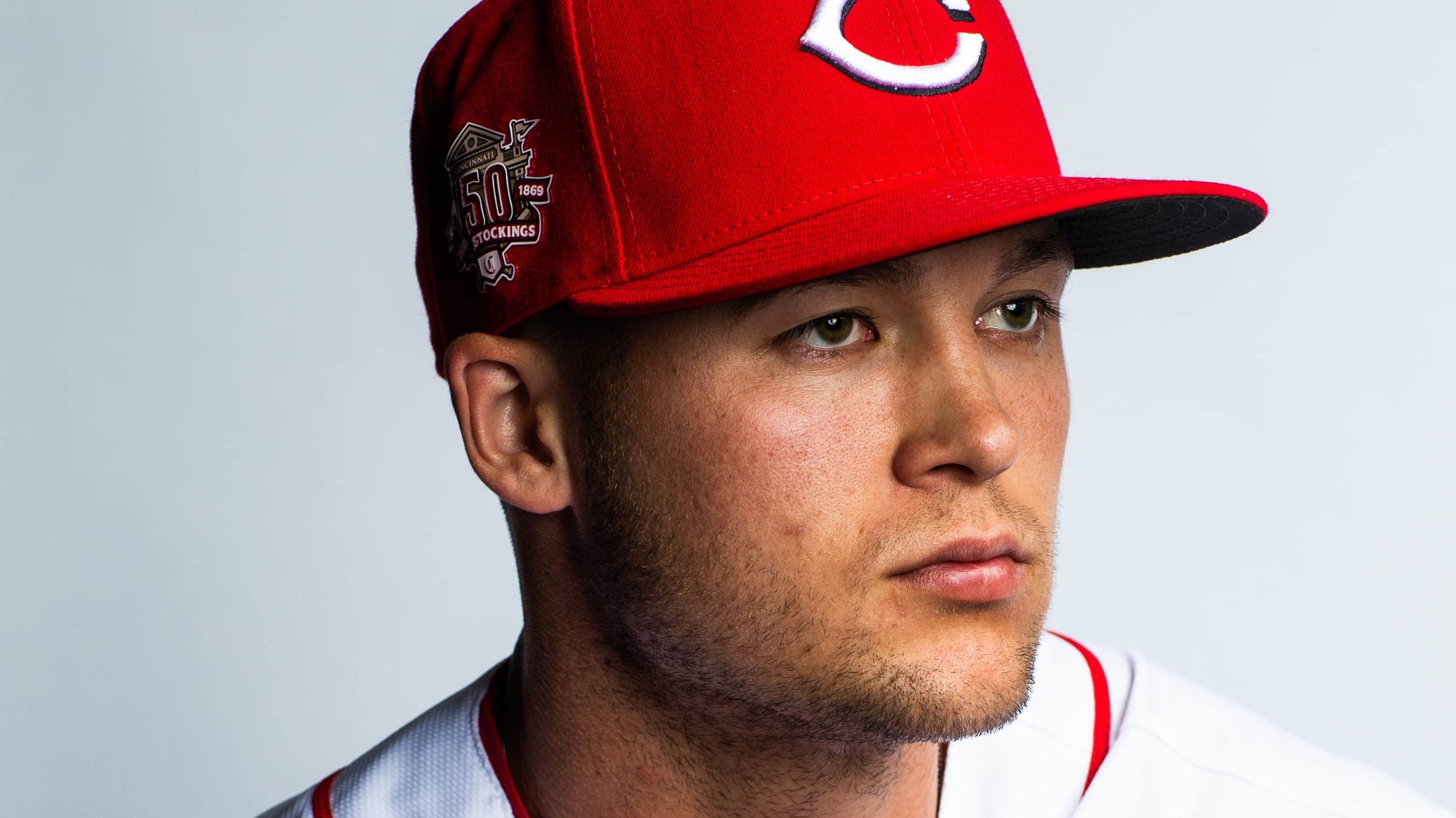 GOODYEAR, Ariz. -- Whether or not Nick Senzel can land the job as the Reds' regular center fielder remains the biggest question of Spring Training. Through the first week of games, however, Senzel has already solved one mystery for manager David Bell. "I feel like he can do it. There's
GOODYEAR, Ariz. -- Whether or not Nick Senzel can land the job as the Reds' regular center fielder remains the biggest question of Spring Training. Through the first week of games, however, Senzel has already solved one mystery for manager David Bell.
"I feel like he can do it. There's no question, really, that he can do it," Bell said Sunday. "It's going to come down to what's best for him, what's best for our roster. He has the ability to do it. He's put a lot of work in. It's going to take game experience that you just can't replicate, which we're focused on for the rest of Spring Training. That's what has become clear -- he has the ability to do it."
Ranked as Cincinnati's No. 1 prospect and No. 6 overall by MLB Pipeline, Senzel started for the fourth time in center field during Sunday's 11-5 win vs. the Brewers. He made two catches on defense and went 2-for-3 at the plate with two doubles and is now batting .462 for the spring while ranking among the team leaders in at-bats.
Senzel, 23, is also scheduled to start a game Monday. An infielder in college and through his first three professional seasons, the No. 2 overall pick in the 2016 Draft began learning the outfield during the offseason. But the time in Cactus League games has been the most valuable training thus far.
"I'm just getting more comfortable," Senzel said. "I haven't had too much action out there. It's more just some reads on some home runs, but it's gone pretty well."
Senzel made three catches over his first two games. In the first inning Friday night vs. the Giants in Scottsdale, Senzel had a tough time reading Buster Posey's tailing line drive to right-center field and got a late jump. The ball would deflect off his glove and Posey collected a single.
"I had a chance to make a good play [against] San Francisco and didn't make it," Senzel said. "But that comes with it. I think people expect this to be an easy thing. But baseball is a hard game and I'm going to keep working hard. So far, so good."
After he was back in the dugout, Senzel and Bell chatted about the miscue.
"We kind of looked at each other and said that is one of those plays that needs to happen to have him experience different things and experience some plays he doesn't make," Bell said. "That's really when you get better. He's just going to be better for it."
Senzel is competing with Scott Schebler for the center field job. But the outcome could be dictated by more than on-field performance. Schebler has more experience at all three outfield spots. Senzel has only 44 games at Triple-A Louisville under his belt from his injury-marred 2018 season. The club could send him back there for a few weeks to prevent him from accumulating service time, which could get them another year of control before he can become a free agent.
On the other hand, the Reds have shown a big commitment to improving following five straight losing seasons and fan buzz is at its highest since the last postseason berth in 2013. If Senzel makes the club better and isn't on the 25-man roster for Opening Day, Cincinnati could face some backlash.
When asked about that service time issue regarding Senzel near the start of camp a couple of weeks ago, Reds president of baseball operations Dick Williams responded by saying: "We want to get off to a good start and we'll try to put the best team on the field."
As he continues to compete for a place on the Opening Day roster, Senzel is feeling good at the plate, as well.
"I thought it would take me a lot longer to get more comfortable," he said. "I feel like I'm seeing it OK. The more at-bats and the more pitches I see, and different pitchers I see, the more comfortable I am, and my timing will get better."
Mark Sheldon has covered the Reds for MLB.com since 2006, and previously covered the Twins from 2001-05. Follow him on Twitter @m_sheldon and Facebook.