Senzel diagnosed with right ankle sprain
Stephenson edges Wisler for final 25-man roster spot; Farmer ends spring with two-run homer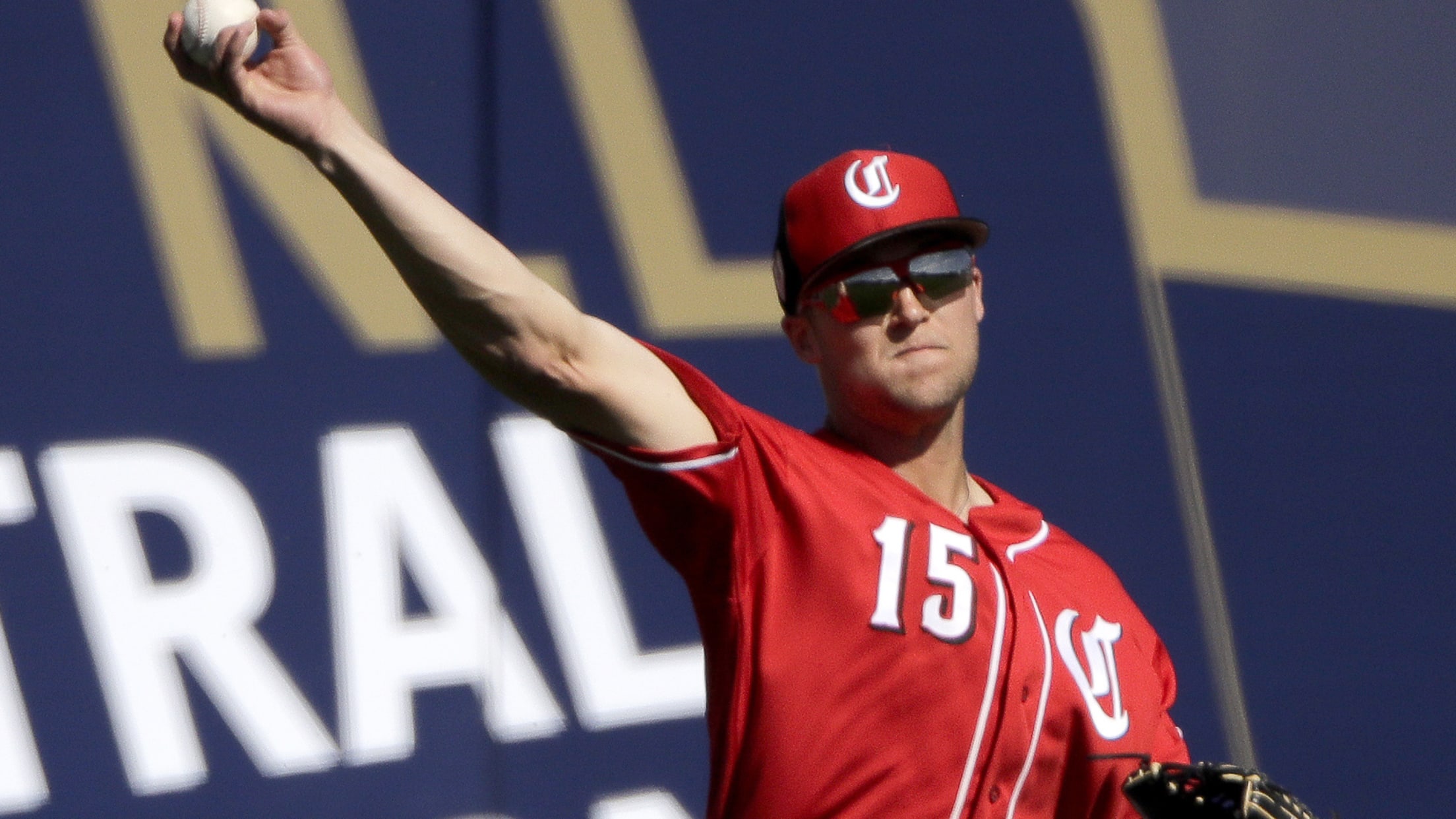 ATLANTA -- The Reds seem to have avoided the worst with top prospect Nick Senzel's ankle injury. The center-field prospect underwent an MRI and X-rays Tuesday, and he was diagnosed with a right ankle sprain. Senzel rolled the ankle sliding into second base during a game in Minor League camp
ATLANTA -- The Reds seem to have avoided the worst with top prospect Nick Senzel's ankle injury.
The center-field prospect underwent an MRI and X-rays Tuesday, and he was diagnosed with a right ankle sprain. Senzel rolled the ankle sliding into second base during a game in Minor League camp on Monday in Goodyear, Ariz.
Senzel is expected to use a walking boot for one to two weeks, and he will require several more weeks of precautionary measures to ensure he's set to run. However, this doesn't affect Cincinnati's plan to keep him in center field; rather, it simply moves back his timetable for being ready for the Majors.
"We're all disappointed he had an injury," Reds president of baseball operations Dick Williams said. "You feel bummed when any guy has to suffer through an injury. We're anxious to get him better."
Senzel, the No. 6 overall prospect according to MLB Pipeline, was reassigned to Minor League camp on Friday so that he could gain more experience in center field. He is expected to learn the position more with time at Triple-A Louisville since he only played 12 games in center after previously playing second and third base.
Cincinnati will stick with an outfield rotation that includes Scott Schebler -- last year's starting right fielder -- and Jesse Winker in center. Senzel should join the duo before long, but it would be hard to imagine him making the Major League club before May.
Injuries have been a nagging problem for Senzel, who missed much of last season with vertigo and a broken right index finger. However, his bat is not in question, as he hit .310 for Louisville last year before batting .308 with six doubles in 39 at-bats this spring.
Stephenson over Wisler
The Reds' final roster spot came down to two out-of-options righty relievers: Robert Stephenson and Matt Wisler. Although Stephenson only made three appearances this spring, he edged Wisler, who was reassigned to Minor League camp and is expected to be designated for assignment on Thursday.
This is Stephenson's first season purely as a reliever, and he was confident with how he pitched after missing time with a right shoulder injury. He's using a new grip on his fastball, which he believes has helped with his command; Stephenson only issued one walk over five innings this spring.
"He had a strong spring," Cincinnati manager David Bell said. "Obviously, it came down to one decision, and we had to make a choice. With Robert's spring, we like where he is, and we believe in him. We like the progress he's making. We're really excited to have him on the staff and working with our coaching staff. We just believe in where he is. That was the decision. Wisler had a really good spring and did everything he could to make the [team]. He handled himself very well."
Bell does not have a set role in mind for Stephenson yet, although he has pitched multiple innings in two of his spring outings. The 26-year-old certainly appreciates a vote of confidence from the only organization he's known since being drafted in the first round in the 2011 Draft.
"It's kind of like a big weight off my shoulders," Stephenson said. "Obviously, it's kind of been looming over me -- sitting, playing the waiting game to this point. I'm really excited to be a part of this team."
Big swing for Farmer
Kyle Farmer was one of the pleasant surprises to make the Reds' 25-man roster, and he continued to show off his bat in Tuesday's 7-5 loss to the Braves at SunTrust Park to close out Spring Training.
Farmer, who started at shortstop, launched his third home run of Spring Training -- his first opposite-field homer -- off Braves starter Sean Newcomb. Two of his three homers have come against lefties this spring, although he has not shown much of a platoon split over his career.
"He's shown us a lot," Bell said. "He's a great teammate, and he can do so many things. The fact that he can catch and play short -- I think he can play all nine positions -- and he can hit, too. He's a good athlete."
Farmer finished the game 1-for-2, closing his spring with a .333/.352/.686 slash line. He will back up all four infield positions plus catcher during the regular season.
Up next
The Reds will host the Pirates at Great American Ball Park on Opening Day at 4:10 p.m. ET Thursday. Right-hander Luis Castillo will make the first Opening Day start of his young career. The 26-year-old threw 169 2/3 innings last season, with 165 strikeouts and a 4.30 ERA. He'll square off against the Bucs' Jameson Taillon.
Ben Weinrib is a contributor to MLB.com.