Predicting Deadline strategies in NL Central
How deals in recent past could foretell moves this month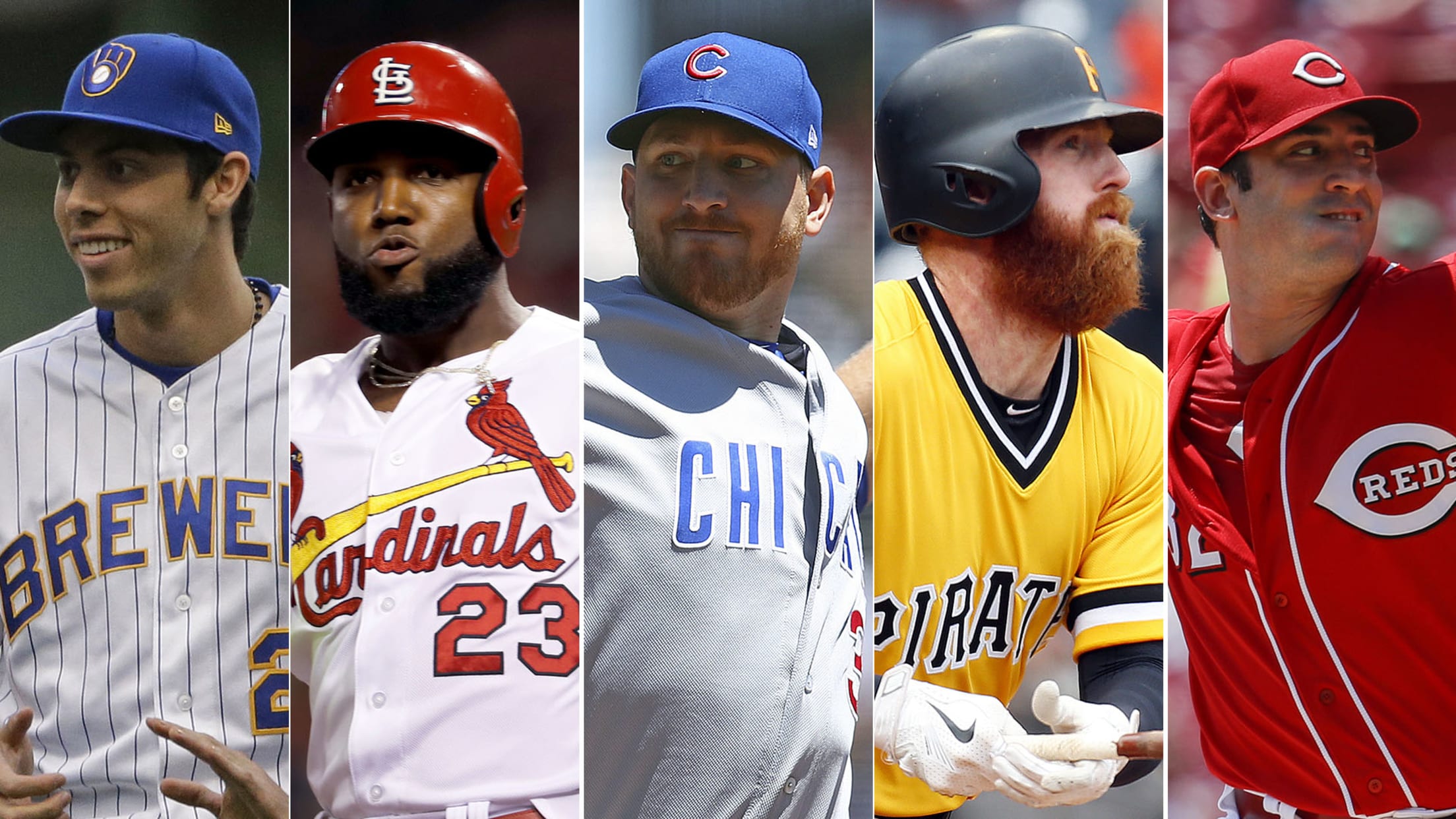 We spend a lot of time and effort at this time of year looking ahead to what teams might do as the non-waiver Trade Deadline approaches. But perhaps a different approach is in order.• Catch up on the latest Trade TalkThis week, MLB.com is taking a look back at a
We spend a lot of time and effort at this time of year looking ahead to what teams might do as the non-waiver Trade Deadline approaches. But perhaps a different approach is in order.
• Catch up on the latest Trade Talk
This week, MLB.com is taking a look back at a recent significant trade for each National League Central club, with an eye toward gleaning some insight regarding the 2018 trading season.
BREWERS
The deal: Acquired Christian Yelich from the Marlins for four prospects, including Lewis Brinson, on Jan. 25.
What it has meant for this year's team: To say "everything" would be an overstatement, but not by much. Yelich has been fantastic at the plate and quite good in the outfield, pairing with offseason signing Lorenzo Cain to bolster a quality lineup.
Yelich has been a textbook No. 2 hitter, getting on base, providing moderate power, stealing bases and scoring runs. He provides balance to what could otherwise be a heavily right-handed heart of the Milwaukee's batting order.
What it tells us about the next 19 days: Milwaukee is that rarest of birds: a team in a smaller market that is focused on winning now. The Brewers aren't going to trade away their entire future for a small fix, but the additions of Yelich and Cain made it clear that the window is right now. If the right piece is available -- a middle infielder or a catcher who makes this team appreciably better -- they won't hesitate to make the move.
CARDINALS
The deal: Acquired Marcell Ozuna from the Marlins for four prospects, including Sandy Alcantara and Magneuris Sierra, on Dec. 14, 2017.
What it has meant for this year's team: Not as much as they would have hoped, and that's part of the issue. The search for an "impact bat" for the middle of St. Louis' batting order goes back years now. In trading for Ozuna, it appeared the Redbirds had finally achieved that goal.
Instead, Ozuuna has slugged below .400, part of a Cards offense that has been struggled to find a grove this year. Thus, the search continues.
What it tells us about the next 19 days: Quite a lot, actually.
The Cardinals' front office will not hesitate to add a significant piece if the right one -- perhaps another "impact bat" -- becomes available. But such an addition would almost certainly have to come with long-term club control.
When the Cards acquired Ozuna, they knew they had his services for two years. That would likely be true of any significant player they would add at the deadline.
Finally, the Cardinals parted with two players who had already appeared in the big leagues in trading for Ozuna. They're not necessarily averse to trading from the big league roster in the right circumstance.
CUBS
The deal: Acquired Mike Montgomery and Jordan Pries from the Mariners for Paul Blackburn and Dan Vogelbach on July 20, 2016.
What it meant for this year's team: More than some of the bigger-name deals you might think of when you think of the Cubs. Montgomery has been a Swiss Army knife for Chicago, helping out wherever there has been a pitching need.
Montgomery has eight starts and six games finished -- the only pitcher in the NLwith at least six of each. He has pitched early in tight games, he's pitched in extra innings. In addition to Montgomery's starts, he's entered games in the third, fifth, sixth, seventh, eighth, ninth, 10th and 11th innings.
What it tells us about the next 19 days: A couple of things. One, it's an indication that not every Cubs trade is a blockbuster, and the chatter around this team has been pretty quiet. Their lineup is deep and has basically no holes, and the front of their rotation looks strong.
Second, Montgomery's versatility directly affects what the Cubs may do. If they decide they want to add a starter, Montgomery can slide right back to the bullpen. If Chicago would rather bolster the 'pen, he can keep starting. He provides flexibility not only in-game, but in trade talks.
PIRATES
The deal: Traded Gerrit Cole to Astros for Michael Feliz, Colin Moran and Joe Musgrove on Jan. 13.
What it meant for this year's team: It's meant two regular players, for one thing. Moran has been the Bucs' primary third baseman, and Musgrove has slotted right into the rotation. Cole has been brilliant for Houston, but it's an open question as to whether that would or could have happened with Pittsburgh.
It hasn't been a great year for the Pirates, but after the predictions of doom and gloom in the wake of trading Cole and Andrew McCutchen, it hasn't been a terrible one either.
What it tells us about the next 19 days: Just about everything. The Bucs have no interest in another full-blown rebuild. That explains the return for Cole -- Major League-ready players rather than elite prospects farther from the big leagues.
So while the Pirates will very likely be willing to sell, keep two things in mind. One, they likely won't blow it up entirely. Two, when they do trade players, look more for them to acquire players who could help them in 2019-20 than lottery tickets who might or might not pan out in four years.
REDS
The deal: Acquired Matt Harvey from Mets for Devin Mesoraco on May 8.
What it meant for this year's team: More than even most optimists would have thought. Harvey has been quite good for Cincinnati; not 2013 All-Star good, but better than at any point in the previous two seasons. He's provided desperately needed rotation stability.
What it tells us about the next 19 days: Well, first, it means the Reds have a legitimately interesting asset for contending teams. Harvey has pitched in a pennant race and in the World Series. And if you just go on his Cincinnati numbers, he's been about as effective as nearly any starter likely to be traded this month.
Beyond that, it shows a certain creativity that is to be admired. The Reds saw the possibility for a bounceback from Harvey. They took a chance, and they've been rewarded. Cincinnati is playing good ball right now, and it won't necessarily tear everything apart. But the Reds will look for value, seeking creative ways to get closer to the time when they can go toe to toe with the top teams in the division.
Matthew Leach is the National League executive editor for MLB.com.