Each NL East team's MVP in 2019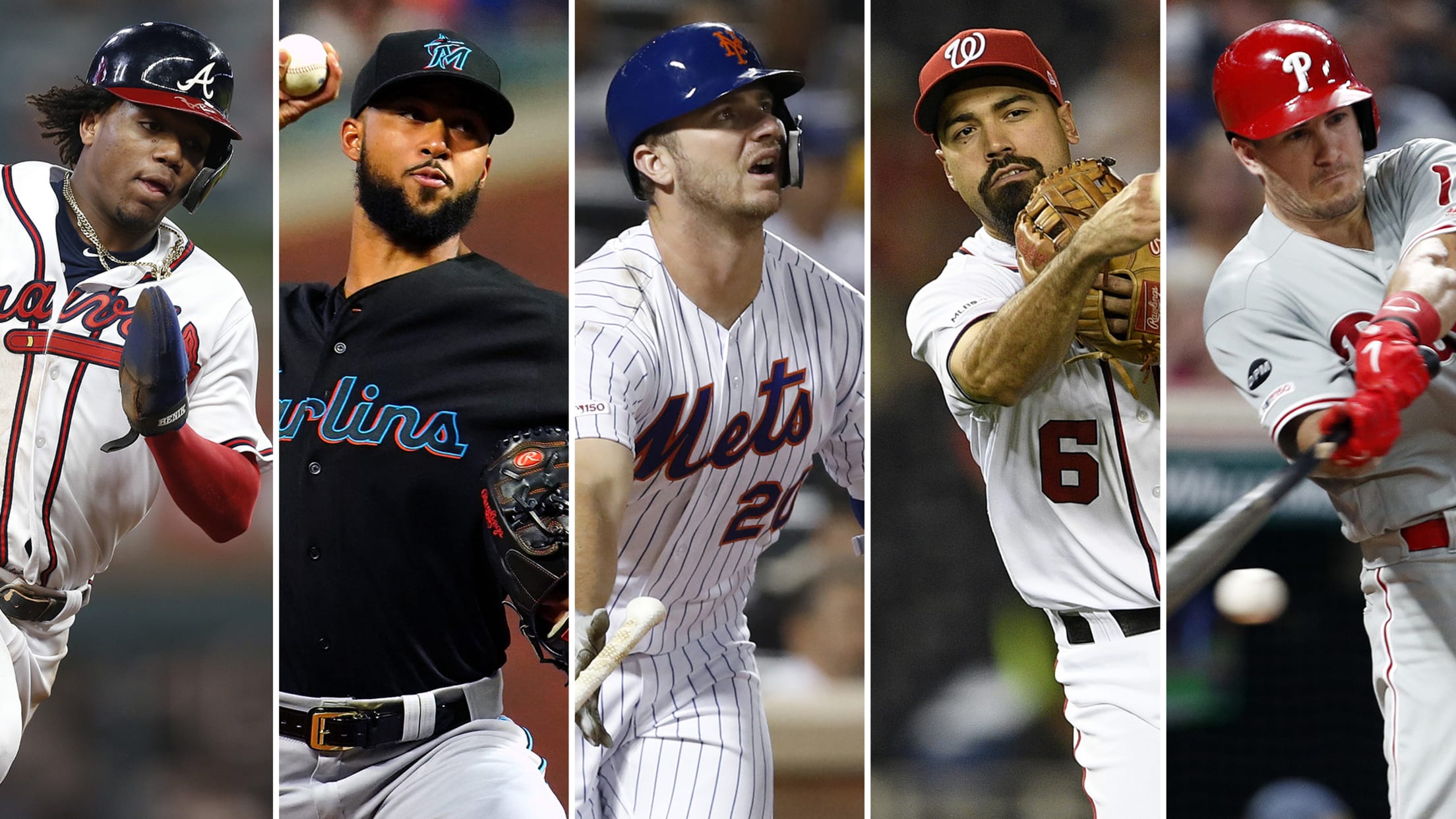 At the season's outset, the National League East promised to be one of baseball's most competitive divisions. And while the Braves wound up running away with the title, four of the NL East's five teams remained in contention until the season's final week. They did so thanks to some of
At the season's outset, the National League East promised to be one of baseball's most competitive divisions. And while the Braves wound up running away with the title, four of the NL East's five teams remained in contention until the season's final week.
They did so thanks to some of the most productive players in Major League Baseball. Without further ado, here are the Most Valuable Players from each NL East team:
Braves: Ronald Acuña Jr.
Even though the Braves expect Acuña to be ready for the National League Division Series, his left groin strain will surely cause some sleepless nights for folks in Georgia. There's a reason for that. On a roster featuring stars such as Josh Donaldson, Freddie Freeman and Mike Soroka, Acuña, 21, is the beating heart.
Acuña's injury will prevent him from becoming the fifth player in Major League history to hit 40 homers and steal 40 bases, but he's still one of only five men to finish with 41 and 37. (Just because the numbers aren't round, doesn't make them any less impressive.) Acuña has hit both leadoff and cleanup for the Braves this season, batting first often enough to lead the National League in plate appearances by a wide margin. He's also played all three outfield positions, posting positive Defensive Runs Saved totals at both corners while making his share of highlight-reel catches along the way, too.
So apologies to Donaldson, Freeman, Soroka et al. The Braves are on their way to the NLDS, and no one is more responsible for that than Acuña.
Marlins: Sandy Alcantara
Don't look now, but since the start of August, Alcantara owns a 2.90 ERA with 57 strikeouts in 68 1/3 innings. Opponents are batting .197 against him over that stretch.
Had Brian Anderson not suffered a season-ending injury in August, he may have offered a stronger case to be the Marlins' MVP. As it stands, it's difficult to look past Alcantara, who has stabilized Miami's rotation in throwing 191 1/3 innings and counting. He'll likely finish with the Marlins' highest innings total since Nathan Eovaldi threw 199 2/3 in 2014, but Eovaldi was a below-average pitcher that year according to the metric ERA+. The last Marlin to throw at least 191 above-average innings was a 33-year-old Mark Buehrle in '12.
Alcantara is 24 years old with a chance to keep improving. He's either going to be a centerpiece of the Marlins' next winning team, or a key part of a blockbuster trade. Either way, he's a critical piece in Miami.
Mets: Pete Alonso
In a year in which Jacob deGrom may win a second consecutive NL Cy Young Award, Alonso has been the most valuable Met. With four games to play, he is one home run shy of Aaron Judge's Major League rookie record of 52. Alonso is also six RBIs short of the Mets' franchise record for any player. The list of records he's already broken is almost too long to count.
Heading into the season, Alonso wasn't even a lock to make the Mets' Opening Day roster. He's now the most important everyday player on a team that features four other current or former All-Stars -- Jeff McNeil, Michael Conforto, Robinson Canó and Todd Frazier -- in its regular lineup. While deGrom also has a strong case for team MVP, Alonso stands a good chance of finishing higher than his teammate in leaguewide BBWAA voting.
Nationals: Anthony Rendon
This one's easy. With four games left in the season, Rendon still has a chance to lead the NL in both batting average and RBIs. His most impressive quality may be his consistency; Rendon has posted an OPS of at least .966 in five of the season's six months, and at least an .824 OPS in all of them. He's a near-lock to finish top three in in NL MVP voting, with an outside chance to win the award outright. In a year in which injuries prevented Max Scherzer from being in top form, Rendon has supplanted him as the most valuable National.
Phillies: J.T. Realmuto
With a nod to Bryce Harper, who's been the Phillies' most productive hitter, Realmuto has been their most valuable player. No one in the league is better at throwing out baserunners. Few are better at framing strikes. Realmuto, who may be done for the season due to a right knee injury, is going to finish among the top six in MLB in Defensive Runs Saved, while leading the Majors in innings behind the plate -- and all that in addition to hitting 25 homers with an .820 OPS and 83 RBIs.
Even given the wealth of advanced metrics available today, it's difficult to quantify how good Realmuto has been. The Phillies, at least, are well aware.