Top takeaways from first week in NL West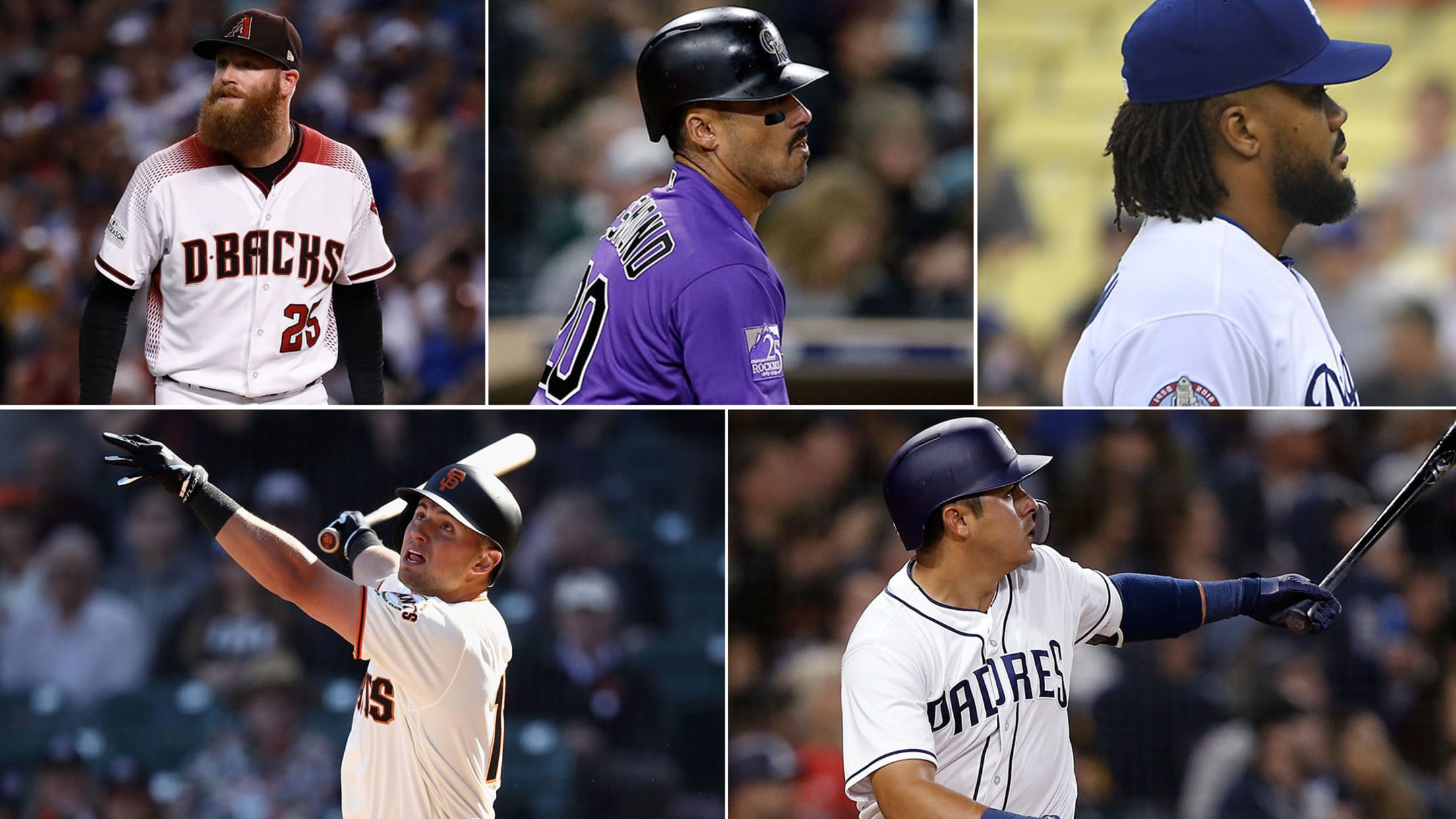 The late Kevin Towers spent all 18 years of his career as a general manager in the National League West and he was fond of calling it "The Wild West" for its unpredictable nature.The Dodgers have dominated in recent years, but last season the division was wild in another way,
The late Kevin Towers spent all 18 years of his career as a general manager in the National League West and he was fond of calling it "The Wild West" for its unpredictable nature.
The Dodgers have dominated in recent years, but last season the division was wild in another way, with both the D-backs and Rockies grabbing the league's Wild Card spots.
This year, NL West teams wasted no time in getting down to business with season-opening matchups between the Dodgers and Giants and the D-backs and Rockies. The Padres opened against the Brewers, but followed that with a four-game set with the Rockies.
An added wrinkle to all the early matchups is the fact that the Dodgers (Justin Turner), D-backs (Steven Souza Jr. and Jake Lamb) and the Giants (Madison Bumgarner and Jeff Samardzija) are all missing key pieces.
How it will play out remains to be seen, but since it's the NL West, it figures to be wild.
D-backs
What we know now: Even with J.D. Martinez now playing for Boston, outfielder Souza on the disabled list and Paul Goldschmidt off to a slow start, the D-backs' lineup is still a force to be reckoned with and scoring runs does not seem to be an issue. The players' familiarity with each other, which has been built over the past few years, allows them to share information on opposing pitchers easily during games. Scouts raved all spring about Zack Godley's curveball and he seems as if he's ready to build off last year. Concerns about Zack Greinke's velocity during the spring have been put at ease by the way he was able to command his pitches in his first start. It appears the back end of the bullpen, with closer Brad Boxberger and setup man Archie Bradley, is going to be a strength.
What we still don't know: While Souza seems on track to be back quicker than the club expected, it remains to be seen how long third baseman Lamb's sprained left AC joint will keep him out of the lineup and how much his absence will hurt. Robbie Ray was dominant last year in leading the NL in strikeouts per nine (12.11), but his uneven spring was followed by struggles with his command in his first start, which is a little concerning given his importance to the staff. The D-backs opened at home, where they played extremely well last year (52-29), but have yet to be tested on the road.
The bottom line: Outside of the Lamb injury, it would be hard for the first week to have gone any better for the D-backs. They won five of six against the Rockies and Dodgers, and last season a 6-1 opening homestand against the Giants and Indians seemed to give them some confidence and momentum. Now they'll find out if they can carry it over on a nine-game trip to St. Louis, San Francisco and Los Angeles.
Rockies
What we know now: A high-scoring lineup led by leadoff man Charlie Blackmon is even better with a healthy Ian Desmond in it. The Rockies invested heavily in the bullpen during the offseason, and though their early relief was a little shaky in the Opening Series, if they can get a lead to Adam Ottavino, Jake McGee, Bryan Shaw and closer Wade Davis, the Rockies will be tough to beat. Ottavino has flashed some dominance at times this year, while Davis looks as if whatever hiccups he might have had in the second half of last season have not carried over to 2018.
What we still don't know: Opening Day starter Jon Gray struggled in his first start against the D-backs and lasted just four innings. Next time out, he dominated the Padres over seven shutout innings. Meanwhile, No. 2 starter Tyler Anderson also struggled in his first start before bouncing back in his second. Can the pair find consistency and be able to pitch like top-end-of-the-rotation pitchers? Shortstop Trevor Story struck out 191 times last year and worked to improve on that. Early returns were mixed as he punched out seven times in the first two games, but just once in the four after that.
The bottom line: Especially at Coors Field, the Rockies will be fine offensively, and the bullpen should be able to hold the leads they are given. The biggest key will be the starting rotation going deep enough into games to not overtax the bullpen. Recovery is difficult on the body at the high Denver altitude so they'll have to be careful with the relievers' workloads.
Dodgers
What we know now: The offense looks a lot less potent without injured third baseman Turner in the No. 3 hole. John Forsythe has committed four errors while filling in for Turner and No. 2 hitter Corey Seager has yet to get going without Turner behind him. Yasiel Puig was hitting .179 while batting third over the first seven games and the Dodgers were shut out three times in their first seven games. Last year, it took 55 games for that to happen.
What we still don't know: What's going on with closer Kenley Jansen? The right-hander took a loss and blew a save in his first two outings after a half-speed Spring Training designed to preserve his arm after a grueling 2017. He says he's healthy, but his velocity has been down. The Astros were able to exploit Cody Bellinger's long swing in last year's World Series and he'll need to make an adjustment this year.
The bottom line: Maybe it's a World Series hangover, maybe it's the result of a very quiet offseason, but this isn't the way the Dodgers scripted Opening Week. Their starting rotation, however, has been solid, with the first four -- Clayton Kershaw, Alex Wood, Kenta Maeda and Rich Hill -- allowing no more than one run in any of their starts. That will have to continue until the offense starts clicking.
Padres
What we know now: The Padres are willing to give their youngsters playing time. No. 9 prospectJoey Lucchesi was the callup when Dinelson Lamet hit the DL with an elbow injury. Christian Villanueva, who hit three home runs in a game, is receiving playing time at third base over Chase Headley. Manuel Margot has been the leadoff man. Expect the club to continue to emphasize youth as the season goes on, particularly in its callup decisions. Even when they come up on the short end of things the Padres find ways to make it difficult on other teams -- a trait they get from their manager, Andy Green.
What we still don't know: There are some very important health questions lingering over two key members of the future. Lamet is out until at least May with a flexor strain in his elbow. The Padres remain optimistic, but they haven't yet disclosed the results of his MRI. Meanwhile, William Myers has been placed on the DL with nerve irritation in his right arm. The injury appears less serious than Lamet's, but it's troublesome nonetheless.
The bottom line: The Padres have been building one of baseball's best farm systems over the past few years and they entered the season with one of the Majors' youngest rosters. They are going to embrace that youth. There are significant questions surrounding their rotation, but don't expect them to go outside looking for answers. San Diego is content to build from within this season.
Giants
What we know now: If any group ends up carrying the team, it'll be the bullpen. Hunter Strickland, who may have wrested the closer's role permanently from injured Mark Melancon, is All-Star quality. Setup relievers Tony Watson and Cory Gearrin have been effective, Sam Dyson appears to be regaining his stuff and Josh Osich is the most improved Giant in quite some time.
What we still don't know: Can the offense establish some consistency? The Giants have scored or exceeded four runs, which they consider to be their threshold for success, only twice in their first six games. Newcomers Austin Jackson, Andrew McCutchen and Evan Longoria haven't hit much. However, Joe Panik and Brandon Belt, who constitute the top of the order against right-handed starters, could be headed for career years.
The bottom line: The Giants will be happy to continue hovering around .500 while Bumgarner, Samardzija and lefty reliever Will Smith recover from their respective injuries. Samardzija could return from his strained right pectoral muscle by late April, while Bumgarner is likely to miss another two months with his fractured left hand.