Syndergaard likely back before All-Star break
Mets pitcher set for Minor League rehab start on Sunday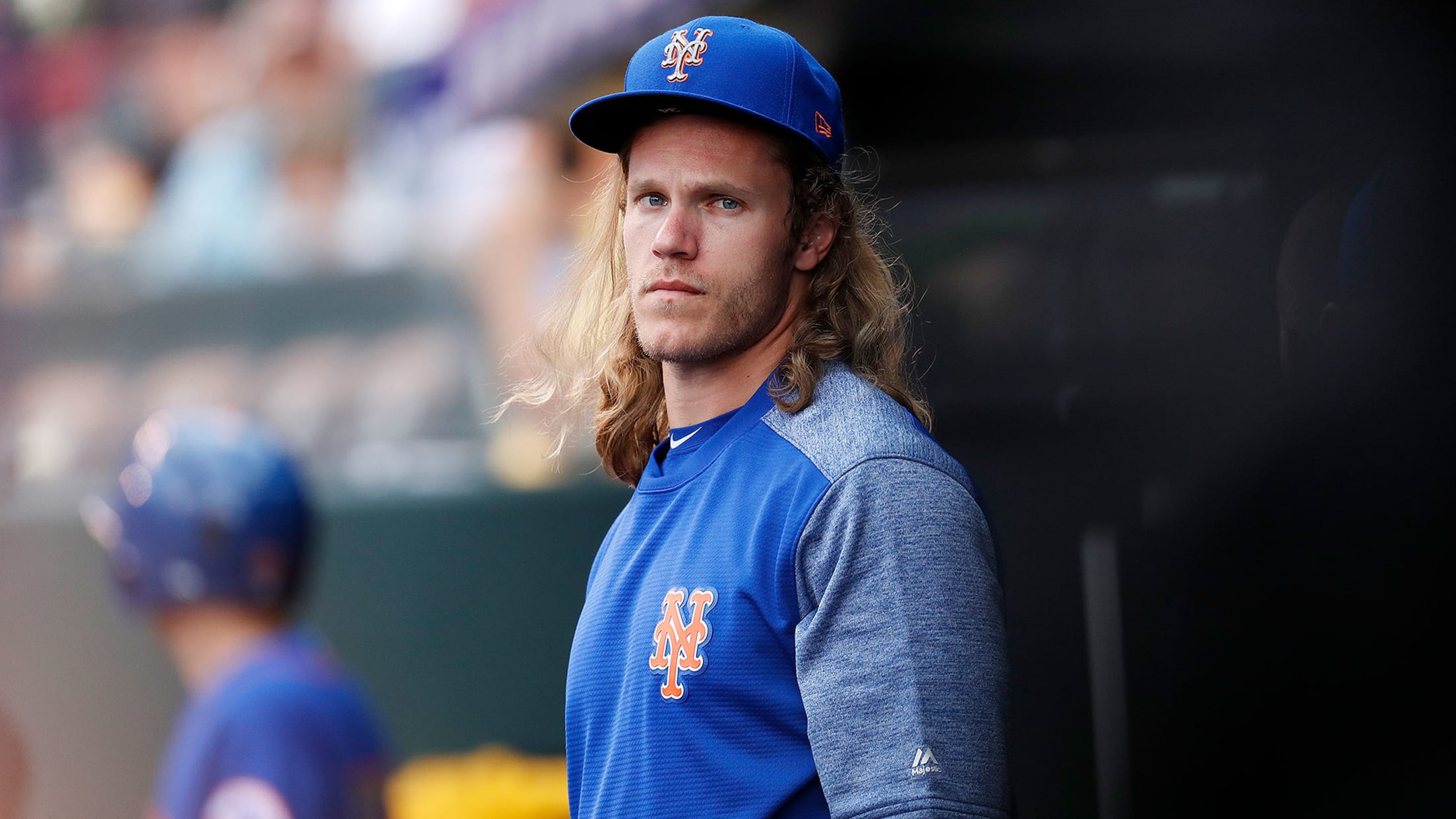 Mets pitcher Noah Syndergaard watches from the dugout during the first inning of a game against the Rockies on June 20, 2018, in Denver. (David Zalubowski/AP)
TORONTO -- Noah Syndergaard still has time to make it back to the Mets before the All-Star break.Syndergaard, who has been sidelined since May 25 due to a strained right index finger, is scheduled to begin a Minor League rehab assignment Sunday for Class A Short Season Brooklyn. Assuming he
TORONTO -- Noah Syndergaard still has time to make it back to the Mets before the All-Star break.
Syndergaard, who has been sidelined since May 25 due to a strained right index finger, is scheduled to begin a Minor League rehab assignment Sunday for Class A Short Season Brooklyn. Assuming he comes out of that 60-pitch outing with no issues, Syndergaard could return to the rotation in one of the Mets' final three games before the All-Star break, manager Mickey Callaway said.
"Obviously we'll see what he looked like in that outing, how he bounced back, how many pitches did he actually get in," Callaway said. "We'll lean on him for some of that information. Does he feel like he's ready to come up and throw four, five innings in a Major League game? There's a lot of things to consider, and we'll try and consider all of those things."
Before suffering his injury, Syndergaard was 4-1 with a 3.06 ERA in 11 starts. He was originally scheduled to return straight to the Majors last month without a rehab assignment, but continued pain in the finger forced a more prolonged absence. A preseason Cy Young Award candidate each of the past two seasons, Syndergaard has made just 18 starts since the beginning of last year.
Breaking News - Noah Syndergaard will pitch for the Cyclones on Sunday when we take on the Staten Island Yankees as part of a MLB Rehab Assignment. Game time is 4:00 PM

🎟️ - https://t.co/MmskTbCHe9 pic.twitter.com/bGSaI2BfaP

— Brooklyn Cyclones (@BKCyclones) July 4, 2018
Heads up
Although catcher Devin Mesoraco was out of Wednesday's starting lineup, he passed a second round of concussion testing earlier in the day and is fully available going forward.
Mesoraco exited Tuesday's loss to the Blue Jays after taking both an errant pitch and a backswing off his helmet, resulting in mild head irritation. But he passed the club's concussion protocol that night, then ran sprints in the outfield and underwent a second examination on Wednesday.
Mesoraco, who missed time in 2012 due to a concussion, said he never feared a recurrence.
"Sometimes you take a couple hard hits and you're shaken up, and it's just kind of like, 'I don't feel quite right,'" Mesoraco said. "After I got out and got settled down from the game, I felt fine. We did the testing, no issues. I woke up and was fine. So I think we're all good."
Rotation shakeup
Wary of starting two Minor League callups on the same day, the Mets are pushing Zack Wheeler back from Sunday to Monday in the rotation. That allows them to pitch both Wheeler and Corey Oswalt in a doubleheader against the Phillies, instead of Oswalt and another rookie. The idea, in theory, is to relieve some pressure from the bullpen.
A Minor League callup -- Chris Flexen and P.J. Conlon are the most obvious candidates -- will pitch on Sunday in Wheeler's place. The other is likely to go Tuesday against the Phillies, followed by Jacob deGrom on Wednesday and Steven Matz on Thursday. Syndergaard could slot in as soon as Friday against the Nationals.
Injury updates
• Outfielder Yoenis Cespedes took a day off Wednesday in his rehab from a strained right hip flexor. He plans to ramp up both his running and baseball activities on Thursday. There remains no timetable for a return for Cespedes, who has been on the DL since May 14.
• Jason Vargas, who threw 65 pitches in a simulated game Tuesday, is due to stretch out further in a second sim game on Sunday. Vargas has been on the DL since June 20 due to a strained right calf. He will not return until after the All-Star break.
Don't look down
Jerry Blevins organized a trip to the CN Tower's "EdgeWalk" on Wednesday for four Mets players, who strapped into harnesses and walked around a platform 1,168 feet above Toronto. The building is the tallest free-standing structure in the Western Hemisphere.
.@jerryblevins, @TylerBashlor, @KevinKaz4 and @robgsellman des @Mets ont eu une perspective différente du Centre Rogers ce matin depuis #LHAUTDACIEUX! pic.twitter.com/l94aLjy3ZV

— CN Tower/La Tour CN (@TourCNTower) July 4, 2018
"I was so nervous even just walking over," said outfielder Kevin Kaczmarski, who joined teammates Robert Gsellman and Tyler Bashlor on the adventure. "Definitely worth it."