Thor-Strasburg a battle of 'almost' aces
Already stars, could these No. 2's rise another level?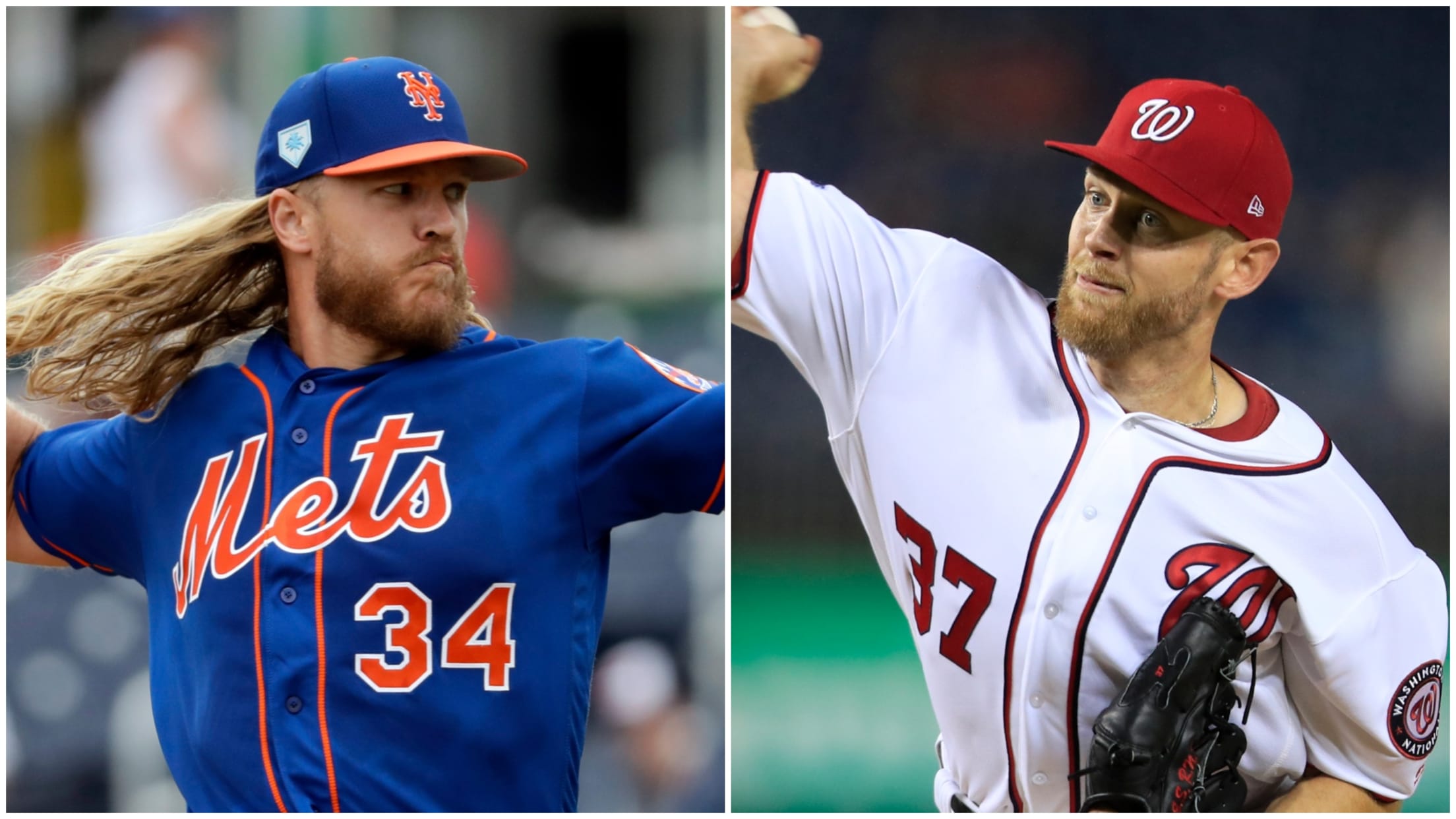 Noah Syndergaard vs. Stephen Strasburg has all the makings of a marquee pitching matchup. And they're the highlight of Saturday's slate of games, facing off at 1:05 p.m. ET when the Nationals host the Mets at Nationals Park. But it's not Opening Day. It's Game 2. The real marquee matchup
Noah Syndergaard vs. Stephen Strasburg has all the makings of a marquee pitching matchup. And they're the highlight of Saturday's slate of games, facing off at 1:05 p.m. ET when the Nationals host the Mets at Nationals Park.
But it's not Opening Day. It's Game 2. The real marquee matchup came on Thursday, when Jacob deGrom outdueled Max Scherzer in the season opener. Syndergaard and Strasburg have the stuff to be true aces. But they're "almost" aces -- the clear-cut No. 2 in their rotations.
So, why?
A lot of it is health, obviously. Syndergaard and Strasburg have each dealt with multiple major injuries through their careers. And yes, deGrom and Scherzer are two of the best No. 1 starters in baseball. But Syndergaard and Strasburg have the ability to climb to those heights.
Take their Fielding-Independent Pitching, for example -- a parallel stat to ERA that considers only strikeouts, walks and home runs allowed, to emphasize the most skill-dependent elements of pitching and eliminate the vagaries of team defense and less-controllable outcomes of balls within the field of play. Since Syndergaard's debut in 2015, he and Strasburg rank among the game's leaders in FIP.
Lowest FIP 2015-18, min. 300 IP
1) Clayton Kershaw: 2.48
2) Syndergaard: 2.66
3) Chris Sale: 2.71
4) deGrom: 2.83
5) Scherzer: 2.89
6) Corey Kluber: 2.97
7) Strasburg: 2.99
8) James Paxton: 3.10
9) Carlos Carrasco: 3.12
10) Gerrit Cole: 3.17
So what's held them back from that Cy Young level of consistent dominance? What do deGrom and Scherzer have that Syndergaard and Strasburg are missing? Let's take a look.
Syndergaard: Mastery of his fastball
Syndergaard throws hard. Really, really hard. He's one of the rare starting pitchers with triple-digit heat. But his fastball isn't always as overpowering as it seems like it should be.
Last season, Syndergaard's four-seamer averaged 97.6 mph, tied for the fastest among starters with Luis Severino. For his career, he's averaged 98.0 mph, tops among starters since his debut in 2015. But Thor's swing-and-miss rate doesn't match up with his velocity (possibly because of a low spin rate). He got whiffs on just 14.5 percent of swings against his four-seamer in 2018, placing him inside the bottom quarter of regular starting pitchers. For his career, Syndergaard's four-seam fastball whiff rate stands at 20.4 percent.
At times, that leaves Syndergaard caught between his four-seamer and sinker. He's used one, then the other, as his primary fastball (and is trying to re-emphasize the four-seamer this season), with better general results when he throws more four-seamers but without the swings-and-misses that top power pitchers get.
Compare that to his teammate, deGrom, whose mastery of his own fastball culminated in the 2018 NL Cy Young Award. deGrom throws hard, but not Syndergaard hard. But his fastball has become much more explosive.
deGrom's average four-seam velocity rose to a career-high 96.0 mph in 2018. His swing-and-miss rate jumped to 31.9 percent -- the best among starters -- after sitting closer to 25 percent a few years ago. He embraced the high fastball, elevating nearly two-thirds of his four-seamers in 2018 -- fifth-most among starters -- when he was doing so less than half the time in 2015. He recorded 109 strikeouts on four-seam fastballs alone.
It's a pinnacle Syndergaard, with his 100 mph fastballs, just has not reached. Considering that Thor has some of the most sheerly overwhelming secondary stuff of any pitcher -- a wipeout slider that averaged 92.0 mph, a changeup that averaged 90.3 mph -- unlocking the full potential of his fastball might be what makes Syndergaard the elite ace he should be.
Syndergaard vs. deGrom, 4-seam fastballs, 2018
Syndergaard: 97.6 mph | 2,170 rpm | 14.5% whiff rate | 48.1% elevated | 19 K's
deGrom: 96.0 mph | 2,362 rpm | 31.9% whiff rate | 63.6% elevated | 109 K's
Another consideration for Syndergaard is the running game. Thor has allowed 20 more stolen bases than any other pitcher over the last three seasons, which could be another reason why his ERA hasn't quite aligned with his FIP.
Strasburg: An approach that plays to his biggest strength
Strasburg's mythos as a prospect was built in large part around his blazing fastball; one that routinely sat in the upper 90s and could reach triple digits while he was rising up the ranks. But injury and time have taken some heat off the pitch.
Strasburg averaged 94.6 mph on his four-seam fastball last year, after averaging anywhere between 96 and 98 mph over his first four Major League seasons. Strasburg's four-seamer also possesses below-average spin -- a trait that, over the first four seasons of Statcast tracking, has demonstrated an ability to elicit more whiffs and popups at the higher end of the spectrum.
Scherzer's fastball is about the same speed as Strasburg's now, but his ability to employ his above-average spin toward the top of the strike zone has made it a much more effective pitch.
Strasburg vs. Scherzer, 4-seam fastballs, 2018
Strasburg: 94.6 mph | 2,122 rpm | .279 BA / .526 SLG | 19.4% whiff rate
Scherzer: 94.4 mph | 2,486 rpm | .198 BA / .320 SLG | 30.4% whiff rate
Despite the disparity in results, Strasburg has still attacked with his fastball in a similar way to Scherzer. Like Scherzer, Strasburg threw a first-pitch four-seamer over 50 percent of the time to open at-bats last year -- but opponents slugged .800 against Strasburg's first-pitch heaters. Scherzer also generated the third-highest whiff rate among starters on four-seamers within the strike zone, while Strasburg was middle-of-the-pack.
But Strasburg is still an All-Star caliber pitcher and a bona fide No. 2 because of his secondary pitches. Strasburg's changeup is his showcase pitch. That's the offering that made him almost untouchable down the stretch and into the postseason in 2017, when the Cubs went 0-for-13 with 10 strikeouts against it in the NLDS. In 2018, opponents hit just .168 and struck out in 47.6 percent of plate appearances ending on a Strasburg changeup.
Strasburg's high-spin curveball isn't too shabby, either; it yielded just a .173 average and .250 slugging percentage last year. So could a simple change in approach pay off for Strasburg? Last year's top starters by first-pitch changeup rate, for example, included Chris Sale. Phillies ace Aaron Nola and, yes, deGrom chose non-fastballs nearly half the time when opening an at-bat.
An evolving approach to take advantage of his best pitches could make a difference toward helping Strasburg get back to ace status.