Arenado, Story both in NL MVP conversation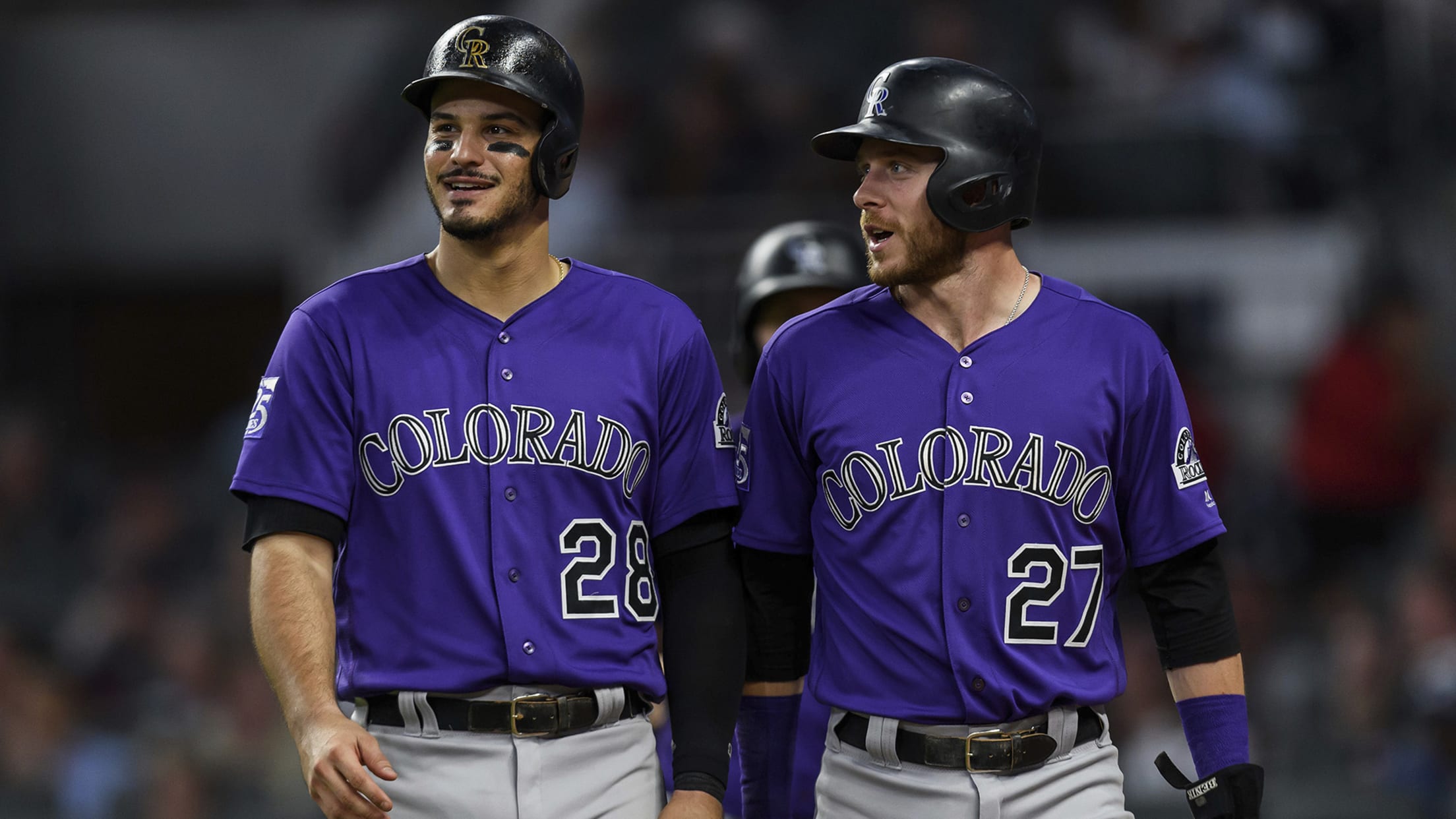 Colorado Rockies' Nolan Arenado (28) and Trevor Story (27) return to the dugout after scoring in the third inning of a baseball game against the Atlanta Braves in Atlanta, Friday, Aug. 17, 2018. The Rockies won 11-5. (AP Photo/Danny Karnik) (Danny Karnik/AP)
DENVER -- For the second year in a row, the Rockies have a pair of players in the conversation for the National League Most Valuable Player Award.In 2017, Nolan Arenado finished fourth in NL MVP voting and Charlie Blackmon finished fifth. Giancarlo Stanton, then with the Marlins, won the award."Word on
DENVER -- For the second year in a row, the Rockies have a pair of players in the conversation for the National League Most Valuable Player Award.
In 2017, Nolan Arenado finished fourth in NL MVP voting and Charlie Blackmon finished fifth. Giancarlo Stanton, then with the Marlins, won the award.
"Word on the street was the writers who vote for MVP, there was a split vote," Rockies manager Bud Black said about Arenado and Blackmon. "This year, it could be the same thing."
While Arenado has been discussed as a leading MVP candidate since before the season started, Trevor Story has come on strong as the season has evolved, hitting over .300 in June, July and September. Entering Wednesday, he was hitting .293 with 32 homers and 100 RBIs, and on Tuesday, he became the first shortstop to record 30 homers, 40 doubles and 25 steals in a season.
"It's great to see Trevor's career emerging the way it is," Black said. "I think we saw this coming. I think in '16, his rookie year, we saw him do some things. And the second half of last year, he really took off. It's great that we have a couple guys in the conversation. We're going to have a guy [Kyle Freeland] in the Cy Young conversation as well, which is awesome. It's good stuff."
Their teammates are not shy about talking about the MVP credentials of the Rockies' third base-shortstop tandem, but don't expect them to manage the campaign for one candidate over another.
"MVP is an individual award, but at the same time, you don't win without your teammates," said outfielder Carlos Gonzalez, who finished third in the 2010 NL MVP voting. "This is a group that is always pushing for all of us. Either way it goes, I will feel extremely happy. I'm glad I don't have that vote."
Any Rockies player or coach could make a case for Arenado's and Story's critical contributions to the club. Both are key reasons why Colorado is leading the NL West this late in the season.
"Nolan's having one of those Hall of Fame careers," Gonzalez said. "He's passionate about the game, he's really hard on himself. Everyone can really see that from the stands. He shows a lot of emotion, but that's just the way he is. He loves the game, and he wants to be the best he can be and help us win every night."
Arenado is happy to praise Story, who has been thriving in September.
"He's competing every day," Arenado said. "He does everything, he's got five tools. You don't see a lot of five-tool players in this game, and he's one of them. He's been unbelievable to watch.
"Obviously, the 25 [steals], the 40 doubles, the 30-plus homers, 100 RBIs, maybe a Gold Glove -- that all speaks for itself, what he's doing on both sides of the ball. He's a complete baseball player. We all try to be that player that can be a complete baseball player, and he can do it on both sides of the ball and the bases. There's not too many guys doing that."
Pioneer League finals update
The Pioneer League Grand Junction Rockies lost a 12-9 slugfest against Great Falls in the opener of the best-of-three Pioneer League finals at home on Tuesday. The Voyagers scored five runs in each of the first two innings to take an early 10-3 lead. Game 2 of the series is scheduled for Thursday at Great Falls.
Owen Perkins is a contributor to MLB.com based in Denver.