Notable trades made during the GM Meetings
Many big names have moved during annual gathering of team execs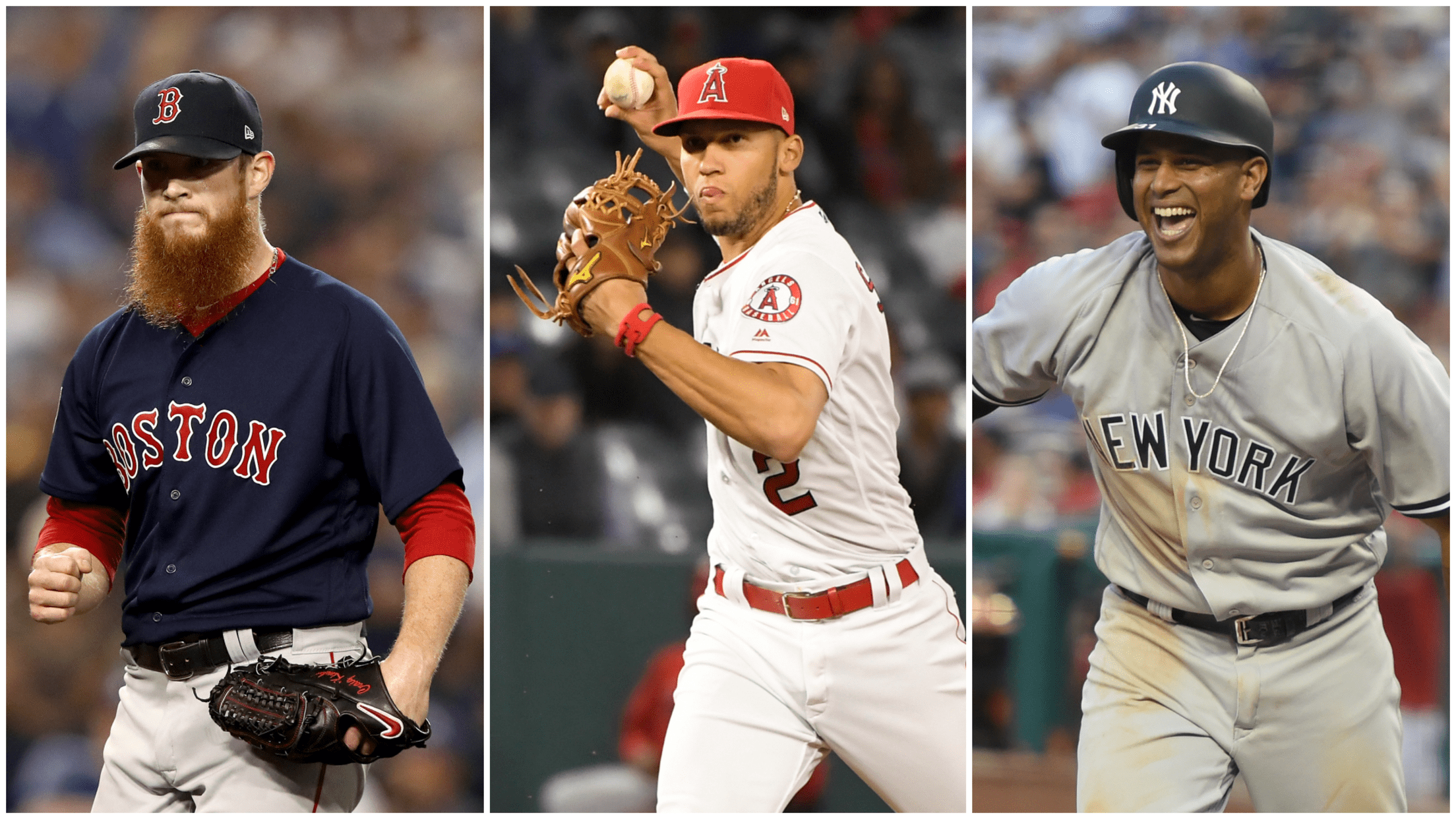 The annual General Managers Meetings in November don't get as much press as the Winter Meetings a month later, but they give team executives an important opportunity to discuss issues around the league and start thinking in earnest about the directions of their offseasons. With key decision-makers for every franchise
The annual General Managers Meetings in November don't get as much press as the Winter Meetings a month later, but they give team executives an important opportunity to discuss issues around the league and start thinking in earnest about the directions of their offseasons.
With key decision-makers for every franchise in one place, important work can be done in laying the foundations for key trades, and as such, it's not uncommon to see major transactions take place at this early stage of the offseason, even before the ink has had a chance to dry on the previous season.
With this year's gathering set to formally take place from Tuesday to Thursday, here's a look back at some notable players that have been on the move during or shortly after the GM Meetings in the recent past.
Ryon Healy
Traded Nov. 15, 2017, to Mariners from A's
Healy was a young, above-average hitter with pop in his first two seasons with the A's, but there simply wasn't room for him in Oakland's corner infield spots thanks to the breakout campaigns of both Matt Olson and Matt Chapman. And though Oakland slotted Healy into the lineup at designated hitter, it needed to clear that spot for Khris Davis, who struggled as a left fielder. Oakland dealt Healy to the Mariners, receiving bullpen piece Emilio Pagan and Minor League infielder Alexander Campos in return.
Jeremy Hellickson
Traded Nov. 14, 2015, to Phillies from D-backs
On the move following the GM Meetings for the second year in a row, Hellickson was acquired by the Phillies two days after the meetings in the first move of general manager Matt Klentak's tenure. Hellickson was meant to be a stabilizing veteran presence in a young rotation headlined by Aaron Nola, Jerad Eickhoff and Adam Morgan. He proved to be just that for a struggling Phillies team, pitching to a 3.72 ERA in 32 starts, and was soon on the move again in a Trade Deadline deal to the Orioles in 2017.
Craig Kimbrel
Traded Nov. 13, 2015, to Red Sox from Padres Manuel Margot and Carlos Asuaje Traded to Padres from Red Sox
In hindsight, this trade worked out pretty well for both sides. While Boston gave up four prospects to acquire Kimbrel, a four-time All-Star coming off his fifth straight season of 39 or more saves, he ultimately became the bullpen centerpiece of a World Series-winning Red Sox team that ranked among the best in franchise history. Though Margot and Asuaje have yet to find consistency at the Major League level, they're young, talented, controllable pieces that can contribute as the Padres emerge from their rebuild. Among the other pieces sent to the Padres, Javy Guerra has seen time in the Majors and Logan Allen figures to crack San Diego's rotation in '19.
Andrelton Simmons
Traded Nov. 12, 2015, to Angels from Braves
Sean Newcomb and Erick Aybar
Traded to Braves from Angels
In his four seasons with the Braves, Simmons was a defensive wizard whose bat was still catching up to his otherworldly prowess with the glove. After Billy Eppler acquired him in his first major move as general manager of the Angels, Simmons' bat caught up -- and now, the shortstop from Curacao is quickly establishing himself as an MVP-caliber talent, finishing in the top 10 in American League MVP Award voting in 2017 and likely set to repeat the feat in '18. Simmons was acquired at a steep cost -- though longtime Angels shortstop Aybar didn't even last a season in Atlanta, Newcomb was a key rotation arm in the Braves' 2018 playoff run and figures to be a mainstay in Atlanta's rotation for years to come.
Aaron Hicks
Traded Nov. 11, 2015, to Yankees from Twins
At the time, this deal was a win-win -- two teams swapping talented young players to better address their needs. The Twins had too many outfielders, especially with Byron Buxton the heir apparent in center and Miguel Sano moving to right field, and thought they had acquired their catcher of the future in John Ryan Murphy. The Yankees needed youth in their outfield and could afford to part with the 24-year-old Murphy, with Gary Sanchez waiting in the wings behind Brian McCann. But three years later? Murphy was a flop with the Twins, hitting .146 in his lone year in Minnesota while spending most of the year in Triple-A, and was dealt to the D-backs for a relief arm. Hicks is a dynamic center fielder thriving in one of the most talented outfields in baseball.
Jeremy Hellickson
Traded Nov. 14, 2014, to D-backs from Rays
New D-backs general manager Dave Stewart entered the 2014 offseason needing to acquire starting pitching after finishing with the worst record in the big leagues. In his first major move with the team, Stewart acquired Hellickson, the former AL Rookie of the Year, after the right-hander had spent the first five seasons of his career with the Rays, sending low-level prospects Andrew Velazquez and Justin Williams to Tampa Bay in return. He wasn't done, though -- later in the offseason, he shipped Didi Gregorius to the Yankees and netted Robbie Ray in return, and acquired Zack Godley in a deal that sent Miguel Montero to the Cubs. Hellickson had a 4.62 ERA in 27 starts before Stewart sent him to Philadelphia exactly a year later.
Devon Travis
Traded Nov. 13, 2014, to Blue Jays from Tigers Anthony Gose Traded to Tigers from Blue Jays
Travis has missed significant time due to injury since making his big league debut with Toronto in 2015. While he had a shot to be the club's everyday second baseman, he's played in just 316 games over four seasons, hitting .274/.314/.437. Gose spent a pair of seasons with the Tigers, but in order to keep his career going, he converted from a center fielder to a left-handed pitcher with a 100-mph fastball. He's struggled in that endeavor so far, posting a 5.89 ERA in the Minors between Class A Advanced Lakeland and Double-A Frisco.
Francisco Cervelli
Traded Nov. 12, 2014, to Pirates from Yankees
Justin Wilson
Traded to Yankees from Pirates
Both Cervelli and Wilson were swapped by clubs that went on to win Wild Card berths the following season, as the Yankees lost to the Astros in the AL Wild Card Game while the Pirates fell to the Cubs in the National League. Wilson pitched well for the Yankees in '15, posting a 3.10 ERA over 74 relief appearances, as well as 1 1/3 scoreless innings in the AL Wild Card Game, but New York dealt him to Detroit that offseason. By contrast, Cervelli is still with the Pirates, hitting .270/.368/.384 in four seasons.
Dan Uggla
Traded Nov. 16, 2010, to Braves from Marlins
Omar Infante Traded to Marlins from Braves
Uggla was a two-time All-Star with a penchant for home runs and strikeouts, heading toward free agency when the Marlins dealt him to the Braves in 2010. Though he would be named an All-Star once more in '12, Uggla's best days were behind him, and Atlanta released him in July 2014, after which he played in only 71 games the rest of his career. Infante would only play with the Marlins for a season and a half before Miami traded him to the Tigers along with Anibal Sanchez.
Brad Lidge
Traded Nov. 7, 2007, to Phillies from Astros
Michael Bourn
Traded to Astros from Phillies
Lidge had two strong seasons with Houston from 2004-05, posting a 2.07 ERA with 71 saves. But he struggled in '06, with his ERA ballooning to 5.28 for the 82-80 Astros, a season after reaching the World Series. Though he would improve in '07, Philadelphia sought to get something in return for him as he neared free agency, and dealt him for Bourn. In his first season with the Phillies, Lidge posted a 1.95 ERA with 41 saves to help the franchise win its first World Series title in 28 years.
Bourn stole 193 bases and won two NL Gold Glove Awards in center field for the Astros over three-plus seasons before Houston traded him to Atlanta in '11.
A.J. Pierzynski
Traded Nov. 14, 2003, to Giants from Twins
Boof Bonser, Francisco Liriano and Joe Nathan
Traded to Twins from Giants
This trade will be remembered most for the Twins making Nathan their closer after he had made 92 career relief appearances for San Francisco. Nathan saved 44 games with a 1.62 ERA in his first season with Minnesota, and went on to notch 260 saves with a 2.16 ERA over seven seasons for the Twins. Liriano made his big league debut with the Twins in '05, and posted a 4.33 ERA over seven seasons before being traded to the White Sox in '12. Bonser had a four-year MLB career, three of which came for Minnesota, during which he had a 5.12 ERA.
Pierzynski spent only one season with the Giants, one of seven clubs he played for during his career. He slashed .272/.319/.410 with 11 homers in 131 games in '04, and signed with the White Sox as a free agent that offseason.
Mike Hampton and Juan Pierre
Traded Nov. 16, 2002, to Marlins from Rockies
Charles Johnson and Preston Wilson
Traded to Rockies from Marlins
When Hampton signed an eight-year, $121 million contract with the Rockies on Dec. 12, 2000, it was the largest contract in MLB history at the time. But Hampton's Colorado tenure was short-lived, as the left-hander was unable to replicate the success he had previously with the Astros and Mets, posting a 5.75 ERA over two seasons. Pierre was heading into his fourth Major League season after stealing 110 bases in 359 career games with Colorado. Though he would play three seasons with the Marlins, including the '03 World Series championship, Hampton was traded just two days later, to the Braves.
Johnson was a well-established catcher with four Gold Glove Awards when he was sent to Colorado, but he would also only play a pair of seasons with his new club. Wilson had a resurgent year in '03 with the Rockies, being named an All-Star for the first time and driving in an NL-best 141 runs. Colorado traded him to the Nationals in July 2005.