Notes on home run distances, Pirela's streak
Clayton gave Padres relievers much needed relief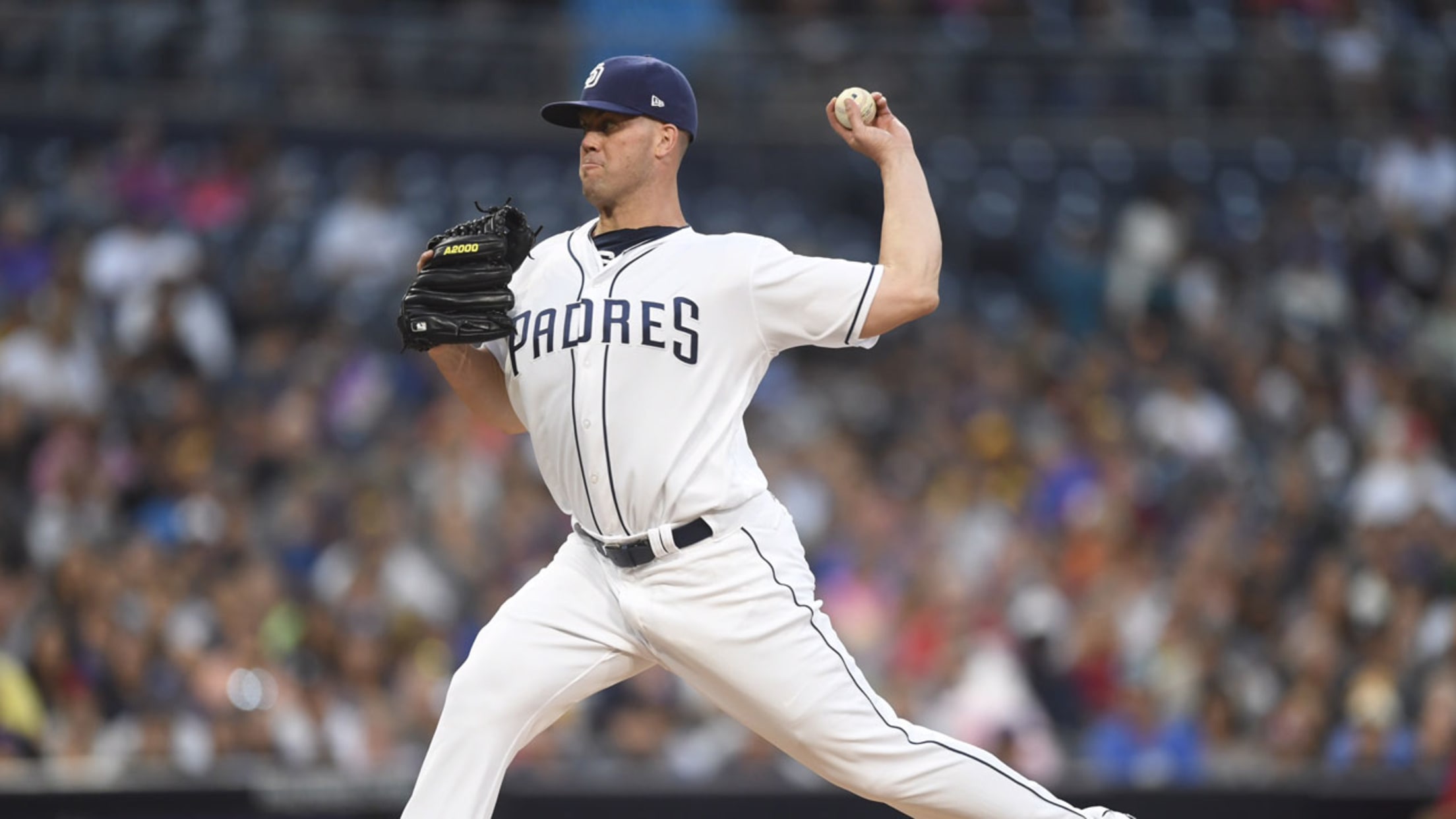 Bill Center, longtime sportswriter for U-T San Diego, is an employee of the Padres.I tipped my cap to Clayton Richard Monday night. Yes, he lost the game. And his outing wasn't great - five runs allowed on 12 hits and two walks over eight innings. And
Bill Center, longtime sportswriter for U-T San Diego, is an employee of the Padres.
I tipped my cap to Clayton Richard Monday night.

Yes, he lost the game. And his outing wasn't great - five runs allowed on 12 hits and two walks over eight innings.

And there's the needed-to-be-emphasized bottom line Monday night - eight innings.

The Padres desperately needed those eight innings. Well, the bullpen certainly did.

Hours before Monday's first pitch, the Padres sent two quality relievers - Brandon Maurer and Ryan Buchter - to Kansas City in a trade. This following a seven-game road trip during which the bullpen worked 32 innings.

And the Padres were short more than two relievers. Craig Stammen was still down Monday with a tender hamstring.

Everyone in the bullpen needed a day. To plug the hole, the Padres summoned catcher-turned-relief-pitcher Jose Ruiz, who had three things going for him - he was durable, he was close (Lake Elsinore) and he was on the 40-man roster.

Eventually Monday night, Ruiz did make his Major League debut. But he wasn't needed until the ninth. And no one else was needed because Clayton Richard owned it.

I've been around baseball a long time. I've known a lot of starters who would have opted out of that game around the fifth inning.

Richard went eight innings and 123 pitches. He gave the bullpen the break it needed.

Last week, members of the Padres alumni voted Clayton Richard their team's nominee for Major League Baseball's Heart and Hustle Award.

If you didn't understand why then - and if you know anything about Richard you should have - you certainly know why now.

NOTE WORTHY:

--How can the same monumental homer - Hunter Renfroe's launch onto the roof of the Western Metal Building -- be measured at 462 feet by one measurer (Statcast™) and 431 feet by another (the Padres' staff)? Well, I can explain it, although there shouldn't be that kind of discrepancy. Statcast™ which has been around since 2015, computes distance by exit speed and launch angle - estimating how far the ball might have traveled had not grandstands (or a building) got in the way. The Padres use a chart that measures the actual distance to points of impact at various points of Petco Park. There should be some meeting of the minds here. Personally, I favor Statcast™. Certainly Renfroe's blast was one of the longest ever at Petco Park. But the chart doesn't list it among the top 20. But you can be sure it would have travelled another 30 feet as it descended from orbit.

--Speaking of Renfroe, according to Jeff Praught - the keeper of all home run history at Petco Park - Renfroe is the only rookie to record two multi-homer games at Petco Park. The 12 multi-homer games at Petco Park after 48 home games this season ties the most in a single season (2006). There are 33 home games to be played. Even using the conservative chart - again, measures to point of impact - Renfroe's 13 homers at Petco Park average 405 feet with eight travelling farther than 400 feet.

--LF Jose Pirela stretched his hitting streak to 11 straight games Monday night, tying Will Myers for the longest streak by a Padre this season. Pirela is 15-for-47 (.319) during the streak. Monday's game was just the second multi-hit game in the streak, which includes five doubles and a triple.

--Correction: It was an eight-game hitting streak that ended for Cory Spangenberg Monday night, not nine as reported yesterday.

--Catcher Austin Allen, the Padres' fourth-round pick in the 2015 draft, was named the California League Player of the Week Monday for the second straight week. Allen was 14-for-27 for Advanced Single-A Lake Elsinore last week with a double, a triple and three home runs for six RBIs and eight runs scored. He is hitting .394 (37-for-94) in July with five doubles, a triple, eight home runs, 26 RBIs and 24 runs scored.