These Nippon and KBO players are on MLB's radar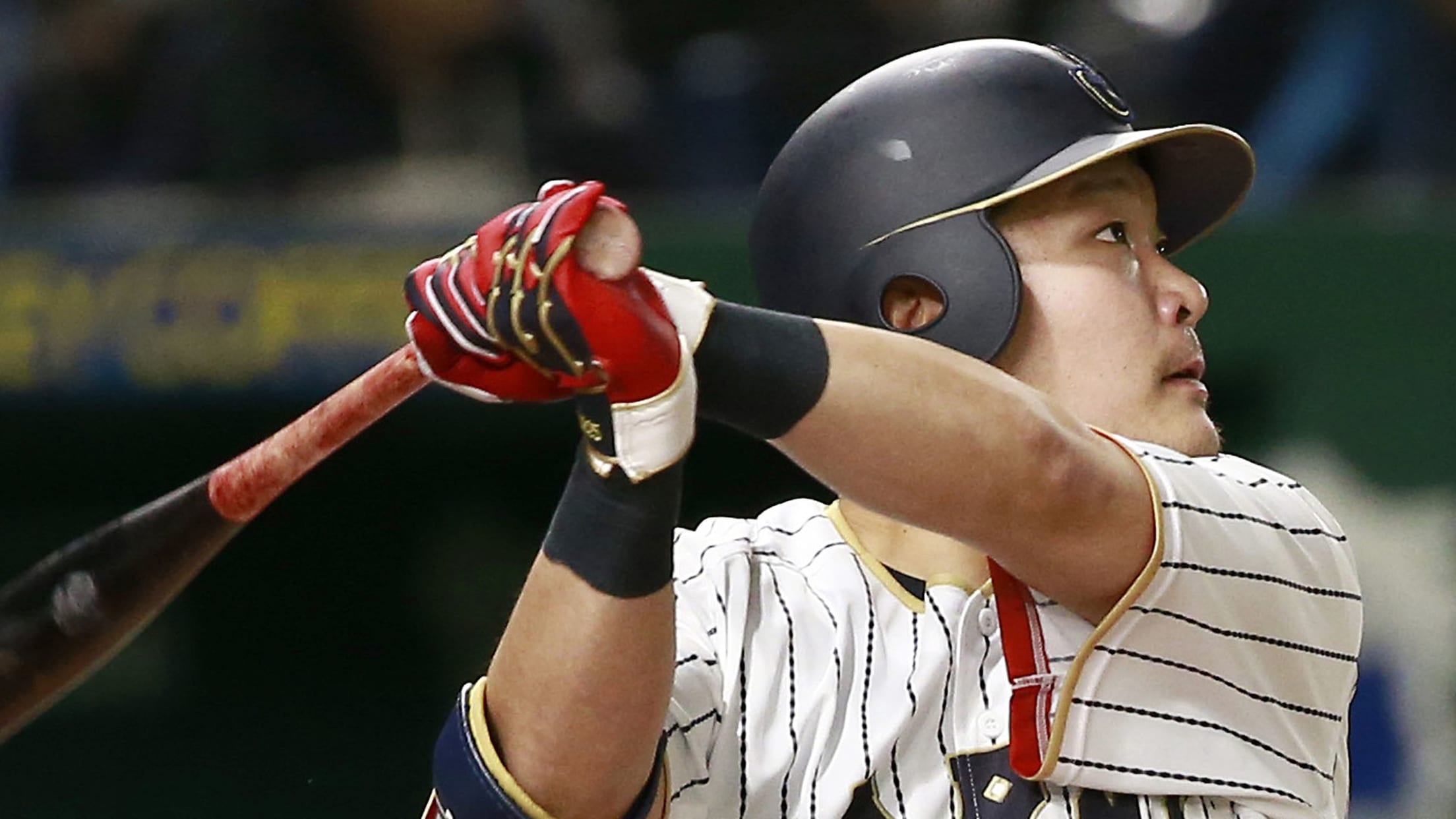 The movement of players from Nippon Professional Baseball to Major League Baseball over the past decade is most notable for big-name pitching: Yu Darvish and Hisashi Iwakuma in 2012; Masahiro Tanaka in '14; Kenta Maeda in '16; Shohei Ohtani (well, part of the time) in '18. The 18 Japanese-born players
The movement of players from Nippon Professional Baseball to Major League Baseball over the past decade is most notable for big-name pitching: Yu Darvish and Hisashi Iwakuma in 2012; Masahiro Tanaka in '14; Kenta Maeda in '16; Shohei Ohtani (well, part of the time) in '18.
The 18 Japanese-born players to debut in the Majors during the 2010s include 14 pitchers, three position players and one Ohtani.
As a new decade begins, the trend of pitching predominance is poised to change.
The top candidates to move from NPB to MLB this winter are position players: Seibu Lions center fielder Shogo Akiyama, 31; Yokohama DeNA BayStars left fielder Yoshitomo Tsutsugo, 27; and Hiroshima Carp second baseman Ryosuke Kikuchi, 29.
Zelous Wheeler, the former Yankees utility man who has spent the last five seasons with the NPB's Tohoku Rakuten Golden Eagles, told MLB.com via text message that all three are "top-tier players in NPB" who can hit quality pitching and have the work ethic and personality to adapt to the MLB game. The key for all three, Wheeler said, will be adjusting to the speed and style of play in the Major Leagues.
Akiyama told reporters this week in Japan that he intends to file for international free agency, as he has accrued enough NPB service time to qualify for that status. Akiyama prefers to sign with an MLB club, according to Kyodo News, and the MLB club won't be required to pay a release fee in order to complete the transaction.
Meanwhile, Tsutsugo has announced his intention to sign with an MLB club this winter, and the BayStars have said they will make Tsutsugo available via the posting system. The formal window to do so starts Friday and continues until Dec. 5.
Beginning with the posting date, all MLB teams can negotiate with Tsutsugo for a 30-day period. If an MLB club signs him, it will owe the BayStars a posting fee in proportion to the size of Tsutsugo's contract.
"I've dreamed of playing in the Majors since before I turned pro, since I was a child," Tsutsugo told Jason Coskrey of the Japan Times.
Meanwhile, Kikuchi's status with the Carp remains unsettled; he has spoken in the past of his interest in playing in MLB, but the Carp have not indicated whether the defensive dynamo will be posted this winter. If Kikuchi is posted, he will be subject to the same rules as Tsutsugo.
Based on age and NPB experience, none of the three would be subject to MLB international bonus pool restrictions.
Kikuchi has one more chance to impress MLB scouts in the coming week. He is listed on Team Japan's roster for the upcoming WBSC Premier12 tournament, which begins Nov. 2. Akiyama was set to play for the team, as well, prior to his injury in a pre-tournament game. The Premier12 will determine two bids to the Tokyo 2020 Olympic baseball tournament, although Japan already has qualified as the host nation.
On that subject, close observers of Asia's top leagues say this winter's transfer classes from Japan and South Korea would be deeper, if it were not for next year's Olympic Games.
Consistent national team participation is emphasized and celebrated widely in Japan and South Korea, and sources say some players are delaying moves to North America in order to remain eligible for Olympic rosters. NPB and the Korea Baseball Organization will have Olympic breaks in their 2020 schedules in order to ensure both leagues' players participate in the Games.
Still, many MLB teams are certain to discuss players from NPB and Korea's KBO League in the weeks ahead. Here's an overview of the names to watch.
JAPAN
Shogo Akiyama, OF, Seibu Lions: Frank Herrmann, the former Indians and Phillies right-hander, faced Akiyama frequently while pitching for the Golden Eagles over the past three seasons. Herrmann told MLB.com in a recent interview that he projects Akiyama as a No. 6 or 7 hitter in a Major League lineup. While Akiyama has played center field in Japan, Herrmann envisions him as a left fielder in MLB due to some regression in his defense over the past several seasons.
"He's a good contact hitter, he has speed and he plays every day," Herrmann said. "Actually, he plays every inning. He has a record of playing every inning, of every game, for the last five years in a row. That speaks to his work ethic … he's always very interested in getting better.
"I think there's a way to attack him with velocity, up and in on his hands, but I would've said the same thing about Ohtani a few years ago, and he's plugged up that hole in his swing. Akiyama can make a similar adjustment because he's so coachable and hardworking. He can handle depth breaking balls very well but struggles a bit more with sharp, short breakers."
Mike Bolsinger, the former Dodgers and current Chiba Lotte Marines right-hander, thought of a comparison for Akiyama while watching the World Series.
"He reminds me of Adam Eaton, with his approach," Bolsinger said of the Nationals right fielder. "He can hit the ball the other way really well. As a pitcher, it's frustrating to face him. You're always asking, 'How did he hit that ball? In the States, that would be a strikeout.' I've seen him hit it off the ground before."
Bolsinger said he's "100 percent" sure Akiyama will be an everyday player in the Majors. In the end, Akiyama could have a similar profile to that of Nori Aoki, who arrived to the Majors from NPB for his age-30 season and was a valuable contributor and highly regarded teammate over six years in MLB.
Yoshitomo Tsutsugo, LF, Yokohama DeNA BayStars: The left-handed-hitting Tsutsugo gained international notoriety during the 2017 World Baseball Classic, when he led Team Japan with a 1.113 OPS. He's viewed as a below-average defender in left field, so he could benefit from a move to an American League club in MLB, although he also has experience at first base. (The BayStars play in NPB's Central League, which does not have a designated hitter.)
Tsutsugo is known for his power, averaging roughly 32 home runs with a .932 OPS over the last three seasons. The White Sox and Mariners are among the AL clubs who could consider upgrades at DH this offseason. Tsutsugo is beloved by BayStars fans and could return there if he doesn't receive an MLB offer to his liking, but the seriousness with which teams scouted him this year suggests he's likely to find a healthy market in North America.
Ryosuke Kikuchi, 2B, Hiroshima Carp: He's an electrifying defender and has become a fan favorite and frequent viral sensation in Japan, thanks to dazzling plays at second base. A right-handed hitter, Kikuchi has averaged around a .700 OPS over the past five seasons -- with double-digit home run totals in each of the last four.
Joely Rodriguez, LHP, Chunichi Dragons, and Pierce Johnson, RHP, Hanshin Tigers: Rodriguez and Johnson have MLB experience and are free agents following standout seasons as NPB relievers. Rodriguez, who had a 1.64 ERA in 64 appearances this year, could opt to stay in Japan, where the Yomiuri Giants -- with their vast resources -- are motivated to sign him.
KOREA
Kwang-Hyun Kim, LHP, SK Wyverns: If Kim's name sounds familiar to fans in San Diego, there's a good reason: The Padres submitted a $2 million posting bid for him during the 2014-15 offseason but were unable to reach agreement on a contract, so the left-hander remained with SK Wyverns. Kim missed all of '17 due to elbow surgery but has pitched effectively since then, establishing a new career high with 190 1/3 innings this year in his age-30 season. However, it's not clear if SK Wyverns will permit Kim to make the move to MLB this winter after the team failed to win the 2019 Korean Series. Kim's profile could rise with a strong showing in the Premier12, where he's expected to be the ace for South Korea.
Josh Lindblom, RHP, Doosan Bears: Lindblom, a free agent, already is on the radar of MLB and NPB clubs. He's earned comparisons to Merrill Kelly, who returned to the U.S. after four seasons with SK Wyverns and promptly led the D-backs in innings pitched while making 32 starts.
Lindblom, with 194 2/3 innings this year, was the only KBO pitcher with a greater workload than Kim. He led qualifying KBO pitchers in wins, strikeouts, WHIP, K/9 and BB/9 while finishing second in ERA. Lindblom's increasing fastball spin rate has been cited as a key reason for his success -- which should get the attention of MLB clubs. The 32-year-old last pitched in the Majors with the Pirates in 2017.
Angel Sanchez, RHP, SK Wyverns: Sanchez, who turns 30 at the end of November, was Kim's right-handed counterpart atop the SK Wyverns rotation this year. Sanchez, the former Pirates reliever, has started in KBO for each of the last two seasons and is a free agent following a breakout 2019 in which he went 17-5 with a 2.62 ERA and 148 strikeouts in 165 innings.
Sanchez's most remarkable statistic of all? He surrendered only two home runs in his 28 starts this year -- which should draw the attention of MLB clubs in the Home Run Era.
Jon Paul Morosi is a reporter for MLB.com and MLB Network.