Football injury leaves Bourn in limbo
Veteran is one of 12 O's outfielders competing for roster spot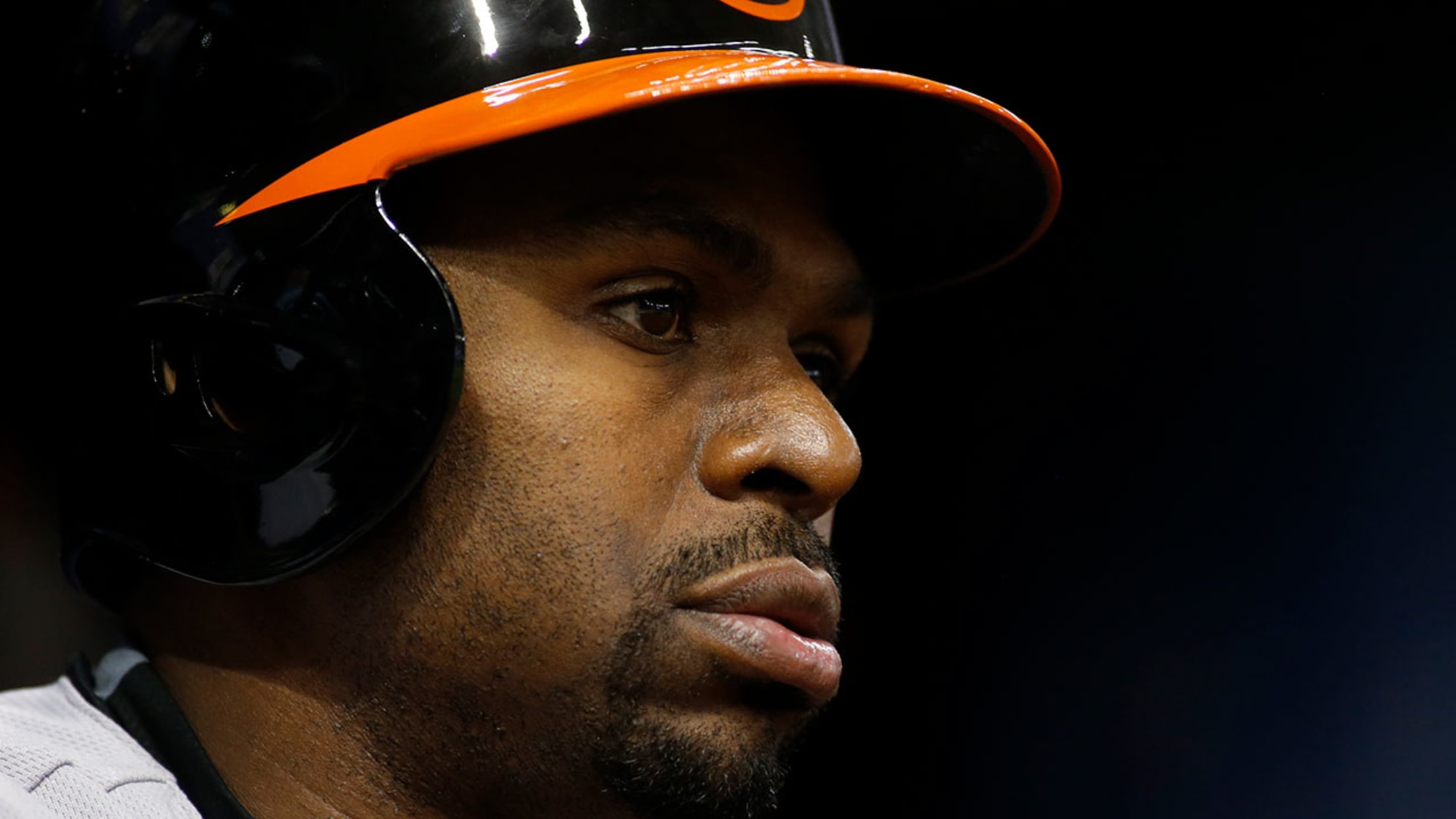 Michael Bourn broke his right ring finger catching a football in a drill that he says is part of his normal routine. (Getty)
SARASOTA, Fla. -- Michael Bourn has caught footballs in conditioning drills "thousands of times." However, on Friday, he snared a pass that went the wrong way, which jammed his right ring finger and broke it. He appeared in the Orioles clubhouse Sunday morning wearing a splint on the finger.Bourn, who
SARASOTA, Fla. -- Michael Bourn has caught footballs in conditioning drills "thousands of times." However, on Friday, he snared a pass that went the wrong way, which jammed his right ring finger and broke it. He appeared in the Orioles clubhouse Sunday morning wearing a splint on the finger.
Bourn, who was signed to a Minor League contract on Feb. 20 and hadn't yet played in a game, will be sidelined for four weeks.
"It wasn't football for fun, first off," Bourn said. "It was just a conditioning drill that you do and the ball just hit me in the wrong spot. I thought it was a jam at first, but I kind of knew. It hurt kind of bad, more than a jam. And they showed me a little spot where there's like a little crack, not a crack, but a little space where it broke a little bit. So I have to let it heal and I'll see what happens."
Bourn was competing for an outfield job as one of 12 outfielders in camp, and he has a March 27 opt-out, allowing him free agency if he's not on the Orioles' 40-man roster. He may not even be playing by then. The 34-year-old says that he hasn't decided whether he would go to the Minors for a time to get himself in playing shape.
"I'll make that decision when it's time. We'll see what happens when that time arises. Right now, I'm just trying to let it heal," Bourn said. "Who's to say it won't heal in three weeks? It might. It might not. I can't fast forward time, so I'm going to take it one day at a time, get ready and keep my body in shape. I just have to get in playing shape. We'll see what happens."
Bourn, who stopped playing football after his sophomore year in high school in order to concentrate on baseball, never gave the drill a second thought. He uses football drills as a way to improve his shape and to maintain his athleticism.
"Never had it happen to me, but it happened this time. That's the risk you take, so you have to live with it. I made this bed, so I have to lay in it," Bourn said.
When he was in high school, Bourn said he was an all-purpose player.
"I did everything. I was like Reggie Bush. I was a receiver, I played a little bit of running back, a little bit of cornerback, a little bit of safety. So, I played a lot of different positions," Bourn said.
Bourn, who wouldn't say who threw the pass, said he didn't consider becoming a two-sport athlete at the University of Houston, where he played baseball. He didn't receive any football scholarship offers.
"No, I stopped too soon. But I think I would have been able to get some if I had kept going. But I think I chose the right route," Bourn said.
Rich Dubroff is a contributor to MLB.com.