Vogt on Barreto: 'Some kind of special talent'
A's top prospect blasts first spring homer, shows consistency at plate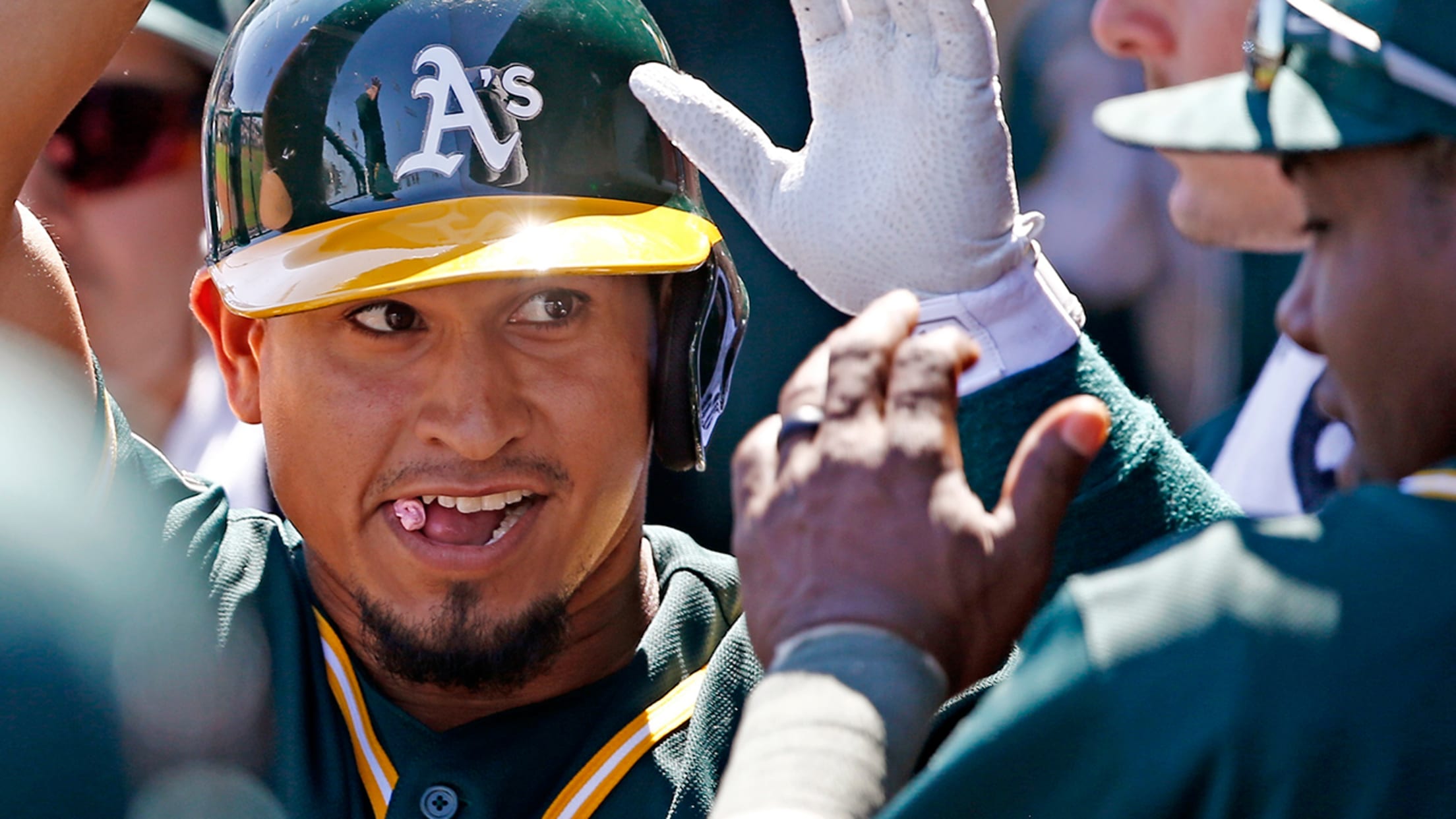 Franklin Barreto went 2-for-4 with a solo homer vs. the Indians on Thursday. (AP)
GOODYEAR, Ariz. -- Just a few hours after manager Bob Melvin finished singing the praises of the A's Franklin Barreto on Thursday, the just-turned-21-year-old went out and backed up his skipper.Barreto clobbered his first home run of the spring in the first inning of the A's 6-5 loss to the
GOODYEAR, Ariz. -- Just a few hours after manager Bob Melvin finished singing the praises of the A's Franklin Barreto on Thursday, the just-turned-21-year-old went out and backed up his skipper.
Barreto clobbered his first home run of the spring in the first inning of the A's 6-5 loss to the Indians at Goodyear Ballpark.
"I feel bad for him: 21 years old, hitting oppo[site-field] homers in Spring Training," A's catcher Stephen Vogt said. "He's some kind of special talent. He's shown what he's capable of."
Barreto, the organization's No. 1 prospect according to MLBPipeline.com, finished 2-for-4 and is hitting .480 this spring. In games where he's recorded at least two at-bats, he has at least one hit in all but one of them.
• A's Spring Training: Schedule | Information | Tickets
"The only question is when, not if," Melvin said of Barreto reaching the Major Leagues. "He can do it all."
Playing nine games at shortstop and seven at second base this spring, Barreto has compiled a .500 on-base percentage, a .680 slugging percentage and only one error in 15 games.
"For a kid so young at big league camp, you'd think there was some nerves or some, 'Do I belong?'" Melvin said. "But there isn't. We saw that from the first at-bat he had last year."
Barreto homered in his first at-bat last spring, and a few weeks later, he homered to nearly the same spot in Goodyear Ballpark as he did on Thursday.
"I feel really comfortable hitting the ball to that side of the field," Barreto said through a team translator. "Really strong on that side."
Chris Gabel is a contributor to MLB.com and covered the A's on Thursday.