Marlins have offensive reinforcements in Minors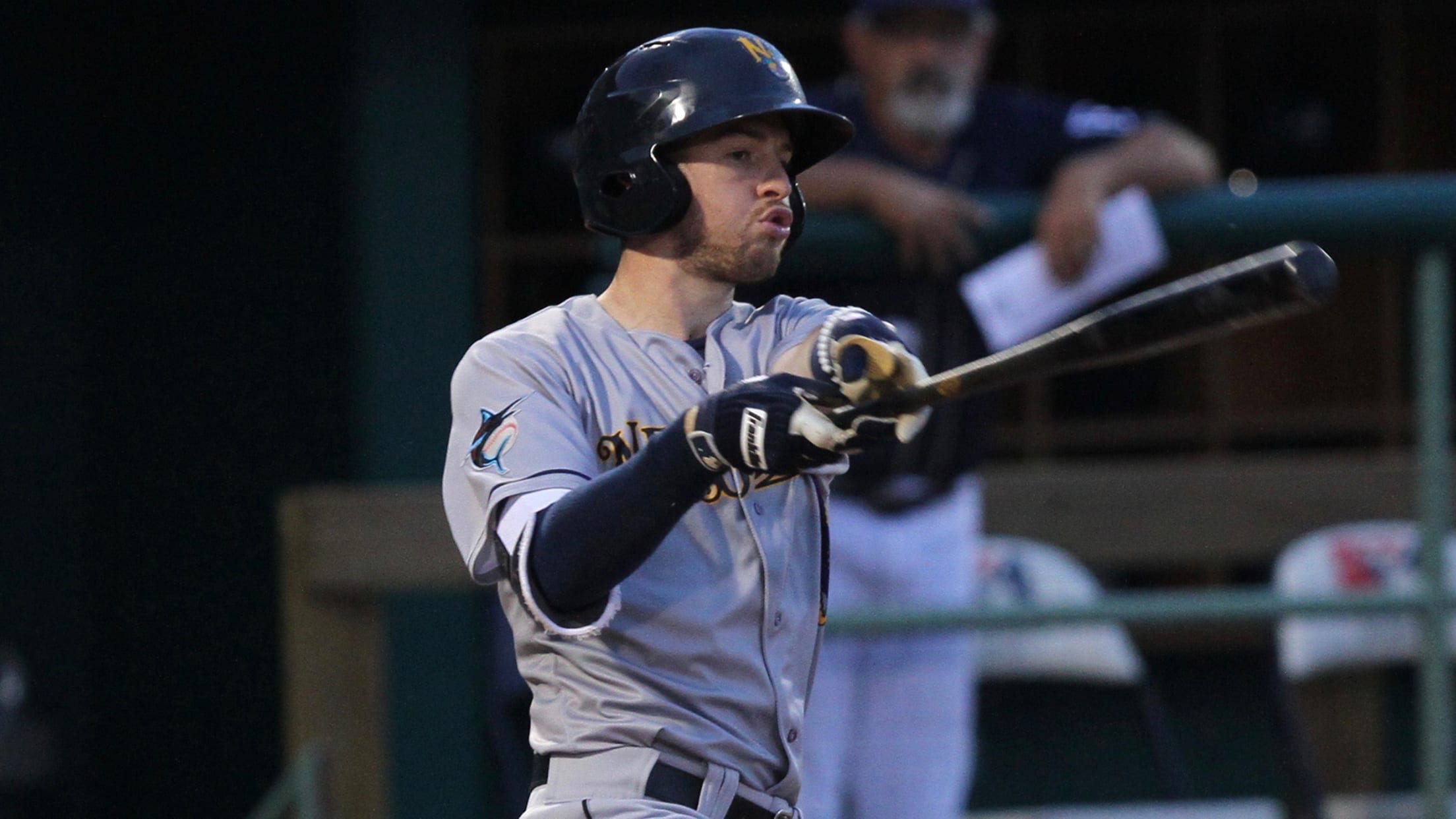 MIAMI -- In a season where runs have been hard to come by, Marlins manager Don Mattingly has mixed and matched his lineup regularly, searching for combinations that might click. The answers haven't been easy with a roster that has lacked a true leadoff hitter and at least two middle-of-the-order
MIAMI -- In a season where runs have been hard to come by, Marlins manager Don Mattingly has mixed and matched his lineup regularly, searching for combinations that might click.
The answers haven't been easy with a roster that has lacked a true leadoff hitter and at least two middle-of-the-order threats. But in the midst of a rebuild that initially emphasized adding pitching, that's how the roster has been constructed.
Still, the organization remains optimistic there is enough talent at the big league level and in the system to manufacture run production than what's already seen.
There were some glimpses of how a team approach might work in Miami's three-game sweep of the Mets at Marlins Park over the weekend.
In recent weeks, Jon Berti and Harold Ramirez have been called up from Triple-A New Orleans, and are playing regularly, and Garrett Cooper was reinstated from his second injured list stint. All three are getting more playing time, with Berti leading off and playing center field and Cooper in right field, hitting second. Ramirez is playing left field, and he has been used mostly in the bottom part of the order.
Conversely, veterans like Curtis Granderson and Martin Prado have seen their roles reduced.
Sitting last in the National League East, Miami is at the bottom of many major offensive categories -- like runs (118), on-base percentage (.281) and slugging percentage (.312).
Mattingly said he and president of baseball operations Michael Hill regularly discuss how to move forward with the options they have.
"Some of the things Mike and I talk about is which direction do we want to go," Mattingly said. "Is it play Harold every day? Play Cooper every day? Who do you want to see, in general? With that, trying to win games. Those are conversations that we do have about exactly who the organization wants to see, and what we're trying to find out."
Along with tinkering with the MLB roster, the Marlins also have some position player candidates at Triple-A New Orleans who could still be factors as the season progresses. Here's an update on where they stand.
• Outfielder Lewis Brinson: The Opening Day center fielder, Brinson was optioned to Triple-A on April 30, after hitting .197 with four RBIs in the first month. At New Orleans, he's slashing .259/.375/.444 with two home runs and 13 RBIs.
"With Lewis, it's to get him down there, get his confidence back, and being able to work in an atmosphere where it's not the big league level, and everything is being judged," Mattingly said. "Get him more in an atmosphere where we've got to get this guy right."
• Shortstop JT Riddle: Like Brinson, Riddle was on the Opening Day roster, but when Miguel Rojas won the job early in the season, Riddle was optioned to Triple-A. He's also played some center field. A left-handed hitter, Riddle is a big league-ready player available at any time.
• Outfielder Austin Dean: Dean has become one of the toughest players to read in the system. At the plate, the 25-year-old has dominated at Triple-A, hitting .365 with eight home runs and 30 RBIs. But his corner outfield defense was questionable during his early season callup. His defensive runs saved is minus-five, and he hit .227 with a home run and six RBIs, but also a 39.1 strikeout percentage. Dean has been playing some first base at New Orleans as well.
• Outfielder Monte Harrison: Ranked by MLB Pipeline as Miami's No. 3 prospect, Harrison is making great strides at New Orleans, hitting .288/.370/.466 with six home runs, 12 RBIs and 16 stolen bases. His strikeout rate remains high, 30.9%, but it's down from 36.9% a year ago. If Harrison gets the nod this year, it is expected to be no earlier than August.
• Second baseman Isan Diaz: Miami's No. 6 prospect, Diaz turns 23 on May 27. Like Harrison, there isn't a need to rush him. At New Orleans, he's hitting .247/.335/.400 with five home runs and 20 RBIs. Based on his hard-contact rates, the organization feels he's been a bit unlucky statistically, and analytics suggests his numbers should improve. His first big league opportunity could come after the All-Star break.