Every team's biggest offseason need for '21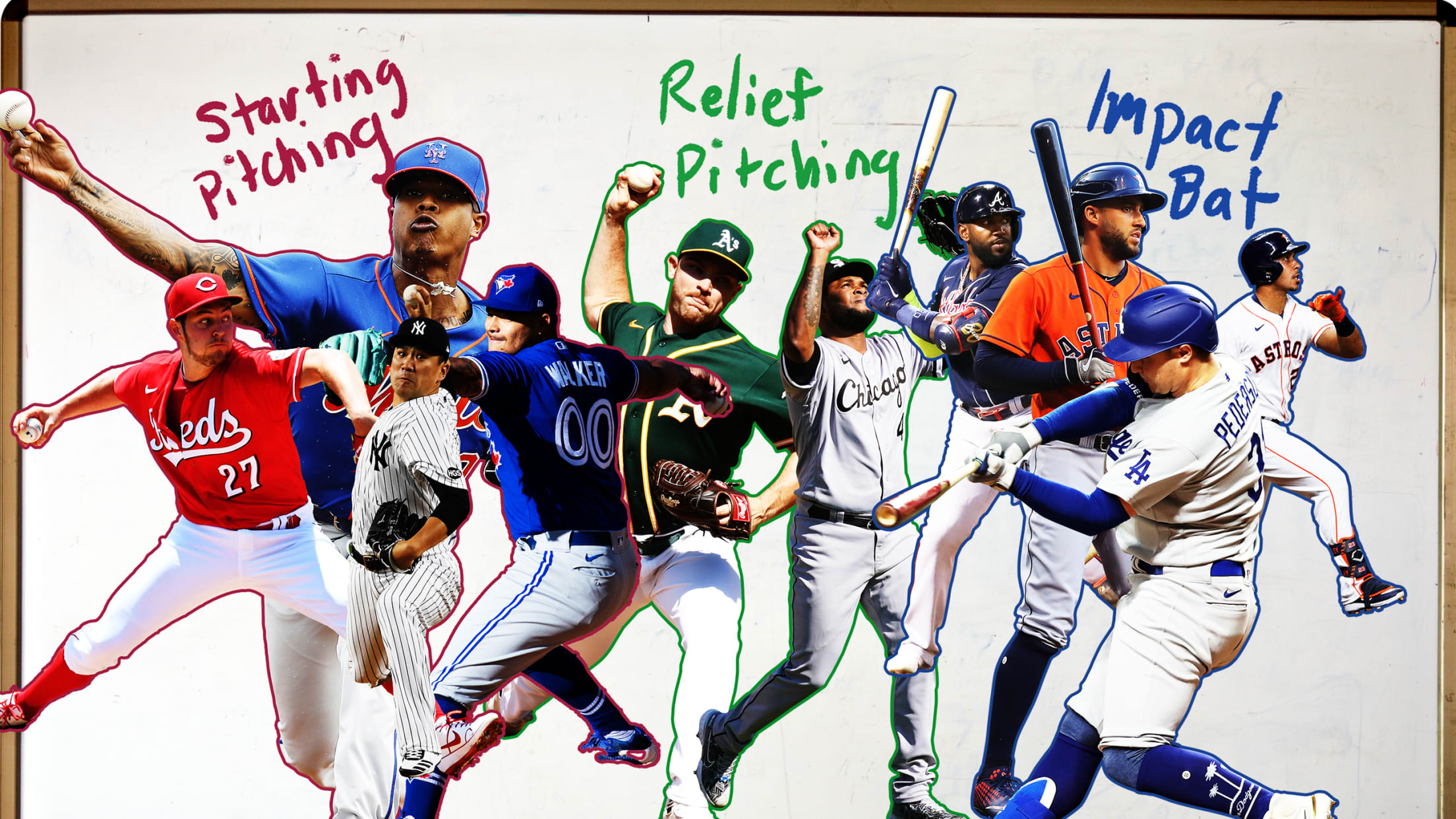 The 2020 season was a 60-game sprint to the finish, but with free agency set to begin in a few days, it's time for the baseball world to get back to its methodical ways. Whether your favorite team's general manager is looking to hit a home run with an All-Star
The 2020 season was a 60-game sprint to the finish, but with free agency set to begin in a few days, it's time for the baseball world to get back to its methodical ways.
Whether your favorite team's general manager is looking to hit a home run with an All-Star or fill a hole with a role player, the free-agent market offers anything and everything.
With that in mind, here's a look at each team's biggest need as they embark on another interesting offseason.
• FAQ: Offseason dates, rules, jargon
A couple of things to note: The list of available free agents could grow based on options and opt-outs that get exercised, and the deadline to do that is five days after the completion of the World Series.
AMERICAN LEAGUE EAST
Baltimore Orioles: Starting pitching
Alex Cobb and John Means return to lead the rotation, but Wade LeBlanc is a free agent and the rest of the internal options are uninspiring at best. Baltimore is unlikely to spend big on free agents, but GM Mike Elias could look to sign a veteran starter or two on short-term deals or trade for bounce-back candidates.
Potential FA targets: Trevor Cahill, RHP; Iván Nova, RHP
Boston Red Sox: Starting pitching
The Red Sox will surely kick the tires on anybody who can throw a baseball, whether they're starters or relievers. But with uncertainty over Chris Sale's timeline to return from Tommy John surgery and Eduardo Rodriguez's post-COVID recovery, Boston needs to address a rotation that brings back Nathan Eovaldi and possibly Martín Pérez, who has a $6.25 million club option.
Potential FA targets: Jon Lester, LHP; Charlie Morton, RHP
New York Yankees: Starting pitching
Masahiro Tanaka, James Paxton and J.A. Happ are all headed for free agency, so the Yankees have some spots to fill. Gerrit Cole, Luis Severino, Jordan Montgomery and either Deivi García or Domingo Germán could make up 80% of the rotation, but New York figures to add at least one arm, if not two. Re-signing Tanaka makes a lot of sense for the Yankees, who might not want to spend big on an arm such as Trevor Bauer after agreeing to a $324 million contract with Cole a year ago. GM Brian Cashman could also target a controllable starter, using Miguel Andújar -- or possibly Gary Sánchez -- as trade capital.
Potential FA targets: Masahiro Tanaka, RHP; Robbie Ray, LHP
Tampa Bay Rays: Catcher
Mike Zunino has a $4.5 million club option, though the Rays could look to add a catcher even if they bring him back given the sharp drop in his numbers during his two years in Tampa Bay. The team's top catching prospect, Ronaldo Hernandez, hasn't played above A-ball, while Michael Perez and Kevan Smith are the only other catchers on the roster and project more as backups.
Potential FA targets: Kurt Suzuki, Austin Romine
Toronto Blue Jays: Third base
Travis Shaw is arbitration-eligible for the final time this year, though he could be a non-tender candidate. Vladimir Guerrero Jr. has transitioned full-time to first base/DH, leaving a vacancy at third base. Toronto started five different players at the hot corner in 60 games this season, so finding a full-time answer at the position -- even short-term -- figures to be a priority for GM Ross Atkins.
Potential FA targets: Asdrúbal Cabrera, Jake Lamb
AMERICAN LEAGUE CENTRAL
Chicago White Sox: Starting pitching
Fresh off their first postseason appearance since 2008, the White Sox are ready to be annual contenders. The rotation -- which features Lucas Giolito, Dallas Keuchel, Dylan Cease and Dane Dunning -- is solid, but the addition of another frontline starter would turn the White Sox into AL Central favorites.
Potential FA targets: Trevor Bauer, RHP; Marcus Stroman, RHP
Cleveland Indians: Outfielder
Josh Naylor could move to first base if the Indians don't exercise Carlos Santana's $17.5 million option, opening up another spot in an already sparse outfield. Cleveland isn't expected to spend a lot in free agency, so its options could be to bring in some risk/reward types or turn to the trade market.
Potential FA targets: Steven Souza Jr., Jake Marisnick
Detroit Tigers: Corner outfielder
Jordan Zimmermann's expiring contract frees up $25 million in payroll for the Tigers, who have just one guaranteed contract (Miguel Cabrera's $30 million) on the books for 2021. Still, Detroit could wait another year to start spending, so GM Al Avila could look for veterans on one-year deals the way he did last winter with C.J. Cron and Jonathan Schoop.
Potential FA targets: Jay Bruce, Dee Strange-Gordon
Kansas City Royals: Outfielder
The Royals will look for players with on-base skills after finishing 26th in the Majors with a .309 OBP. The outfield would be a good place to start; Alex Gordon is retiring and Bubba Starling posted a woeful .219 OBP, one of five outfielders with sub-.300 marks.
Potential FA targets: Jurickson Profar, Cameron Maybin
Minnesota Twins: Starting pitching
Jake Odorizzi and Rich Hill are both free agents, and while Odorizzi has interest in returning, it's unclear whether the Twins will pay him what he's seeking. Minnesota could decide to go big, believing a No. 1 starter could keep them ahead of the AL Central pack as it pursues a third straight division title and a fourth trip to the postseason in five years.
Potential FA targets: Trevor Bauer, RHP; Taijuan Walker, RHP
AMERICAN LEAGUE WEST
Houston Astros: Relief pitching
The Astros' bullpen is in need of a makeover, especially with Roberto Osuna's arm trouble making him a potential non-tender candidate. Houston will likely be attached to every notable reliever on the market (not to mention every outfielder, given that George Springer, Josh Reddick and Michael Brantley are also free agents) this winter.
Potential FA targets: Alex Colomé, RHP; Liam Hendriks, RHP
Los Angeles Angels: Starting pitching
This seems to be the Angels' biggest need every offseason, yet they have not been able to figure it out to this point. Dylan Bundy, Griffin Canning and Andrew Heaney are set to return, though Shohei Ohtani's future as a two-way player remains uncertain. The Angels made a run at Gerrit Cole last offseason, so perhaps they'll try to hook another big fish this winter to lead the staff.
Potential FA targets: Trevor Bauer, RHP; José Quintana, LHP
Oakland Athletics: Second baseman
This was a hole for the Athletics for much of the season, but an August trade for Tommy La Stella seemed to solve the problem for the stretch run. La Stella is a free agent, so he could be brought back, or Oakland could look elsewhere at a free-agent market loaded with options at second base. Should Marcus Semien depart via free agency, that would open up another hole in the middle infield.
Potential FA targets: Jonathan Schoop, Jonathan Villar
Seattle Mariners: Relief pitching
The Mariners' bullpen had a forgetful season in 2020, posting the highest ERA (5.92) of any team in the AL along with the lowest strikeout-to-walk ratio (1.63) in the league. Seattle has roughly $50 million committed in salary for 2021, so GM Jerry Dipoto could look to spend on a reliever or two.
Potential FA targets: Alex Colomé, RHP; Brandon Workman, RHP
Texas Rangers: Corner power bat
If Shin-Soo Choo departs via free agency, Texas will need to add offense to a lineup that ranked last in the AL in runs scored. The Rangers could target a left fielder, a first baseman or a third baseman after getting sub-.700 OPS production from all three spots in 2020. Several players in this year's market have ties to manager Chris Woodward from his time on the Dodgers' coaching staff.
Potential FA targets: Josh Reddick, Joc Pederson
NATIONAL LEAGUE EAST
Atlanta Braves: Starting pitching
Mike Soroka will miss the first month or two of 2021 following Achilles surgery, a big blow to Atlanta's rotation. Having signed Cole Hamels to a one-year, $18 million deal last year, the Braves have another $38 million coming off the books with Marcell Ozuna, Mark Melancon and Shane Greene all headed for free agency. Though a Ozuna reunion is possible, he would not come cheap after the season he just had.
Potential FA targets: Mike Minor, LHP; Jake Odorizzi, RHP
Miami Marlins: Second baseman
Seven different players started at second base for the Marlins in 2020, combining for two home runs, 16 RBIs and a .602 OPS during the 60-game season -- the worst offensive production at the position for any NL team. There are more than a dozen second basemen on the free-agent market, and after opening this past season with Jonathan Villar and his $8.2 million salary, Miami could dedicate some payroll to the position.
Potential FA targets: Enrique Hernández, César Hernández
New York Mets: Starting pitching
Catcher J.T. Realmuto will likely be the Mets' top free-agent target, but the rotation is in need of one, if not two, arms. Noah Syndergaard should return in 2021 after undergoing Tommy John surgery in March, joining Jacob deGrom atop the rotation. David Peterson should earn a starting spot, but Marcus Stroman, Rick Porcello and Michael Wacha are all free agents, leaving two open slots.
Potential FA targets: Kevin Gausman, RHP; Marcus Stroman, RHP
Philadelphia Phillies: Catcher
The Phillies never got J.T. Realmuto signed to an extension, so while their No. 1 priority will be to re-sign the All-Star catcher, it will be interesting to see what Plan B is in the event that he signs elsewhere. The bullpen -- which had an NL-high 7.06 ERA -- is as big a need as the catcher who will be putting signs down.
Potential FA targets: J.T. Realmuto, James McCann
Washington Nationals: Starting pitching
It's unclear whether Stephen Strasburg will be ready for the start of Spring Training, leaving Max Scherzer and Patrick Corbin atop the rotation. After those two, the Nationals have a number of question marks; Aníbal Sánchez is a free agent and Austin Voth struggled in his 11 starts, though Erick Fedde pitched well enough to fill the No. 5 spot.
Potential FA targets: James Paxton, LHP; Marcus Stroman, RHP
NATIONAL LEAGUE CENTRAL
Chicago Cubs: Starting pitching
José Quintana and Tyler Chatwood are free agents, while Jon Lester has a $25 million team option or a $10 million buyout. It's unclear whether the Cubs will play at the top of the free-agent market for Trevor Bauer, but there are several mid-rotation starters who could fit nicely.
Potential FA targets: Taijuan Walker, RHP; Brett Anderson, LHP
Cincinnati Reds: Impact bat
The Reds reached the postseason for the first time since 2013 despite ranking 13th in the NL in runs scored. With Trevor Bauer likely departing via free agency, Cincinnati will have to rely on its offense more in 2021, so bolstering the lineup regardless of Nick Castellanos' decision on his opt-out clause makes sense.
Potential FA targets: Marcell Ozuna, Michael Brantley
Milwaukee Brewers: Corner infielder
Milwaukee could pick up Jedd Gyorko's $4.5 million option to fill one of its corner-infield spots, but a need will remain on the other side of the field. There are a number of veteran options on the market for GM David Stearns to choose from.
Potential FA targets: Brad Miller, Asdrúbal Cabrera
Pittsburgh Pirates: Center fielder
The Pirates' center fielders had the worst production in the NL, posting a collective .180/.239/.257 slash line, their .496 OPS representing by far the lowest in the league. Jarrod Dyson and Cole Tucker had the bulk of those at-bats, though Bryan Reynolds also started 15 games in center. Perhaps GM Ben Cherington will look for a veteran to bring in some leadership (and production) to the young club, which has Tucker, Reynolds and Anthony Alford as its top internal options.
Potential FA targets: Jackie Bradley Jr., Kevin Pillar
St. Louis Cardinals: Impact bat
The outfield did not produce well for the Cardinals in 2020; their collective .677 OPS ranked 12th in the NL. That was just one problem for St. Louis' offense, which scored fewer runs than any NL team other than the Pirates. The Cardinals could also look for an upgrade at third base, where their five homers and .700 OPS were both well below the league average.
Potential FA targets: George Springer, Michael Brantley
NATIONAL LEAGUE WEST
Arizona D-backs: Relief pitching
The D-backs were in the middle of the pack as far as bullpen ERA in 2020 (4.60), ranking 10th in the NL, though they were one of only four clubs to post a strikeout-to-walk ratio below 2.00. Archie Bradley and Andrew Chafin were traded in August, while Junior Guerra ($3.5 million) and Héctor Rondón ($4 million) both have club options and could be bought out. Stefan Crichton pitched well in September and could get the first crack at closing, but Arizona needs to add some arms behind him.
Potential FA targets: Steve Cishek, RHP; Brandon Kintzler RHP
Colorado Rockies: Impact bat
Trevor Story and Charlie Blackmon had solid 2020 seasons, and while Nolan Arenado wasn't up to his usual standards, nobody in Colorado is worried about him rebounding. The rest of the lineup has a number of holes, giving the Rockies a chance to improve in any number of positions. Lengthening the lineup should be the priority for Colorado, which posted its second straight sub-.500 season.
Potential FA targets: DJ LeMahieu, Joc Pederson
Los Angeles Dodgers: Third baseman
Justin Turner is a free agent, and given his value to the Dodgers on and off the field, there's a good chance he returns to either be the everyday starter or share time with Edwin Ríos. An intriguing alternative? The Dodgers make their second huge trade of 2020 and acquire Francisco Lindor, shifting Corey Seager to third base.
Potential FA targets: Justin Turner, Marwin Gonzalez
San Diego Padres: Relief pitching
Kirby Yates and Trevor Rosenthal are both headed for free agency, though the Padres could look to retain one or both. If either (or both) depart, San Diego will need to add a bullpen piece or two as it seeks a return to the postseason.
Potential FA targets: Liam Hendriks, RHP; Blake Treinen, RHP
San Francisco Giants: Starting pitching
Kevin Gausman, Jeff Samardzija, Trevor Cahill and Drew Smyly are all free agents, creating at least a pair of openings in the rotation. Gausman could return, but assuming Johnny Cueto, Logan Webb and Tyler Anderson hold their spots, there's room for another arm (if not two).
Potential FA targets: Michael Wacha, RHP; Tyler Chatwood, RHP
Mark Feinsand, an executive reporter, originally joined MLB.com as a reporter in 2001.