NCAA Softball champs boast Big League ties
Oklahoma toppled Auburn to take college softball's top prize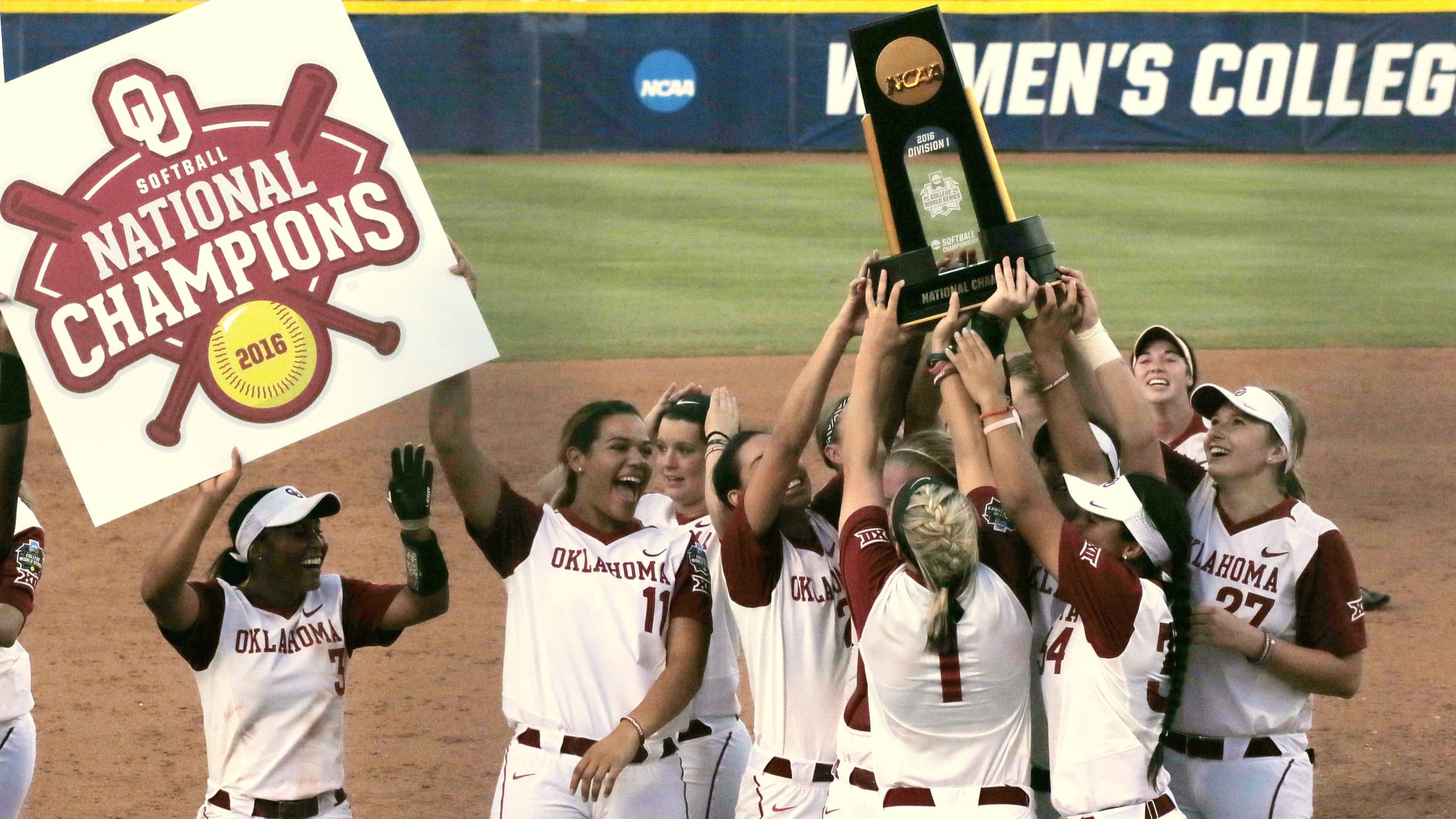 Oklahoma players celebrate with the trophy after defeating Auburn, 2-1, in the NCAA Women's College World Series. (AP Photo) (Sue Ogrocki/AP)
There's a new champion in the softball world, as the Oklahoma Sooners edged the Auburn Tigers, 2-1, in the best-of-three NCAA Women's College World Series Finals on Wednesday night at ASA Hall of Fame Stadium in Oklahoma City."It was one of the most fantastic feelings that I've ever had in
There's a new champion in the softball world, as the Oklahoma Sooners edged the Auburn Tigers, 2-1, in the best-of-three NCAA Women's College World Series Finals on Wednesday night at ASA Hall of Fame Stadium in Oklahoma City.
"It was one of the most fantastic feelings that I've ever had in my whole life," sophomore star pitcher Paige Parker said after retiring the final 12 Auburn batters she faced, just 30 miles from the University of Oklahoma campus. "Our fans this year have been so vital to all of the things that we've done."
Parker and the rest of her 2016 teammates became the third Sooner softball team to win a national title, joining the 2013 squad -- led by Brianna Turang, whose father, Brian, appeared briefly in the Big Leagues with the Mariners in 1993 and '94 -- and the 2000 team. Last year, Oklahoma reached the super-regionals with the help of Lauren Chamberlain and Shelby Pendley, now teammates on the USSSA Pride in the National Pro Fastpitch League.
Oklahoma's three national championships rank third since the NCAA added softball for the 1982 season, trailing UCLA's 11 and Arizona's eight.
A look at the final out as @OU_Softball clinched the 2016 #WCWS title!https://t.co/liucr2IC1X

— NCAA Softball (@NCAAsoftball) June 9, 2016
Not to be discounted, Auburn set a school-best mark for a single season with 58 wins, while competing for its first Women's College World Series title in program history. In Game 2 on Tuesday night, Auburn rallied to score 11 unanswered runs and force a deciding Game 3. Second baseman Emily Carosone, a fourth-round pick of the Chicago Bandits in this year's NPF draft, launched a walk-off grand slam to seal the win.
Wednesday's only Tiger run was a round-tripper off the bat of senior Jade Rhodes, whose father, former lefty reliever Arthur Rhodes, played 20 years in the Majors and won a 2011 World Series ring with the Cardinals.
"When she was little, she didn't want to play softball," said the all-time leader in holds, who concluded his career nearly five years ago. "Then, when she got older, she started playing select softball and she played in high school. She was doing really well at it, so she kept playing.
"When I was in Cincinnati, [when Jade was in high school] some of the guys told me that my daughter was going to be a stud when she was [in college]. [They said] she is going to be a stud and that team is going to be in the World Series."
While Rhodes' daughter will graduate after two straight WCWS appearances with the SEC power, head coach Clint Myers will look to capture the national title next year after winning crowns as the head coach at Arizona State in 2008 and 2011.
Myers, a catcher who was a fourth-round pick in the 1973 MLB Draft, was assisted at Auburn by his son Corey, the fourth overall pick in the 1999 Draft.
While the NCAA Softball season will not return until next February, the United States Women's National Team is slated to compete at the World Cup of Softball and WBSC Women's World Championship in July. And all year, the Amateur Softball Association (ASA) and Major League Baseball will continue to partner in supporting the Play Ball initiative. The initiative encourages participation in all forms of softball and baseball among all age groups, especially youth.
Drew Casey is a contributor to MLB.com.