Drake joins Rays' 'pen, gets into game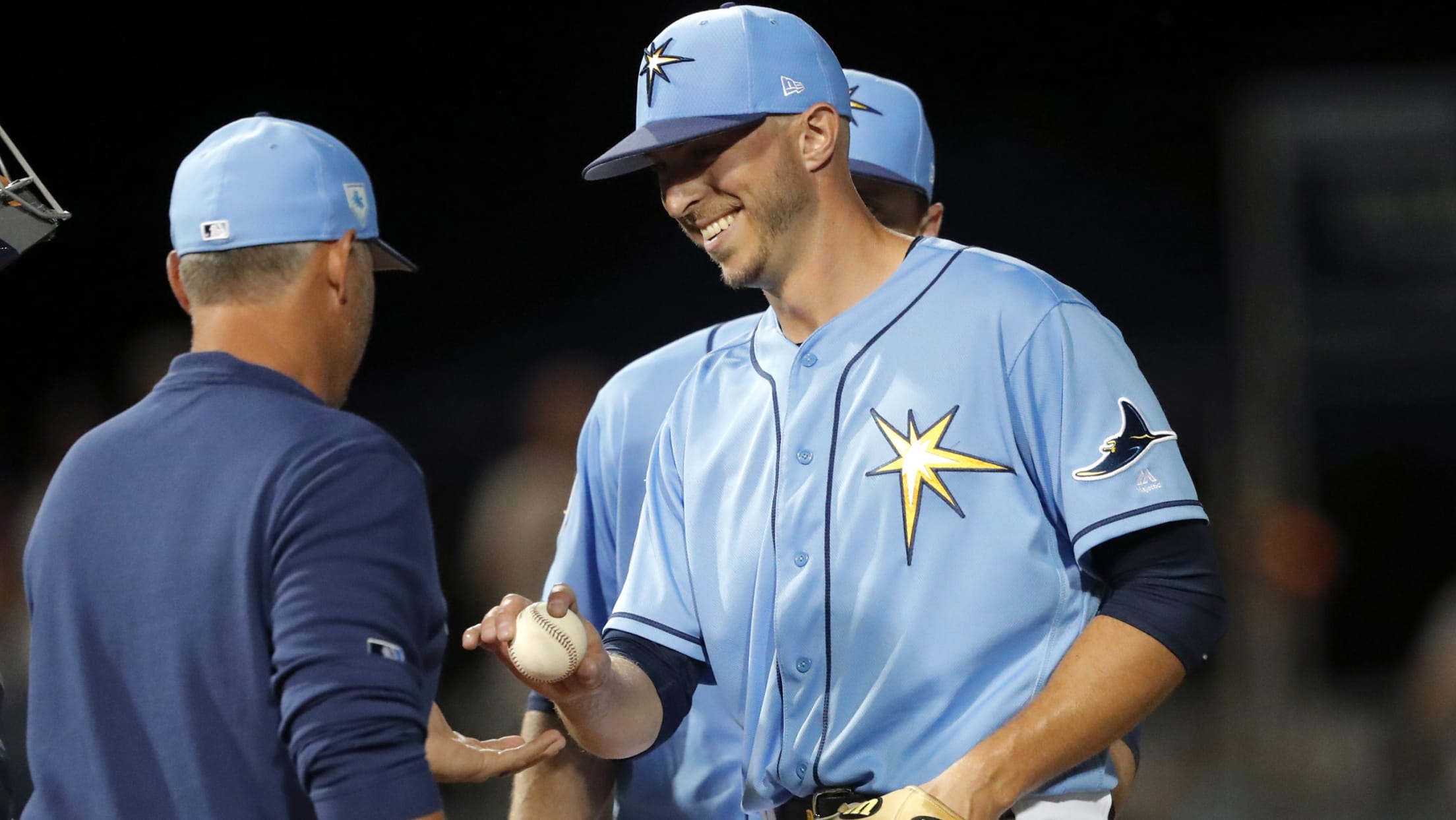 CLEVELAND -- The Rays added a new arm to their roster prior to Sunday's series finale against the Indians, selecting well-traveled reliever Oliver Drake from the Minors and optioning Casey Sadler back to Triple-A Durham. Drake entered Sunday's 6-3 win over the Indians with one out in the seventh, making
CLEVELAND -- The Rays added a new arm to their roster prior to Sunday's series finale against the Indians, selecting well-traveled reliever Oliver Drake from the Minors and optioning Casey Sadler back to Triple-A Durham.
Drake entered Sunday's 6-3 win over the Indians with one out in the seventh, making the Rays his seventh big league employer since the start of 2015. He allowed one run in 1 2/3 innings and struck out two.
"Oliver, he's done a really good job," manager Kevin Cash said before the game. "You look at his Triple-A numbers, his strikeout-to-walk ratio has been outstanding.
"We'll bring him in today to face righties, lefties, but I would envision [that he'll only pitch] two innings or less."
Drake logged 10 innings with the Rays in Spring Training after Tampa Bay claimed him, designated him for assignment and then purchased him back from Toronto in January. The righty struck out 12 and walked six, yielding five hits and two earned runs during Grapefruit League play.
The 32-year-old went on to pitch in 19 games at Triple-A, owning a 4.94 ERA in 23 2/3 innings. He recorded 40 strikeouts and walked seven.
"I don't think we saw the best of Oliver Drake in Spring Training," Cash said. "He did some good things, but we don't put a ton of weight in that. He got on a nice run. Hopefully, we can catch some of his momentum, and he can come in and get some big outs for us."
Drake last appeared in the Majors with the Twins in 2018. He also pitched with the Brewers, Indians, Angels and Blue Jays last season, posting a 5.29 ERA and 3.24 FIP in 47 2/3 innings.
"This is kind of the depth we talk about having," Cash said. "At some point in the season, we know we're going to have to lean on them. I think this is kind of [Drake's] opportunity."
Sadler has tossed 15 1/3 innings in the Majors this season, allowing three earned runs. He last appeared in Saturday's 6-2 win over Cleveland, working two innings and allowing one run.
"Given the fact that Sadler did a job for us last night," Cash said, "with the lack of off-days, the last thing we want to do is get caught where we're not being aggressive doing everything we can to protect our bullpen."
To make room on the 40-man roster for Drake, the Rays transferred right-handed pitcher Tyler Glasnow to the 60-day injured list. Glasnow initially landed on the 10-day IL on May 11 due to a right forearm strain, but Sunday's move is said to not be the result of any setback.