Back in Tigers' camp, Infante tries to revive career
Veteran, 35, seeking utility role in third Detroit stint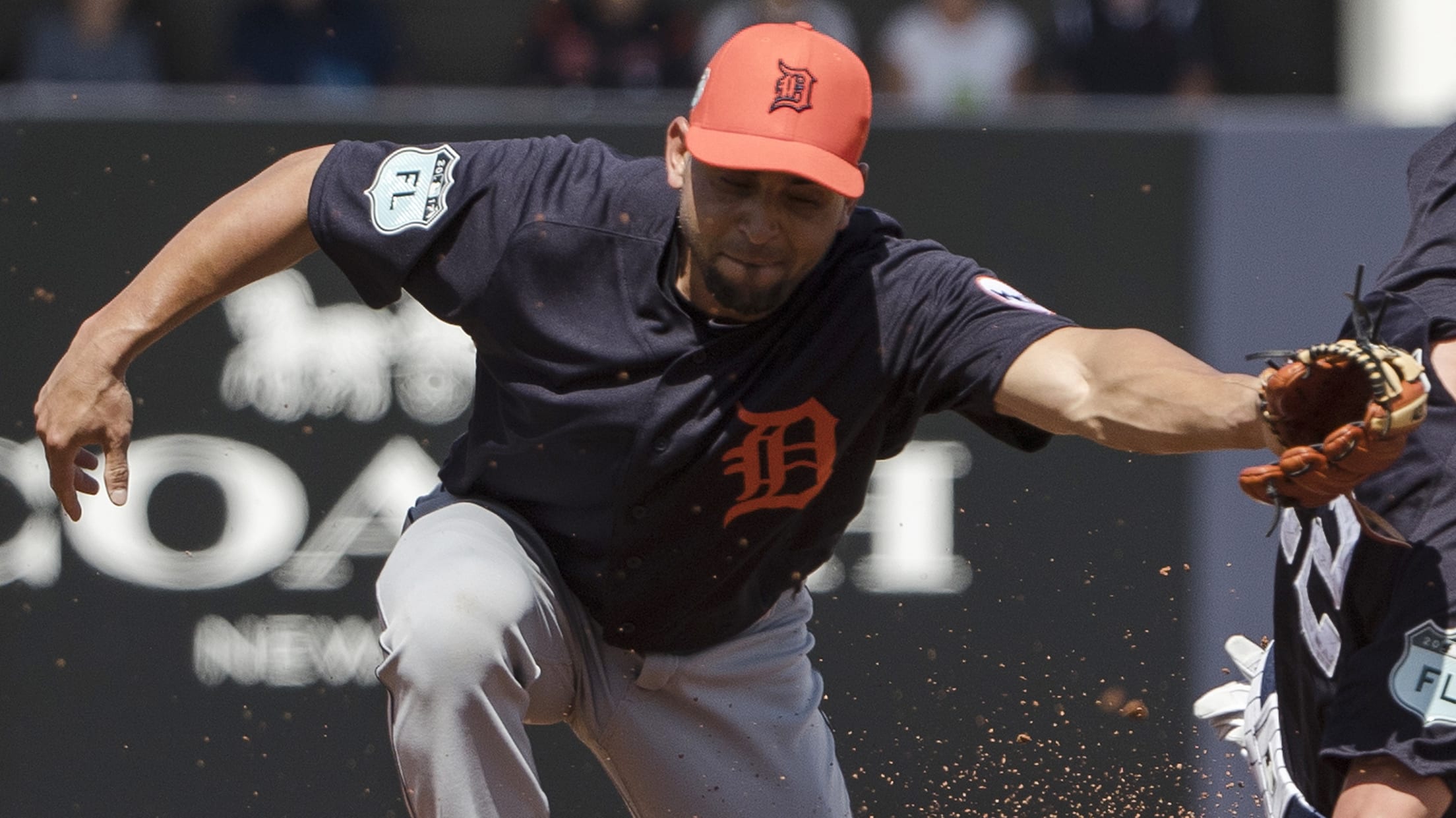 "He's looked good so far," Brad Ausmus said of Omar Infante. "He's swinging the bat well." (AP) (Matt Rourke/AP)
LAKELAND, Fla. -- Omar Infante's first camp with the Tigers was in 2001. That was two makeovers ago for Joker Marchant Stadium and the surrounding complex.He barely missed Brad Ausmus' last Tigers tenure as a player. Tony Clark was Detroit's first baseman, one of the reigning veterans alongside Bobby Higginson
LAKELAND, Fla. -- Omar Infante's first camp with the Tigers was in 2001. That was two makeovers ago for Joker Marchant Stadium and the surrounding complex.
He barely missed Brad Ausmus' last Tigers tenure as a player. Tony Clark was Detroit's first baseman, one of the reigning veterans alongside Bobby Higginson and Damion Easley.
Infante was the future, a teenage shortstop out of Venezuela who could slickly field and swiftly run.
"I remember when I was young here in 2001, 2002," said Infante, who said he can remember a lot from that stretch. "I know a lot of coaches, a lot of players."
To see him now, he doesn't look that old. He turned 35 last December, but has nary a gray hair. He has kept himself in the shape of someone years younger because he's still battling.
Instead of trying to start his big league career, now he's fighting to resuscitate it. The former All-Star and three-time World Series participant is hoping to crack a big league roster as a utility player, reprising the role he filled admirably a decade ago with the Tigers and seven years ago with the Braves.
He was so good at it last time that he became an everyday second baseman in Miami and Detroit before signing a four-year, $48 million deal with Kansas City. This would have been his final year of that contract, but the Royals released him amidst an injury-plagued 2016 season. After a Minor League deal with the Braves last summer, he came back to Tigers camp for what might be his last shot.
"It's really hard. That happens in baseball," he said. "That happened to me. I have to accept that, keep competing, keep playing, keep practicing, keep working hard. You never know in baseball, something changes that quick."
He's healthy after a productive offseason, he said. And if he's healthy, he believes he can still play. So far, he's showing signs he can. Though he's 2-for-9 in Grapefruit League play, he's moving better than he has in a few years. He made an impression with his baserunning instincts, rounding second and scoring on a fielder's choice play a few days ago.
"He's looked good so far," Ausmus said before Thursday's 11-1 loss to the Pirates. "He's swinging the bat well. He has actually run pretty well, better than I expected. But he's a veteran guy. I've seen him play a lot. He's not a huge unknown there."
He's hustling like a youngster because he has to make an impression. The Tigers signed him to a non-roster invite in December, when an Ian Kinsler trade seemed like a possibility. Infante, Detroit's second baseman before Kinsler's arrival, would've had a position.
Instead, with a set roster, Infante is fighting for utility work, but his path might be blocked by a youngster. Dixon Machado, Detroit's latest shortstop prospect, is out of Minor League options.
"I feel good. I feel healthy," Infante said. "That's most important for me. I'm getting an opportunity."
Fight as he might, Infante's best chance might be to play well enough here to impress another organization, opt out of this deal and sign elsewhere. It's early, but he's getting noticed.
"He looks fine so far," Ausmus said. "He looks like he's still got something left."