Original Met Choo-Choo Coleman passes away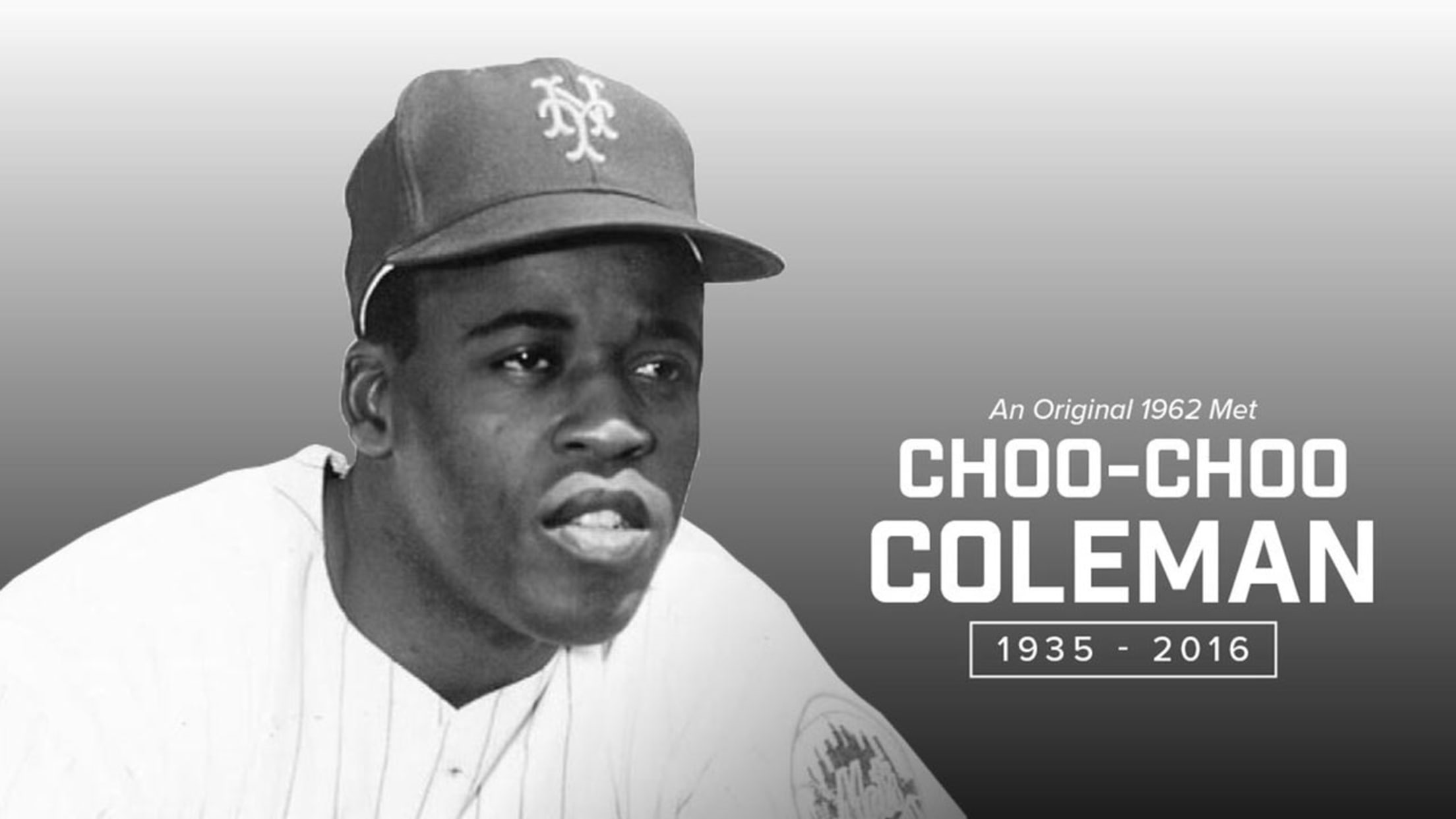 Clarence "Choo-Choo" Coleman hit .250 in 55 games during the Mets' inaugural 1962 season. (Mets)
Original Met Clarence "Choo-Choo" Coleman, a catcher who was among the many who came to symbolize the futility of the losingest team in Major League history but became an icon because of his memorable name and his role on that 1962 team, died Monday after a lengthy illness.Coleman, a left-handed-hitting
Original Met Clarence "Choo-Choo" Coleman, a catcher who was among the many who came to symbolize the futility of the losingest team in Major League history but became an icon because of his memorable name and his role on that 1962 team, died Monday after a lengthy illness.
Coleman, a left-handed-hitting catcher, was taken 28th in the National League's first expansion draft from the Phillies, with whom he made his Major League debut in 1961. He was called up from the Minor Leagues that July and played in 55 games, platooning with Chris Cannizzaro and hitting .250 with six home runs and 17 RBIs.
He was one of seven players who caught for that year's Mets team, which featured players such as Marv Throneberry, Elio Chacon, "Hot Rod" Kanehl, two 20-game losers and a 19-game loser and finished with a 40-120 record. Yet it was a team that caught the imagination of New York fans who were starved for NL baseball four years after the Dodgers and Giants left the city for California.
Coleman is remembered, too, for an interview he had with Mets broadcaster Ralph Kiner, a Hall of Fame player, in which he was asked, "What's your wife's name and what's she like?"
Coleman said, "Her name is Mrs. Coleman, and she likes me."
Five-foot-nine and 165 pounds, Coleman was praised by manager Casey Stengel for his ability to block low pitches, according to a 2012 story in The New York Times. Yet Coleman was charged with 16 passed balls in his 143 appearances behind the plate from 1962-66. Stengel countered by saying he had never seen a catcher move so quickly to retrieve passed balls.
Coleman got the majority of the playing time behind the plate in 1963 but hit only .178 in 106 games. He spent the most of the rest his playing career, which began with the Indianapolis Clowns of the Negro American League, in the Minor Leagues and then the Mexican League, finishing up in 1972. He had a .197 average with nine homers in 201 Major League games.
A funeral service is scheduled for Saturday at Greater Sidney Park Baptist Church in Bamberg, S.C., according to The Associated Press.
Bobbie Dittmeier is an editor for MLB.com.