Orioles activate Hart for bullpen help vs. Braves
Wilkerson optioned to Triple-A Norfolk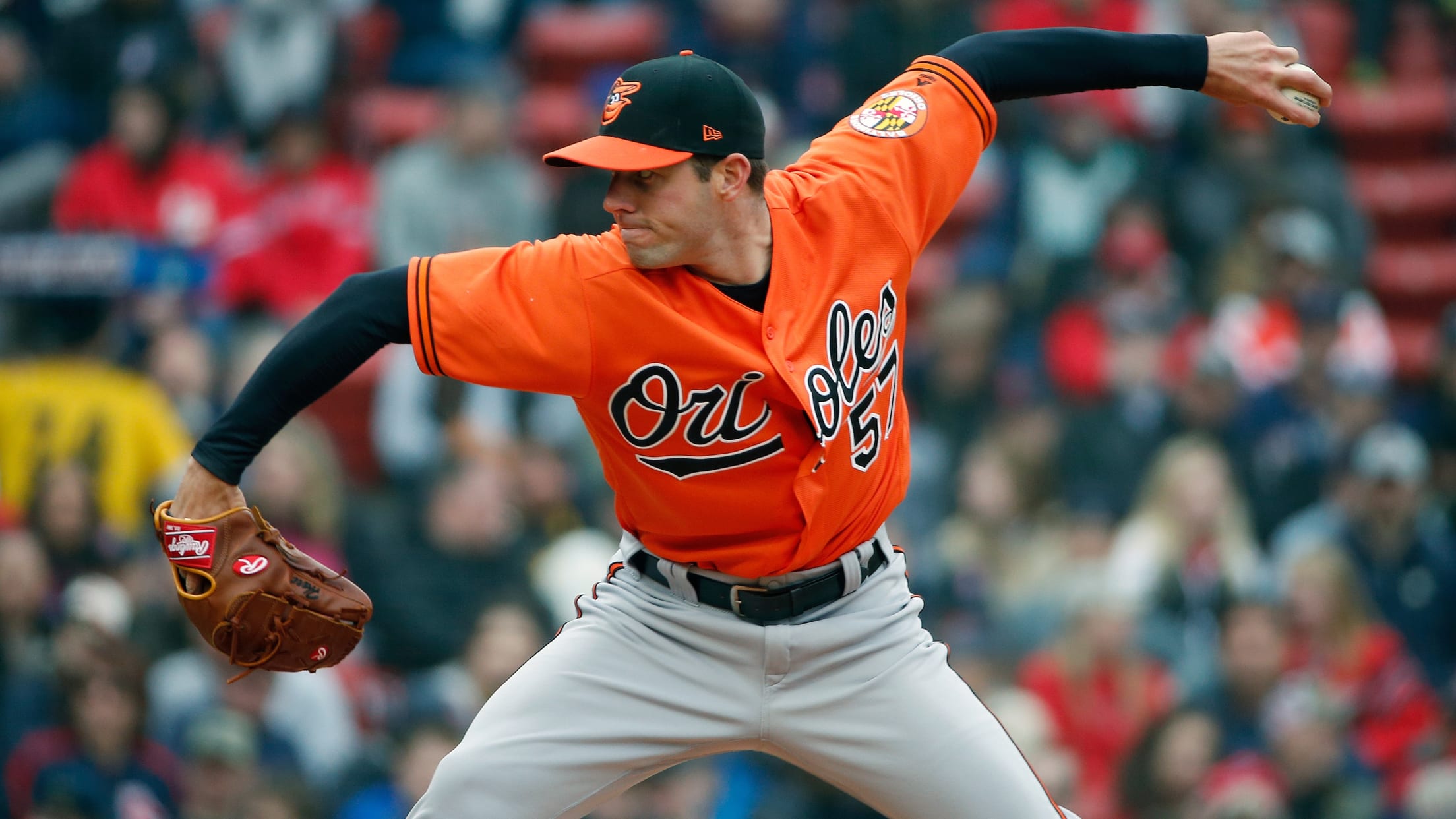 Baltimore Orioles' Donnie Hart pitches during the seventh inning of a baseball game against the Boston Red Sox in Boston, Saturday, April 14, 2018. (AP Photo/Michael Dwyer) (Michael Dwyer/AP)
ATLANTA -- After a 15-inning, five-plus-hour game on Friday night that called for 13 different relievers spanning between the Orioles and Braves, both clubs needed an extra arm out of the bullpen to help finish out the weekend.O's manager Buck Showalter announced before Saturday's game that left-handed reliever Donnie Hart
ATLANTA -- After a 15-inning, five-plus-hour game on Friday night that called for 13 different relievers spanning between the Orioles and Braves, both clubs needed an extra arm out of the bullpen to help finish out the weekend.
O's manager Buck Showalter announced before Saturday's game that left-handed reliever Donnie Hart was recalled from Triple-A Norfolk for the weekend's second of three games against the Braves at SunTrust Park, while utility man Steve Wilkerson was optioned to Norfolk.
"We would have liked to have kept (Wilkerson)," Showalter said. "He has presented himself well, but we just need a pitcher today, and Donnie was our best option."
The news comes after Wilkerson recorded his first Major League hit in Friday night's 10-7 win over the Braves -- an RBI single during the Orioles' six-run ninth inning. The O's selected Wilkerson's contract from Norfolk on Tuesday.
Wilkerson notched his first big league hit in front of a crowd of friends and family on Friday night. A Georgia native, Wilkerson went to Pope High School in Marietta, Ga., less than 10 miles from SunTrust Park.
"Coming back here last night and getting the hit in front of friends and family was really special," Wilkerson said. "I think I did my job as well as I could. The game [on Friday night] brought me a lot of opportunities to be in it."
And while Wilkerson had the opportunity to play in Friday night's game, so did a handful of Orioles relievers, causing the need for more relief out of the bullpen for the remainder of the weekend.
Hart has made six appearances out of the bullpen for Baltimore throughout 2018. He holds a 1.35 ERA through 6 2/3 innings in the Majors this year. The Orioles are 1-5 when Hart has made an appearance in relief.
The left-handed reliever has allowed just one home run through 31 1/3 innings at all levels in 2018, while striking out 31 in 26 game appearances.
But despite the need for a pitcher on Saturday, Showalter said the decision to send Wilkerson down did not stem from his play -- he was 1-for-5 through three game appearances -- but from the circumstance the club is in this weekend in Atlanta. He assured that this was not the last Major League appearance for Wilkerson.
"He'll be back," Showalter said.
Tori McElhaney is a reporter for MLB.com based in Atlanta.