O's add RHP prospect Kremer to player pool
One of 8 assigned to alternate training site; Martin (wrist) to IL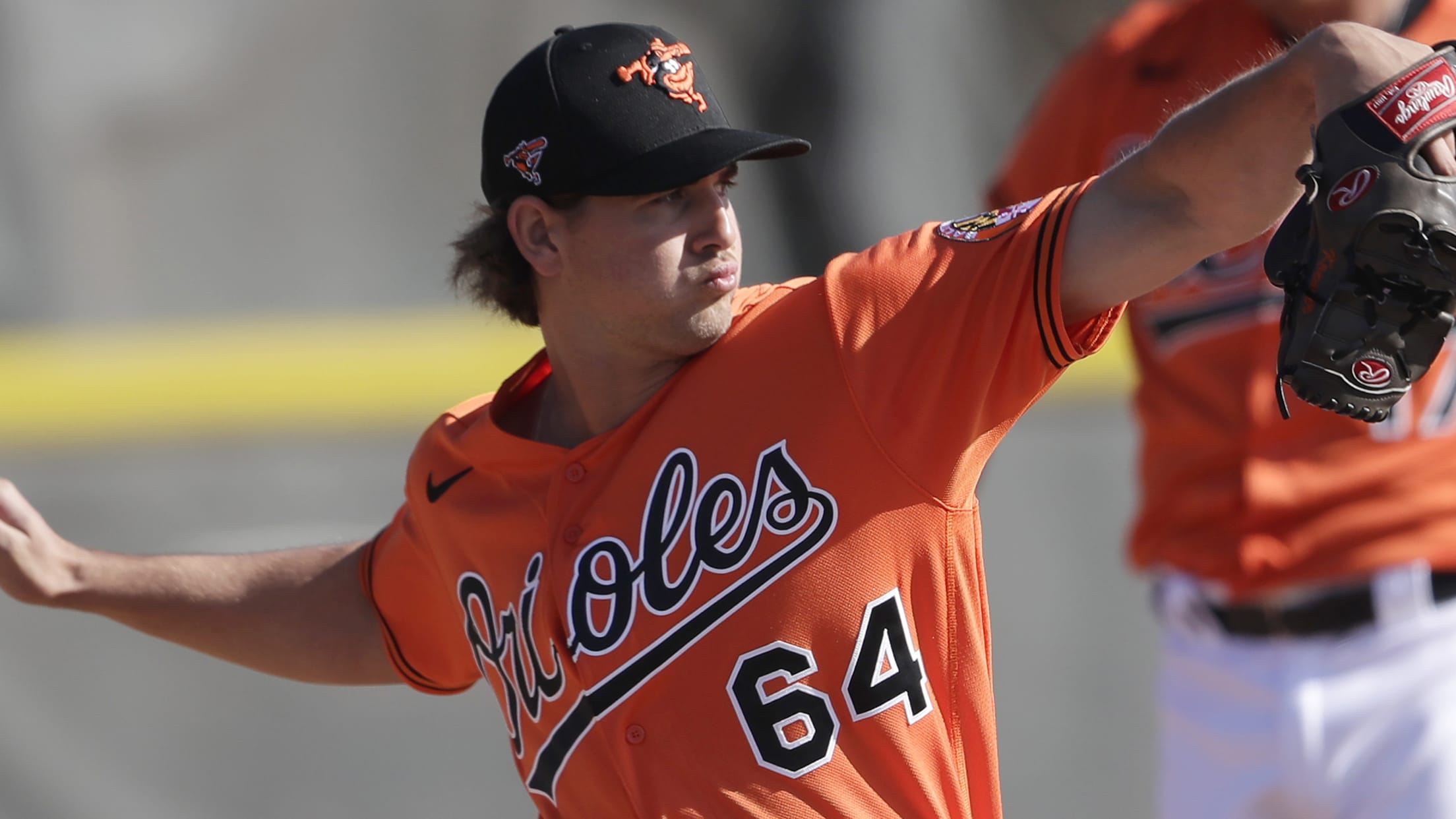 About 25 miles south of Camden Yards, the Orioles on Tuesday opened their alternate training site at Prince George Stadium in Bowie, Md., where prospects not ticketed for the Opening Day roster -- but with a chance to make the team at some point this season -- will train. In
About 25 miles south of Camden Yards, the Orioles on Tuesday opened their alternate training site at Prince George Stadium in Bowie, Md., where prospects not ticketed for the Opening Day roster -- but with a chance to make the team at some point this season -- will train.
In a related move, the Orioles added right-handed prospect Dean Kremer, their No. 9 prospect per MLB Pipeline, to their 60-man player pool and assigned him to Bowie along with seven others: No. 1 prospect Adley Rutschman, No. 8 prospect Michael Baumann, No. 11 prospect Keegan Akin, catcher Taylor Davis and right-handers Hector Velázquez, Chandler Shepherd and Isaac Mattson.
Baltimore also placed shortstop Richie Martin (right wrist fracture) on the 60-day injured list, clearing an additional spot in its pool. Martin broke his wrist while sliding back into first base during an intrasquad game Friday, and he is scheduled to undergo surgery Wednesday.
The O's player pool now stands at 53, leaving seven spots open for more additions. Among the strong possibilities are No. 3 prospect DL Hall and No. 7 prospect Yusniel Diaz, both of whom manager Brandon Hyde called candidates to be added in recent days.
Velázquez and the other players reassigned Tuesday can be viewed as the first wave of cuts from big league camp at Oriole Park, which now consists of 42 players. The Orioles must parse down that number to 30 by July 24, when they will open the regular season against the Red Sox.
Each team is allowed to carry a three-man taxi squad to give it flexibility during the regular season, and the 30-man roster must be reduced to 28 players two weeks after Opening Day and then to 26 players two weeks after that.
"We're going to be in communication with them daily," Hyde said of the secondary camp, which will be run by Triple-A Norfolk manager Gary Kendall, Double-A Bowie manager Buck Britton and several members of Kendall's staff. "We will try to get over there, but it is going to be challenging. But we're very aware of what's happening down there, and we will see video of what's going on and be aware of it."
To that end, the Orioles will pay particular attention to Kremer, whom Hyde called a candidate to debut with the club in 2020. He expressed a similar sentiment Monday about No. 4 prospect Ryan Mountcastle, who remains in big league camp but is not in the club's Opening Day roster plans. Akin, after spending the 2019 season at Triple-A, is likely in the same boat, while the debuts of lower-level prospects like Rutschman are less likely.
"I was really impressed with him in Spring Training," Hyde said of Kremer. "We'd have love to see him get some experience at Triple-A, but I think there is a chance we can see him up here sometime this summer."
Pitching to a 2.98 ERA in 15 starts at Bowie last summer, Kremer earned a late-season callup to Norfolk before excelling in the Arizona Fall League, posting a 2.37 ERA on the elite prospect circuit. All told, the righty pitched to a 3.80 ERA with 122 strikeouts in 113 2/3 innings across three levels -- the second of two productive seasons Kremer has put together since arriving as part of the 2017 Manny Machado trade with the Dodgers. He is one of two Top 30 Orioles prospects obtained in that deal, with Diaz being the other.
Velázquez, 31, was competing for a swingman role after being selected off waivers shortly before the coronavirus pandemic hit in March. He threw two innings of intrasquad action at Oriole Park on Monday night. The righty had pitched to a 3.90 ERA across 89 games (19 starts) over the past three seasons for the Red Sox.