Means (left shoulder) to IL; Straily DFA'd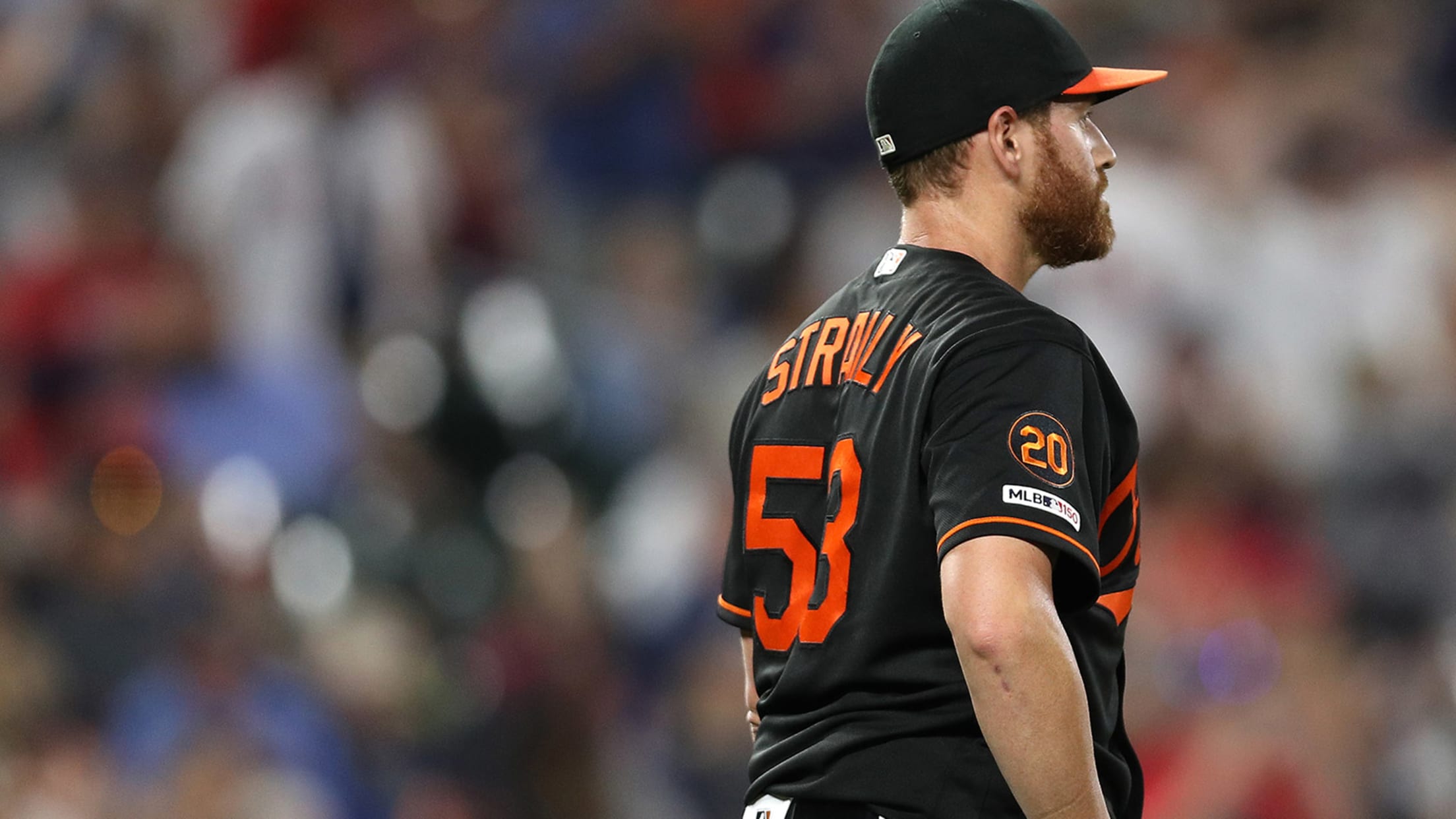 SEATTLE -- Confident he'll be able to return when eligible next week, the Orioles placed John Means on the 10-day injured list among a flurry of roster moves Thursday. A minor left shoulder strain marks the first hiccup in the left-hander's emergent rookie season. Standing at his locker a few
SEATTLE -- Confident he'll be able to return when eligible next week, the Orioles placed John Means on the 10-day injured list among a flurry of roster moves Thursday. A minor left shoulder strain marks the first hiccup in the left-hander's emergent rookie season. Standing at his locker a few hours later, Means declared his absence from the rotation would be brief.
"It's nothing serious. It's something we just don't want lingering," Means said. "It's strictly muscle, it's nothing serious. It's one of those things that gets tight and is uncomfortable and doesn't feel good to throw, but once it loosens up it's fine."
The issue, Means said, is a bout of left deltoid tightness that popped up in the final inning of his last start. Means alerted the Orioles to the discomfort upon exiting Sunday's 8-6 loss to the Red Sox, having needed 103 pitches to grind through five innings. Means did not undergo an MRI to gauge the severity of the injury, which he called similar to something he pitched through in college.
Means has been the Orioles' best starter this season, compiling a 6-4 record and 2.67 ERA across 16 appearances (12 starts). He leads Baltimore's staff in a host of major pitching categories, including ERA, FIP, walk rate and Wins Above Replacement.
"We're going to take a start off and I'll make the next one," Means said.
The Orioles' two off-days next week help things significantly, and because Means' stint is backdated to June 17, he'll be eligible to come off the IL for the opener of a three-game set next Friday against the Indians.
But it does complicate things short-term for a club that's cycled through pitching in rapid fashion over the past few days. In less than a week, the Orioles have optioned their former No. 4 starter David Hess, designated their former No. 5 starter Dan Straily for assignment, optioned four relievers from Triple-A Norfolk -- including right-hander Evan Phillips, who was recalled Thursday -- and lost right-hander Josh Lucas to the IL (right shoulder strain).
All the shuffling will require Baltimore to go with a bullpen day Friday, with left-hander Sean Gilmartin the leading candidate to start in place of Means. Gilmartin has not appeared in the Majors for Baltimore this season.
Straily DFA'd
When they made a late dip into the free agent market for Straily, the Orioles did so hoping the veteran righty would provide stability to their inexperienced rotation. Less than three months later, Straily's tenure with the organization is likely over after he was designated for assignment Thursday.
When a player's contract is designated for assignment -- often abbreviated "DFA" -- that player is immediately removed from his club's 40-man roster, and 25-man roster if he was on that as well. Within seven days of the transaction (it was previously 10 days), the player must either be traded, released or placed on irrevocable outright waivers. Straily has the right to reject an outright assignment if he passes through waivers, but would forfeit nearly two thirds of the money the Orioles still owe him.
A dependable rotation piece during his time with the Reds and Marlins, Straily was 42-36 with a 4.23 ERA across 142 career games (132 starts) entering this season. But injuries and inconsistency cut into his production in Miami last season, and Straily's well-traveled career has seen a downturn. This spring, months after avoiding arbitration by tendering him a $5 million, the Marlins cut Straily, 30, on the last week of camp.
That made him available for the Orioles, who left Florida with three healthy starters in tow, and spun a low-risk, incentive-laden deal with the veteran righty on April 5. His one-year, $575,000 contract featured a relatively large bonus clause that would've triggered had Straily been traded, negotiated with the hope -- on both sides -- of him rebuilding value by late summer. He never got close.
Straily was tagged for five runs in 1 1/3 innings in his season debut, five runs over 3 1/3 innings in his first start, and at least four runs in six of his first nine appearances in 2019. He was out of the rotation by late May, having gone 1-4 with an 8.10 ERA across eight starts.
Straily was then used sparingly in long relief, mostly in mop-up duty. His ERA ballooned even more in lower leverage roles -- up to 9.82 in 47 2/3 innings stretched across 14 total appearances. That stands as the highest first-half ERA in franchise history, and fourth-highest ever in MLB. An extreme fly-ball pitcher who consistently outperformed his peripherals, Straily leads all MLB hurlers with 22 home runs allowed, 18 of which came at hitter-friendly Oriole Park.
"He just never got off to a good start here," Orioles manager Brandon Hyde said. "He never got going. We hope he goes down to Triple-A and finds it."
Around the horn
• Two full weeks after crashing into Globe Life Park's left-field wall, Dwight Smith Jr. was back in the Orioles lineup, batting cleanup and playing left field. Smith said it took nearly 10 days for his concussion symptoms to subside, after which he appeared in two rehab games before being activated from the seven-day concussion IL on Thursday.
"I'm going to play my game, regardless. I'm not going to think about getting hurt again," Smith said. "I'm going to play hard, but play smart at the same time."
• Out of the Orioles lineup with a left elbow contusion, Trey Mancini said he's hopeful to resume baseball activities Friday. He remains day to day after being hit with a Chris Bassitt fastball in Wednesday's 8-3 loss to the A's.
"It actually felt a lot better than I expected it to this morning," Mancini said. "I still don't have full motion in it and it's still pretty swollen, but for being hit on the elbow, it's a lot better than I thought it would be."
Draft picks
The Orioles announced four Draft signees Thursday, including fifth-rounder Darell Hernaiz, a prep shortstop. MLB Pipeline's Jonathan Mayo also reported that third-round pick Kyle Stowers will sign for full slot value ($884,200), though the club hasn't confirmed that signing.