Wednesday's top prospect performers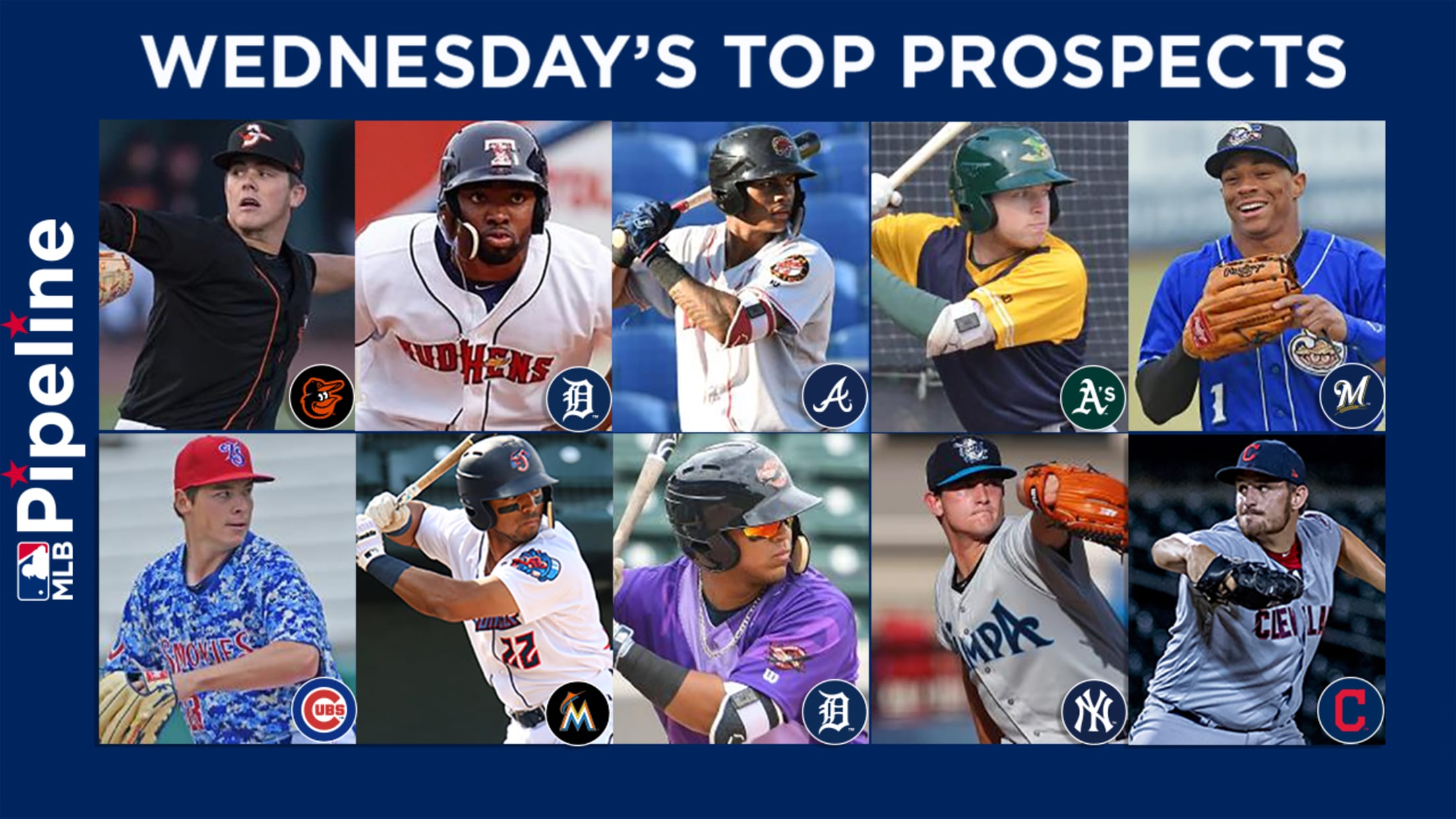 Here's MLB Pipeline's roundup of the top prospect performances in the Minor Leagues on Wednesday.Runs are nearly impossible to score against DL Hall these days and the Orioles' No. 4 prospect proved it once again with six scoreless frames in Class A Delmarva's 6-0 win over Charleston.Hall, who hasn't given up
Here's MLB Pipeline's roundup of the top prospect performances in the Minor Leagues on Wednesday.
Runs are nearly impossible to score against DL Hall these days and the Orioles' No. 4 prospect proved it once again with six scoreless frames in Class A Delmarva's 6-0 win over Charleston.
Hall, who hasn't given up a run since June 25 or an earned run since June 15, struck out eight and yielded just two hits in what was the longest outing of his career.
:: Complete prospect coverage ::
The 19-year-old hasn't given up an earned run in 22 1/3 innings and has given up just one earned run over his past six outings - a span of 26 1/3 innings.
Overall, Hall a first-round pick from the 2017 Draft, has a 2.54 ERA through 15 appearances (60 1/3 innings) in his full-season debut.
Other top prospect performances from Wednesday's action:
• No. 95 overall prospect Christin Stewart (Tigers' No. 5) is getting back in a groove while rehabbing with the Rookie-level GCL Tigers. After going 0-for-3 in his first rehab appearance, Stewart has gone deep each of the past two days.
• No. 99 overall prospect Cristian Pache (Braves' No. 8) went deep for the second time in as many days for Class A Advanced Florida. The 19-year-old, who didn't hit a homer of the first 176 games of his career, has eight homers through 79 games this year after his 2-for-4 performance.
• Athletics No. 12 prospect Nick Allen came up with a pair of doubles as part of a big night for Class A Beloit. The 19-year-old set a career high with four hits and finished 4-for-6 with two RBIs.
• Brewers No. 6 prospect Corey Ray, who has a career-best 16 homers through 86 games this season, went deep three times and finished 3-for-5 with four RBIs for Double-A Biloxi. The 23-year-old led off the first and third innings with solo homers and then hit a two-run blast in the sixth. Ray also homered on Tuesday and has been red-hot at the plate, going 6-for-14 (.429) over the past three games.
MILB Video - Title: Ray hits a trio of homers - Url: http://www.milb.com/r/video?content_id=2258212583
• Cubs No. 20 prospect Michael Rucker put up his second straight scoreless start for Double-A Tennessee. Rucker, who hasn't given up an earned run over the past 10 innings, threw 57 of his 80 pitches for strikes, yielded three hits and gave up one unearned run over six innings.
MILB Video - Title: Watch: Rucker finishes 7 - Url: http://www.milb.com/r/video?content_id=1600455583
• Marlins No. 30 prospect John Norwood turned in the second two-homer game of his career as he led Double-A Jacksonville to a win over Chattanooga. Not only did Norwood hit a pair of homers, he also set a season high with four hits and finished 4-for-5 with three RBIs. Merandy Gonzalez (Marlins' No. 13) also put together a strong performance for the Jumbo Shrimp, scattering three hits over seven scoreless innings.
MILB Video - Title: Norwood's second homer - Url: http://www.milb.com/r/video?content_id=2258994683
• Tigers No. 8 prospect Isaac Paredes put together his third straight multihit effort as he collected a trio of hits for Class A Advanced Lakeland. Paredes, who homered for the second straight game, finished 3-for-6 with three RBIs.
MILB Video - Title: Watch: Paredes goes yard - Url: http://www.milb.com/r/video?content_id=2260375083
• Yankees No. 26 prospect Garrett Whitlock threw seven innings for the fourth time this season. The right-hander, who has made nine starts with Class A Advanced Tampa after beginning the season with Charleston, gave up one run on two hits, walked two and struck out eight.
• Adam Scott, the Indians fourth-round pick from the 2018 Draft, struck out five over three scoreless innings for Class A Short Season Mahoning Valley. Scott's career has gotten off to a fast start as he's yet to give up a run through six appearances (11 1/3 innings).
• Orioles first-round pick Grayson Rodriguez posted another scoreless outing for the GCL Orioles. The 18-year-old walked one and struck out two over two hitless frames and has now begun his career without giving up a hit or a run over three innings (two starts).
• Chance Kirby, the Tigers 25th-round pick from the 2018 Draft, racked up the strikeouts for Class A Short Season Connecticut. The 22-year-old right-hander struck out 12 over six scoreless innings in his short-season debut. Kirby surrendered just one hit and has a 0.48 ERA through the first four appearances of his career.