Kids impress at Camden Yards PHR event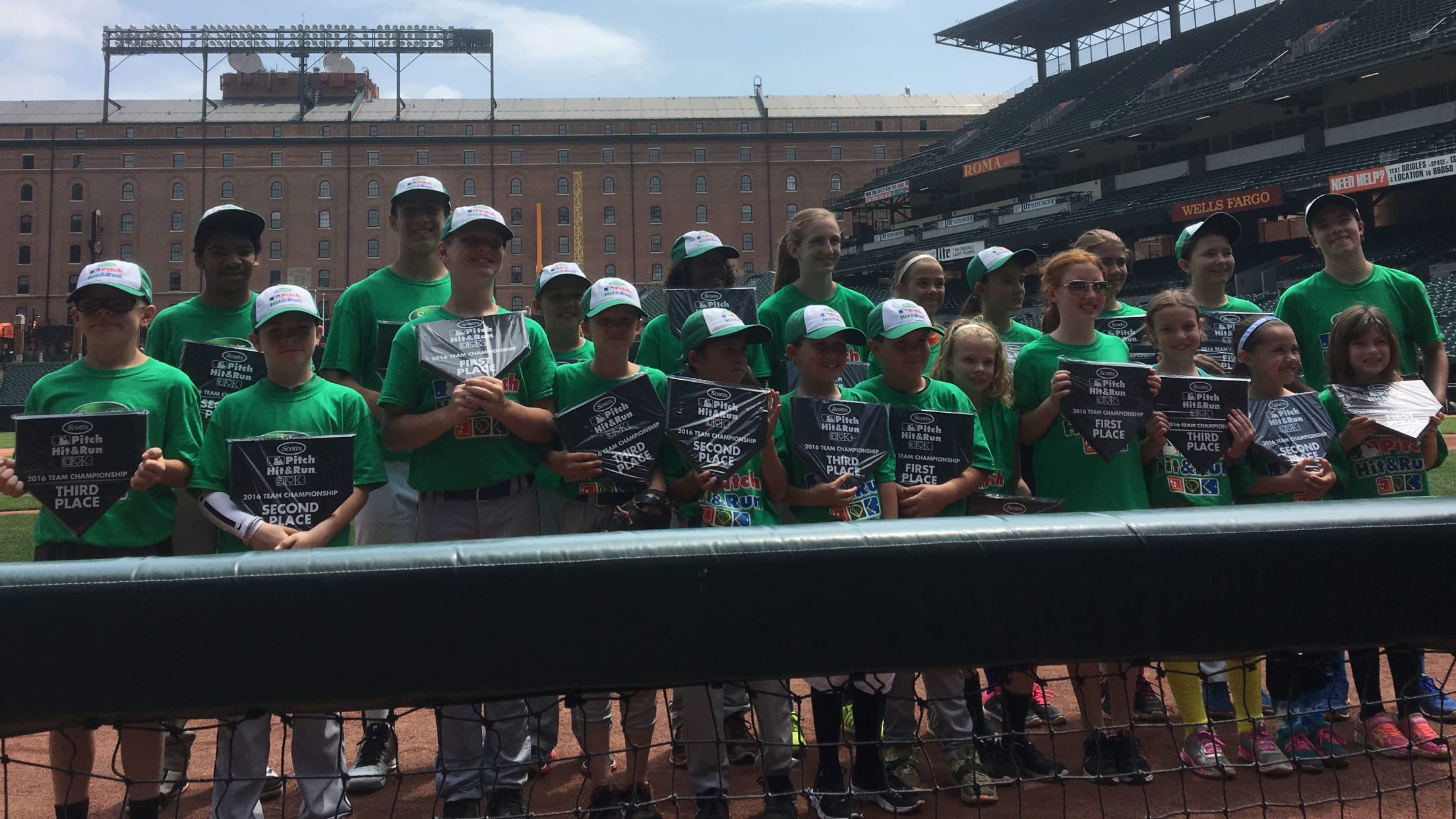 Twenty-three youngsters participated in Pitch, Hit & Run event at Camden Yards on Saturday, vying for a spot in the national finals. (Baillargeon)
BALTIMORE -- Competitors and parents alike turned their heads toward the deepest part of Camden Yards on Saturday to watch 14-year-old Jack Bulger's deep fly balls travel past the 300-foot tape measure used for the 2016 Major League Baseball Pitch, Hit & Run (PHR) competition.In his fifth time reaching the
BALTIMORE -- Competitors and parents alike turned their heads toward the deepest part of Camden Yards on Saturday to watch 14-year-old Jack Bulger's deep fly balls travel past the 300-foot tape measure used for the 2016 Major League Baseball Pitch, Hit & Run (PHR) competition.
In his fifth time reaching the team championship stage, Bulger put on a show at Camden Yards with his blasts just short of the center-field fence.
"Seeing them being hit at Camden Yards is something to remember," Bulger said.
Bulger won the 13-14 year-old baseball division, his fifth time winning his age group at the Orioles' stadium. The other winners were Megan Young (7-8-year-old softball division), Carleigh Mahaney (9-10 in softball), Shannon O'Ferrall (11-12 in softball), Caroline Orza (13-14 in softball), Miller Ricker (7-8 in baseball), Gavin McIntyre (9-10 in baseball) and Jaden Shelton (11-12 in baseball).
After winning their local and sectional competitions, 23 youngsters participated in the event at Camden Yards on Saturday, vying for a spot in the national finals held at Petco Park in San Diego during All-Star Weekend. The winners' scores will be compared with winners of the 29 championships held at the other Major League parks, with the Top 3 in each age group winning an all expenses paid trip to San Diego.

"For them, to be able to go out onto the field where the pros play, where their idols play, where their mentors play, is a huge honor for them," said Amy Ashbrock, who ran the event. "It's such an excitement for them to be down on that field, when normally they are just having to sit in the stands or watch their idols on TV."
The program, which is in its 20th year and is hosted by Scotts, has more than 650,000 kids between the ages of 7 and 14 compete at the local level, according to Ashbrock.
Even for returning winners such as Orza, who won the 11-12 softball division last year, a chance to compete on a Major League field is still a surreal moment.
"You're in the competition, but in those in between moments when you are running out to the events, I still like to touch the wall and the dugout and the foul pole," Orza said.

During the event, the young players participated in three different competitions, throwing six pitches at a strike target, hitting three balls off a tee and running from second to home plate.
When Bulger finished the hitting portion of the competition, he chatted with his parents in the stands about the dimensions of Petco Park. Maybe he could send one over the wall if he reached the national finals, which he's "pretty confident" he will.
Moments earlier, he'd made three bids for a homer at Camden Yards. He thinks he could reach the seats down the left-field line. Dead center, though?
"Give me a year or two," Bulger said.
Ryan Baillargeon is a reporter for MLB.com based in Baltimore.