Ramirez, Orioles fall to Tribe in series finale
Ramirez optioned to Triple-A Norfolk following loss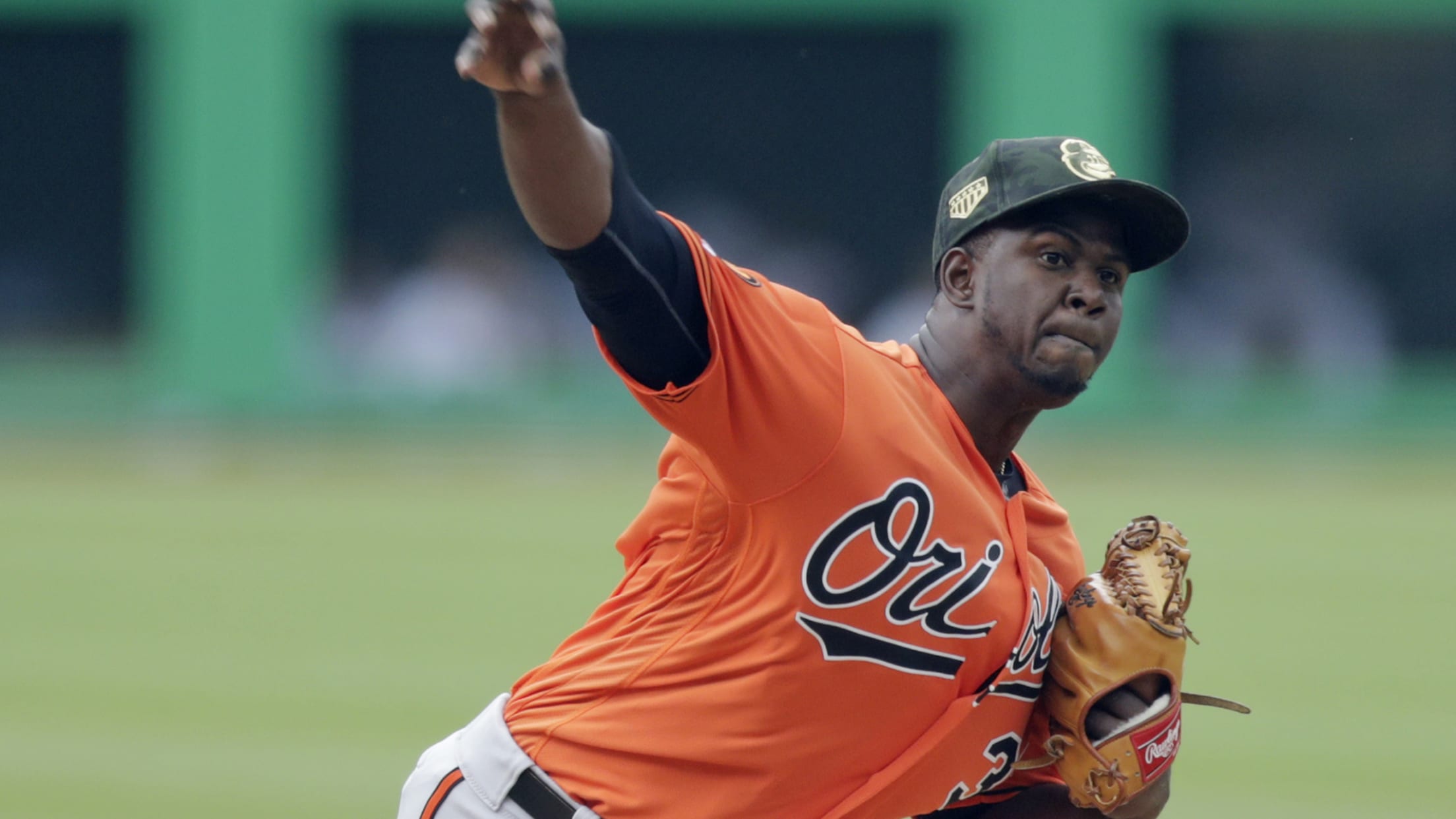 CLEVELAND -- The Orioles didn't reasonably expect Yefry Ramírez would provide much length in his first big-league start of the season on Sunday. After all, the youngster's longest outing since his promotion in late April was just shy of five innings earlier this month. Unfortunately, Ramirez's effort was even more
CLEVELAND -- The Orioles didn't reasonably expect Yefry Ramírez would provide much length in his first big-league start of the season on Sunday. After all, the youngster's longest outing since his promotion in late April was just shy of five innings earlier this month.
Unfortunately, Ramirez's effort was even more abbreviated than anticipated, due to the early-and-often offensive assault from Indians hitters. Ultimately, the righty lasted just 3 1/3 innings in his first non-relief big league outing of 2019, and the O's weren't able to recover from the five runs Ramirez surrendered prior to his exit.
The end result: a 10-0 loss to the Tribe in the finale of their four-game series.
"[My outing] was well below average," Ramirez said through an interpreter. "It wasn't my best. Just bad."
The 25-year-old hurler was lifted after 73 pitches, surrendering four earned runs and six hits, walking four and striking out three. He served up a homer to Indians first baseman Carlos Santana in the third inning.
"I just thought they were aggressive from the start," Orioles manager Brandon Hyde said. "He just struggled keeping them off the barrel. He didn't have his good changeup and not much of a breaking ball. They were sitting on the middle of the plate and hit him hard."
Ramirez's start came after making four appearances out of the bullpen for the Orioles earlier this season, in which he allowed four runs over seven innings prior to Sunday's loss.
"Days like this are the days that you learn the most," Ramirez said. "You try to learn from those mistakes. Try to execute better for hopefully a next outing."
Following the game, the Orioles optioned Ramirez To Triple-A Norfolk. The team did not initially announce a corresponding move.
Of course, even a better start to the day might not have mattered.
Ramirez was outlasted and outpitched by Tribe starter Shane Bieber, who baffled O's hitters all afternoon. Bieber struck out a career-high 15 hitters in a shutout of the Baltimore offense.
"I just thought we got completely dominated," Hyde said. "That was masterful. He worked ahead. He had really good stuff. He had a great breaking ball that we just continued to swing at underneath the zone."
Bieber allowed just five hits and didn't walk a batter en route to his first career shutout. Sunday marked the third time this season the O's have been blanked.
Hyde's only gripe was a lack of adjustment by his hitters.
"Obviously, you have to recognize early this guy's got really good command," Hyde said. "He's going to locate his fastball and get us to chase the breaking ball underneath with two strikes. He just continued to do it for nine innings. We just continued to swing at it."
Bieber induced 27 swinging strikes. A dozen of those came on the righty's slider. Orioles first baseman Chris Davis struck out four times and later agreed with his manager's assessment.
"Personally, I didn't make an adjustment early in the game," Davis said. "The guy kept throwing a slider down. I kept swinging at it. That's just stupidity on my part. But we'll try to put it behind us and move forward."
Series stuff
The Orioles were outscored 29-13 in the four-game series at Progressive Field, dropping three of the four games in Cleveland. That continues what has become a difficult stretch for the O's, extending their string of consecutive series losses to four.
The defeat was also their ninth over their last 11 games, dropping Baltimore's season record to 15-31. That's enough to send anyone scrambling in search of positives, particularly the man tasked with keeping morale high.
"The 14-7 loss [on Thursday] just got away from us, but that wasn't a blowout until the very end," Hyde said. "This game was lopsided from early, early on. I thought we were in yesterday. We won the day before. We swung the bat good the first game. Today, we just got beat."
Of course, with a four-game home series with the Yankees looming on the horizon, things probably won't get any easier in the near future.
"I think you have to take away positive things and realize that you're going to have games that you're in a funk," Davis said. "You just don't have it that day. But looking back on the series, I feel like we did a lot of things well. It's just a tough place to play. It's a good team. We've just got to do a better job of making adjustments.
"We've got to find a way to turn the page."