O's hope Givens can learn from shaky outing
'Try to keep in mind he hasn't been pitching more than 2 or 3 years,' Showalter says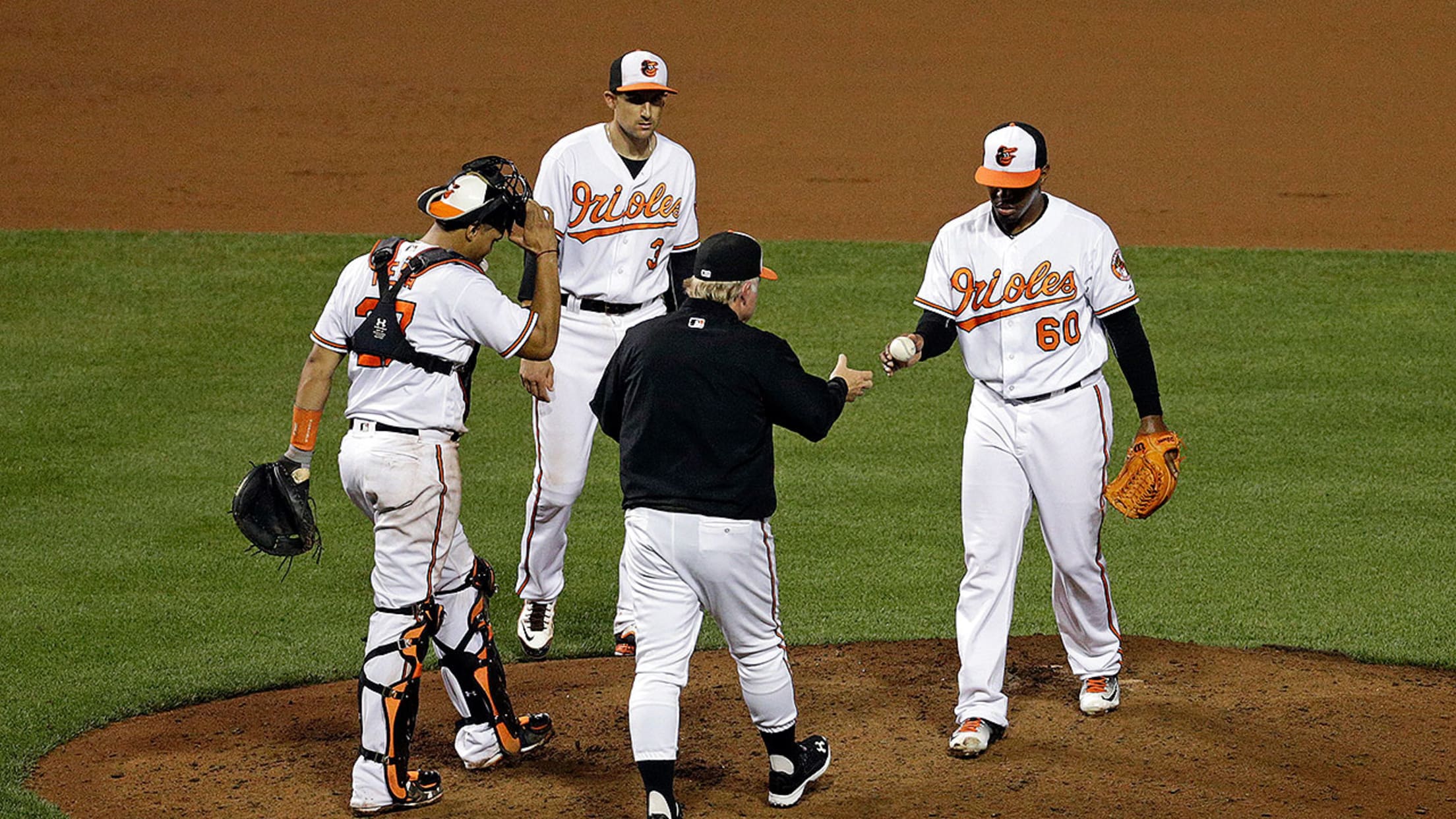 Mychal Givens allowed four runs in the seventh inning without recording an out Tuesday. (AP)
BALTIMORE -- Mychal Givens emerged from the Orioles' bullpen for the seventh inning Tuesday hoping to protect his team's three-run lead. After facing five batters and throwing 27 pitches, he stepped off the mound without recording an out.Four of those runners eventually came around to score -- all four runs
BALTIMORE -- Mychal Givens emerged from the Orioles' bullpen for the seventh inning Tuesday hoping to protect his team's three-run lead. After facing five batters and throwing 27 pitches, he stepped off the mound without recording an out.
Four of those runners eventually came around to score -- all four runs were charged to Givens -- and the Orioles lost, 10-7, to the Padres. Givens entered the day 7-0 in his career but was handed his first-ever blemish on his record.
Givens was strong through the first two months of the season, and he provided a few key late-inning appearances with setup man Darren O'Day sidelined with a strained right hamstring. But the 26-year-old converted infielder has unraveled in his past four appearances, allowing eight earned runs in 3 1/3 innings. His season ERA has climbed from 1.80 entering June 12 to 3.78 after Tuesday.
"Early on, he's being a little reactive instead of proactive with his outings some," said manager Buck Showalter, who cited Givens' command as the main issue. "It's one of those things that young pitchers learn from. Try to keep in mind he hasn't been pitching more than two or three years. It's a learning experience for him."
With the 'pen a late-inning man short without O'Day, Givens' recent struggles leave Showalter in a bind. His rotation has struggled to get through six innings for much of the season, and he can't use Brad Brach (1.16 ERA) and closer Zach Britton (1.21 ERA) every night.
Showalter was hoping Givens could correct his recent struggles and get through the seventh, but he allowed three straight hits before walking consecutive batters. The second walk he issued forced home a run and led to Showalter pulling Givens.
"Kind of reminds [us] he's going to have some nights like that with his experience level where he just can't seem to find it," Showalter said. "He never really got a hold of it. We were short down there tonight and hoping we could get that seventh inning pitched by him."
Even Britton, who has been dominant this season and had 17 straight outings without surrendering a run, allowed three runs (one earned) to the Padres in the ninth to provide them with valuable insurance.
The O's entered Tuesday with the second-best bullpen ERA in the Majors (3.00), but the relievers allowed seven runs in three innings to blow a seventh-inning lead.
"It happens," Britton said. "We just didn't execute pitches down there. Just a frustrating performance."
Ryan Baillargeon is a reporter for MLB.com based in Baltimore.