Crafty Cortes vying for spot in rotation
Though he won't light up radar guns, 23-year-old lefty can make hitters look silly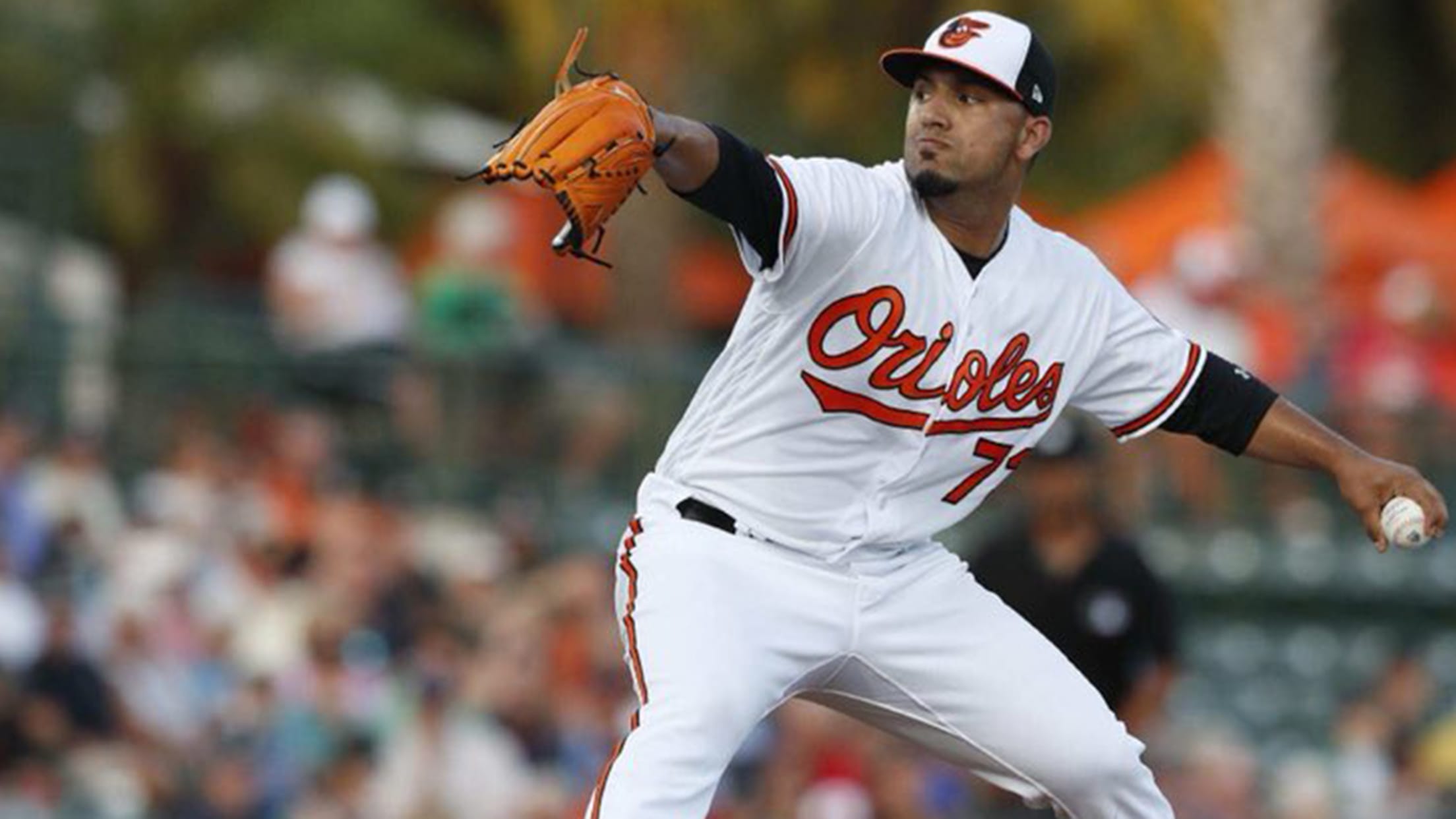 SARASOTA, Fla. -- Orioles Rule 5 pick Nestor Cortes Jr. is not going to light up any radar guns this spring. In fact, the lefty -- selected from the Yankees' Triple-A club in December -- thrives on a fastball that tops out in the upper 80s and a sidearm slider
SARASOTA, Fla. -- Orioles Rule 5 pick Nestor Cortes Jr. is not going to light up any radar guns this spring. In fact, the lefty -- selected from the Yankees' Triple-A club in December -- thrives on a fastball that tops out in the upper 80s and a sidearm slider that can drop low.
How low?
• Orioles' Spring Training information
"47 [mph], actually," Cortes said of the slowest he's ever been clocked for his offspeed pitch, which hit 67 mph Saturday night in the Orioles' game against the Twins at Ed Smith Stadium.
Asked if the hitter who saw the 47-mph pitch had to swing twice, the 23-year-old laughed.
"He did fall over," Cortes said. "But no, just one swing."
:: Spring Training coverage presented by Camping World ::
That kind of dropoff, coupled with some deception in his delivery, is what enticed the O's. Cortes, who is competing for a rotation spot this spring, went two solid innings against Minnesota and gave up one run in his spring debut.
"I think I attacked the strike zone real well, commanded all my pitches," Cortes said of the 23-pitch outing, which featured 16 strikes. "Just one mistake pitch [to Kennys Vargas] left out over the plate, good contact. That was it."
After a crisp 1-2-3 first, the lefty allowed a double down the left-field line to Vargas to start the second inning. Vargas came around to score on a one-out sacrifice fly. Cortes stopped things from there, getting a groundout to end his night.
"I don't know if it's deceptive," manager Buck Showalter said of Cortes. "He's got a talented hand, he's got some good body control. He's very athletic, and he can locate pitches. The thing you can't test analytically, he's got some moxie. He's got a feel for the competition."
To make the rotation, he will need more outings like that. Cortes, who also could come out of the bullpen, is an intriguing option for the O's. In 30 Minor League games (13 starts) last season, he went 7-4 with a 2.06 ERA. He recorded 105 strikeouts in 104 2/3 innings, allowing a .211 average against in three levels, though he was mostly with New York's Double-A and Triple-A teams.
The Yankees' 36th-round pick in the 2013 Draft, Cortes is listed at 5-foot-11 and 205 pounds. He's 25-14 with a 2.08 ERA in 84 career Minor League games, including 40 starts, with 344 strikeouts in 324 1/3 innings.
"I was happy with him. As advertised," Showalter said. "Kind of carried over a lot of things that we like about him.
"A guy like him, you can't really have an ego about pitching. If he was smug, he'd say, 'Check out the numbers.' Matter of seeing if he can do it at the next level. He's a guy who is going to make you trust him."