Orioles position battles are still 'wide open'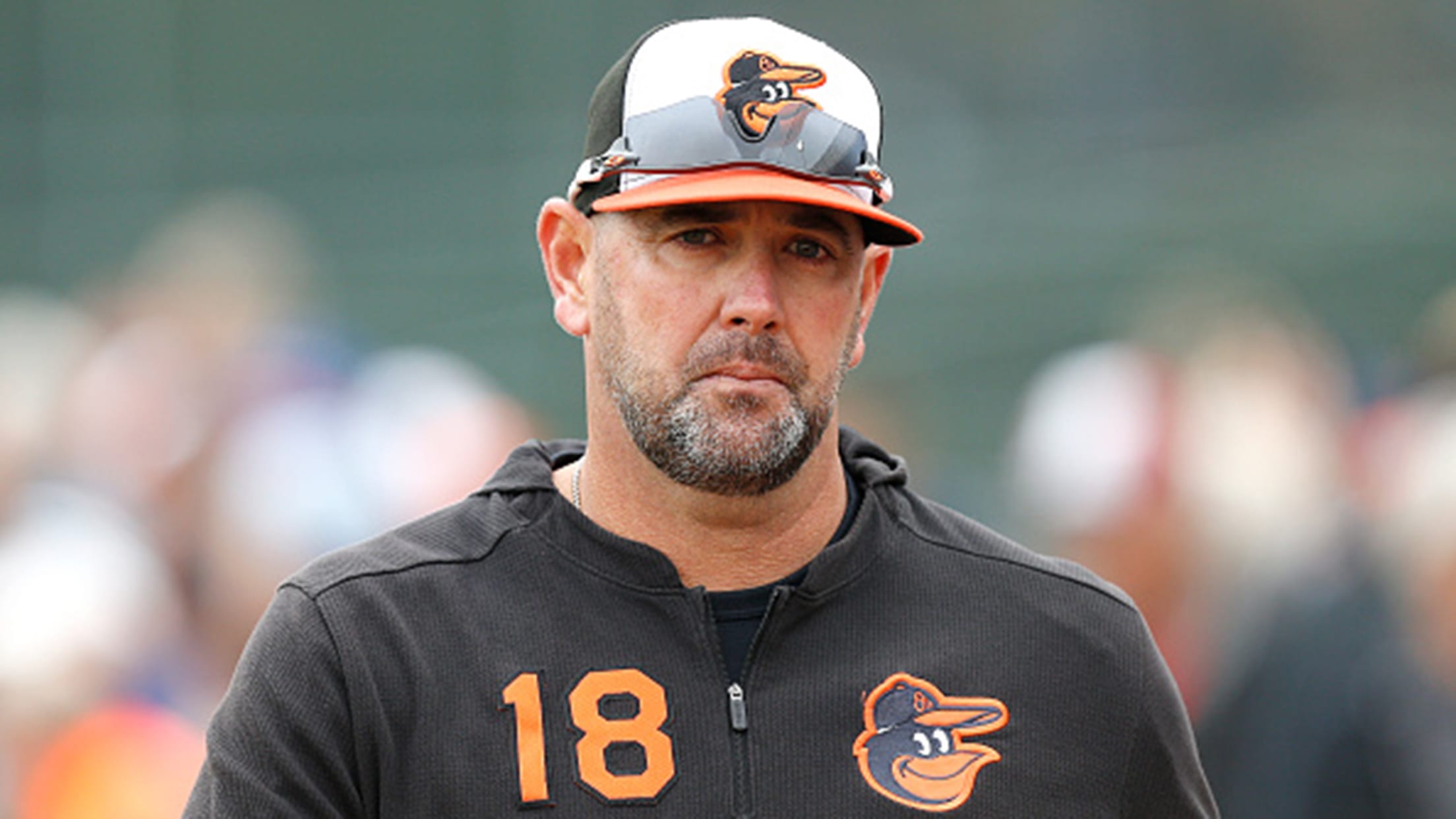 SARASOTA, Fla. -- By this point in most Major League camps, rosters are more or less set. Battles rage on at the far reaches of the roster but rarely do more than one or two jobs remain up for grabs. Not in Orioles camp, where manager Brandon Hyde still calls
SARASOTA, Fla. -- By this point in most Major League camps, rosters are more or less set. Battles rage on at the far reaches of the roster but rarely do more than one or two jobs remain up for grabs.
Not in Orioles camp, where manager Brandon Hyde still calls a slew of competitions "wide open." Only a dozen spring games remain to sort it all out, so let's take another look at where things stand.
Position: Right field/4th OF
The Field: Joey Rickard, Austin Hays, Anthony Santander
The Favorite: Rickard, Hays
The scorching springs of Hays (team-high four homers and 11 RBIs), and Santander (.821 slugging) made this the hottest competition in Orioles camp; both have already leapfrogged DJ Stewart on the depth chart and put themselves in positions to crack the Opening Day roster. But Rickard hasn't let up, either. The three-year veteran has put together a strong showing in Grapefruit League play, and, with 275 games of big league experience, ranks among the club's longest-tenured position players.
Avenues exist for all three to head north with Baltimore, especially if Mark Trumbo (knee surgery) opens the year on the injured list. If he doesn't, that probably leaves Santander on the outside looking in, despite his 1.255 spring OPS.
Position: Fifth starter
The Field: Mike Wright, Yefry Ramirz, Josh Rogers, John Means
The Favorite: Wright
The combination of David Hess' experience and strong spring probably slots him into the fourth spot, and Wright is one of the few Orioles pitchers out of Minor League options. He's the club leader in Grapefruit League ERA, too.
But this is still a competition based on the troubles Wright has had stretching out, a fair concern given he's spent much of the last two seasons as a reliever. It's telling, though, how the Orioles continue to give him starts, while Rogers, Means, and Ramirez have all been utilized in relief lately.
Position: Shortstop
The Field: Richie Martin, Alcides Escobar, Hanser Alberto
The Favorite: Martin
Martin entered camp the favorite and has done nothing to change that, hitting .310/.355/.448 across 11 Grapefruit League games and impressing Orioles officials with his athleticism and defensive ability. The Orioles would prefer to hand him the job and watch him develop at the big league level. But you have to think they will take Escobar north as well, for insurance if nothing else. Martin has never played above Double-A; none of his other possible backups sport even one full season of big league experience besides Jonathan Villar, who the Orioles prefer to keep at second base.
Position: Third base
The Field: Renato Nunez, Rio Ruiz
The Frontrunner: Nunez
Has Nunez done enough to lose this job? It's possible, given how well Ruiz has played this spring. The offensive numbers speak for themselves and only tell half the whole story. An even wider gap has formed between the two on the defensive side, where Nunez has spent big chunks of spring struggling.
Grapefruit League play:
Nunez: .185/.233/.407, 2 HR, 6 RBI, 9/0 K/BB
Ruiz: .345/.444/.655, 2 HR, 8 RBI, 6/5 SO/BB
And yet, the realities of roster construction may make all of this moot. Ruiz has Minor League options, while Nunez does not. Heading north without him would mean the Orioles are giving up on a player who posted a 116 OPS + in 60 Major League games last year. That seems unlikely.
Position: Backup catcher
The Field: Austin Wynns, Jesus Sucre, Carlos Perez
The Frontrunner: Sucre
This is a race that's flip-flopped back and forth since the start of camp. Sucre's late arrival due to visa issues seemed to swing the pendulum toward Wynns, the only backstop besides Chance Sisco on the 40-man roster. But then Wynns was slowed by an oblique injury, and now could begin the year on the injured list. Meanwhile, Perez has stuck around and played well. He doesn't come with Sucre's defensive reputation but does own nearly the same amount of big league experience.
Position: Final bullpen spot
The Field: Tanner Scott, Paul Fry, Cody Carroll, Evan Phillips, Brandon Kline
The Frontrunner: Up in the air
This takes some hedging, some guesswork, some working backwards … but let's try our best. Mychal Givens, Richard Bleier (barring health) and Miguel Castro are locks. Nate Karns' role is to be determined, but it'll be in the bullpen, at least at first. Let's assume the Orioles take Pedro Araujo north to fulfill his leftover Rule 5 draft requirement, and that Wright opens the year in the 'pen even if he makes the rotation since Baltimore doesn't need a fifth starter until well into the season. That leaves two spots open for what'll presumably be an eight-man unit, and Jimmy Yacabonis may have a beat on one as a longman/multi-inning option.
Now the question becomes how Hyde sees best to fill that last spot. If he wants a second lefty, it's down to Scott or Fry. Preferring a late-inning option probably pushes the Orioles toward the hard-throwing Carroll or Kline, while Phillips profiles more as a middle-reliever. Performance-wise, Phillips and Fry are having the best springs. Neither has allowed a run in Grapefruit League play.