Notes: Mountcastle 'close'; Blach surgery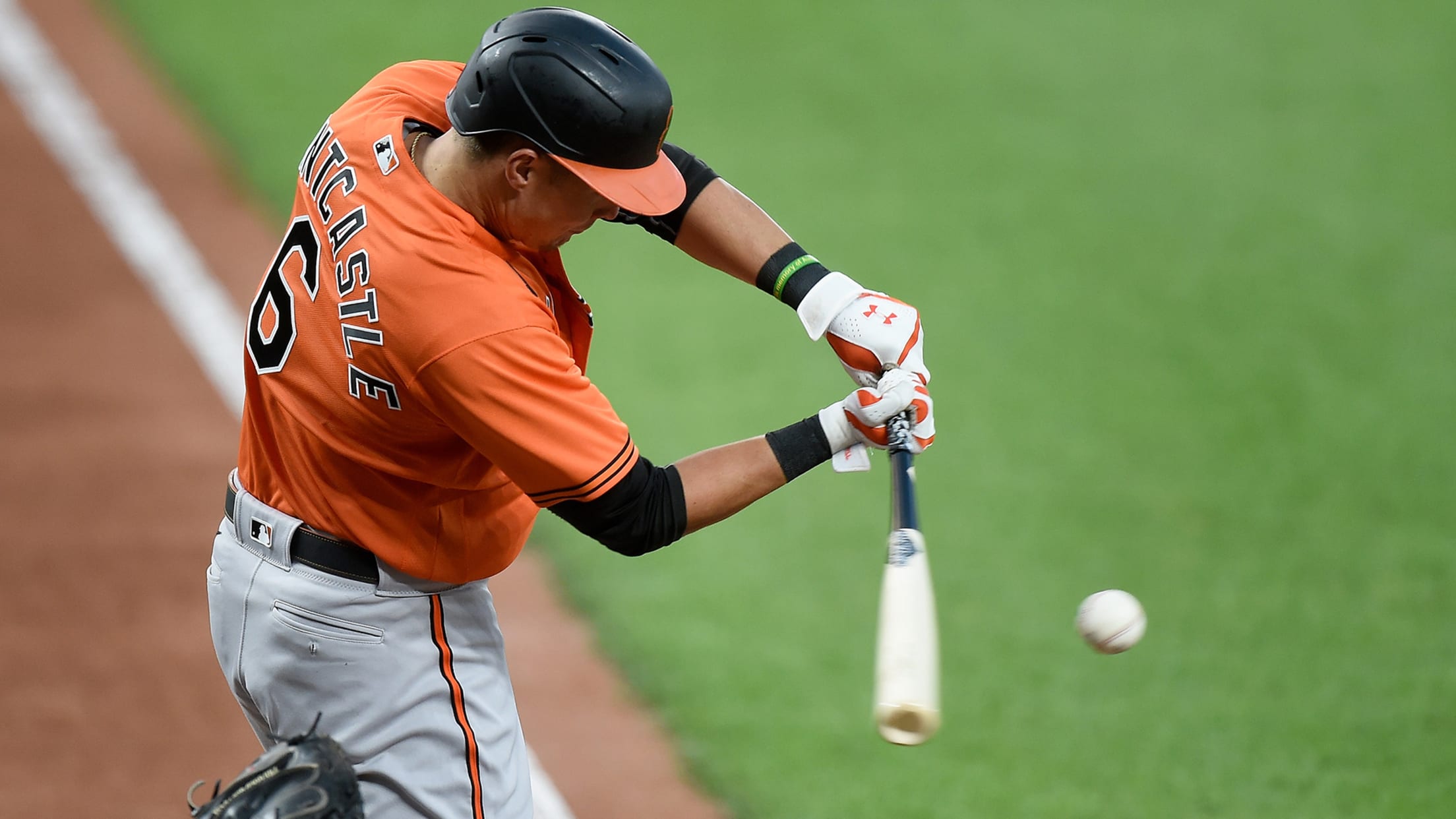 BALTIMORE -- In Brandon Hyde's estimation, he'll have Ryan Mountcastle at his disposal sometime this season. That's what the Orioles' most advanced offensive prospect is hoping for -- to debut in 2020. For now, Mountcastle is just going to have a wait a little longer. "I think he's close," Hyde
BALTIMORE -- In Brandon Hyde's estimation, he'll have Ryan Mountcastle at his disposal sometime this season. That's what the Orioles' most advanced offensive prospect is hoping for -- to debut in 2020.
For now, Mountcastle is just going to have a wait a little longer.
"I think he's close," Hyde said Monday. "I think he still needs some reps, defensively. We've moved him around quite a bit, trying to get him comfortable in left field. He looks a lot better. I like the work he's been putting in out there and [he's] done a nice job. I think he's close."
Asked again about the plan for Mountcastle, the organization's 2019 Minor League Player of the Year, Hyde said, "I think that he wasn't one of the original players we brought in here. I think he's going to go to [the alternate training site], get more work in and be ready for us at some point this summer."
Asked if Ryan Mountcastle is MLB ready today, Orioles manager Brandon Hyde said: "I think he's close." He later reiterated Mountcastle will begin the season in secondary camp.

— Joe Trezza (@JoeTrezz) July 13, 2020
Since leaving Mountcastle off their original pool of 44 players, Orioles officials have been steadfast in saying only those players are candidates to make the Opening Day roster. Hyde indicated on Monday that remains true even though roster circumstances have changed. Since the pool was announced, half of Baltimore's projected outfield corps (Dwight Smith Jr. and Anthony Santander) is yet to work out, and the club has summoned Mountcastle and two others -- Cedric Mullins and Mason Williams -- to fill in for the time being.
The original plan was to send Mountcastle, Mullins and Williams -- all of whom were optioned to Triple-A Norfolk just before the coronavirus pandemic hit in March -- to secondary camp when it opened. Mountcastle, now an outfielder after getting reps in left and right this spring, will still go.
"They communicated with me and said I was going to the alternate site. I was a little upset," Mountcastle said. "But at the end of the day, they sent me down this spring and they said most of the guys they sent down were going to that alternate site."
There, Mountcastle believes he will be able to show the defensive and plate discipline improvements necessary in a controlled setting, despite the lack of Minor League games. He left little to prove on the offensive side of things last year at Triple-A, hitting .312 with 25 homers and an .871 OPS, though he slumped this spring, hitting .235 without a walk in big league camp.
Service time calculations are prorated for the 60-game season, meaning the Orioles can promote Mountcastle after roughly eight games and retain an extra year of club control.
"I really hope I do get a shot this year. I am going to keep working hard to try making that dream come true," Mountcastle said. "I worked my butt off my entire life to be a big leaguer. I want to be able to be up there and help the team win. I think I bring enough to the table to do that and hopefully I get that call this year."
Tommy John surgery for Blach
Baltimore's starting depth took a hit when left-hander Ty Blach opted to undergo Tommy John surgery after receiving a second opinion for what the club has described as left elbow soreness.
Blach, 29, will undergo surgery Wednesday, Hyde said. The operation is expected to sideline Blach through at least the 2021 season.
The Giants' Opening Day starter in 2018, Blach pitched to an 11.32 ERA in five starts for the Orioles down the stretch last season. He is 16-22 with a 4.99 ERA across 92 appearances (44 starts) for the Giants and O's.
Bowie bound
The Orioles plan to open their alternate training site at Prince George Stadium in Bowie, Md., later this week, Hyde said. MASN reported the first workout is expected to be held on Thursday morning, though Hyde did not confirm that level of specificity.
When the Bowie camp does open, Baltimore is expected to add more prospects to its 60-man player pool. The pool stands at 53, though the Orioles have had Minor Leaguers traveling to the area in recent days in anticipation of adding them to the roster, including No. 3 prospect DL Hall.
Pitching plans
Meanwhile, on the field at Camden Yards, right-hander Asher Wojciechowski threw four innings of live batting practice Sunday in his latest attempt to solidify a role at the back end of the rotation. Tommy Milone and Thomas Eshelman were scheduled to start Monday night's intrasquad game, with Milone looking like Kohl Stewart's main competition for the O's final starting job.
Baltimore is lining up John Means, Alex Cobb and Wade LeBlanc as its ostensible 1-2-3 in the rotation, though Hyde has been adamant about not committing to any starter publicly, except Means.