Takeaways from wild weekend at Camden Yards
Baltimore is shut out after scoring 26 runs in series' 1st 2 games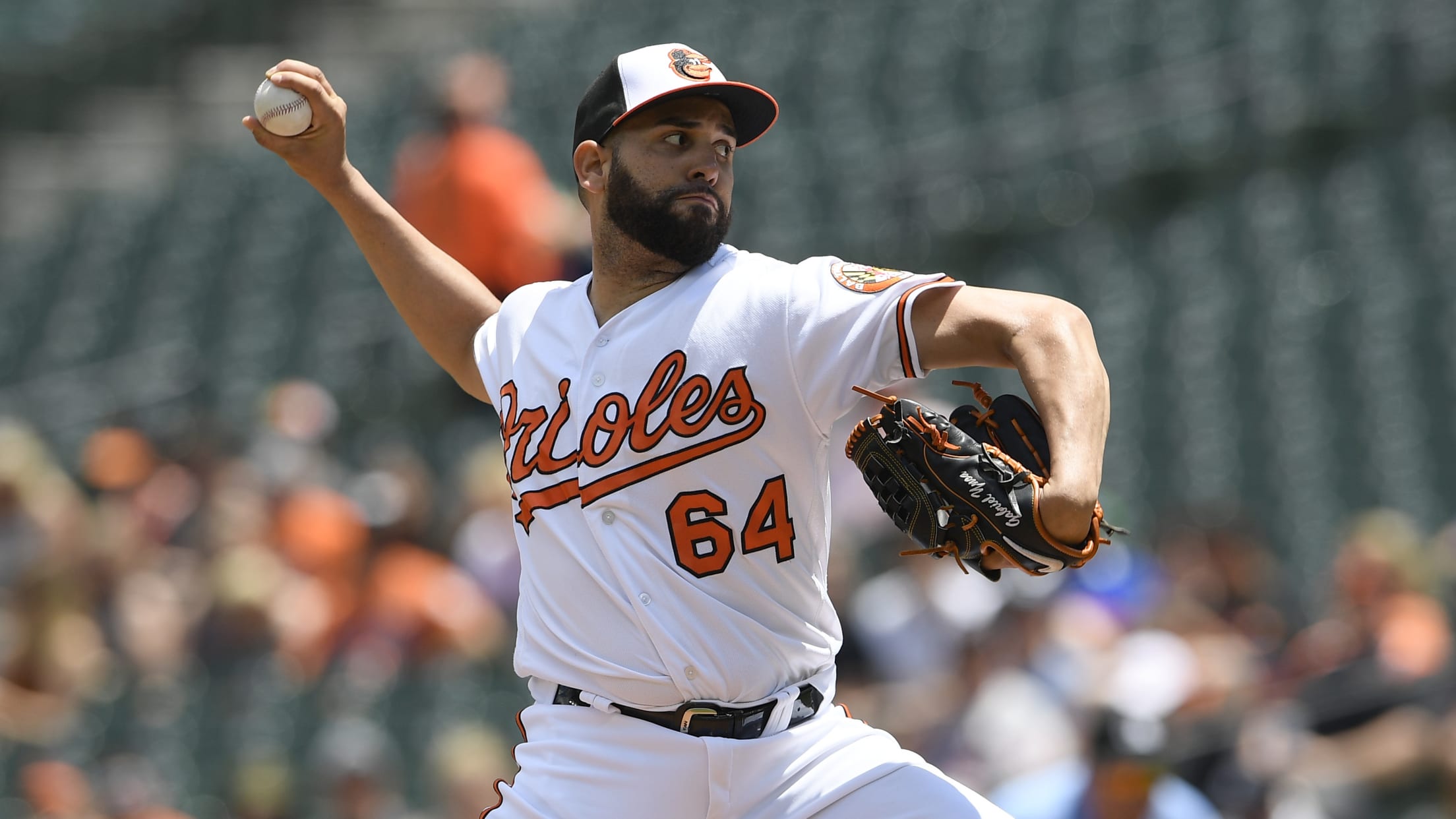 BALTIMORE -- The offensive explosion was fun while it lasted, but it turned dry Sunday afternoon. Searching for their first sweep since Aug. 2018, the Orioles were instead stymied by Shane Bieber and the Indians, 2-0, just a day after they capped off 26 runs in the opening two games
BALTIMORE -- The offensive explosion was fun while it lasted, but it turned dry Sunday afternoon.
Searching for their first sweep since Aug. 2018, the Orioles were instead stymied by Shane Bieber and the Indians, 2-0, just a day after they capped off 26 runs in the opening two games against Cleveland.
It was the Orioles' first crack at Bieber since a complete game shutout on May 19. The young Cleveland starter whiffed 11 Orioles across eight innings and allowed just three baserunners under his watch. Only one made it past first base.
It wasn't until the game's final out that the Orioles truly threatened. Indians closer Brad Hand loaded the bases up for red-hot Anthony Santander, but the outfielder ultimately struck out to end the game and cap off an overall exhilarating weekend for the Baltimore faithful.
Before Sunday's series-finale loss, Baltimore demolished the Indians via a pair of 13-0 wins Friday and Saturday, becoming the first team in MLB history with back-to-back 13-plus run shutouts. In a desolate season, it serves as, by far, the peak.
Here are three takeaways from a wild weekend at Camden Yards:
The kids are alright
When the Orioles were scoring this weekend -- which they did, mightily, in the first two games -- it was on the backs of their youth.
Chance Sisco and Santander -- both 24 years of age -- hit back-to-back in every game on the weekend. What they rewarded manager Brandon Hyde with was a combined nine hits, four home runs and 12 RBIs.
Add 25-year-old Renato Núñez into that equation, and he brings to that conversation a pair of homers and career-high four RBIs in his one start Saturday.
"We have some exciting young players that play hard every night, that are growing in the big leagues and gaining experience," Hyde said after Saturday's win.
What's more, Sisco, for his part, caught back-to-back shutouts, and his teammates and coaching staff alike could not hide their pride in seeing his continued development.
"Chance has come a long way as far as receiving goes," Saturday's winning pitcher Andrew Cashner said. "You have to give to Chance. You can have all the knowledge and teachers you want, but if you can't put the work in -- I'd say he definitely put the work in when he was down in Triple-A."
'It starts with starting pitching'
When asked after Saturday's second 13-0 win what felt different the first two games of the Cleveland series as opposed to other games this season, Hyde was blunt.
"It starts with starting pitching," he said. "There's no doubt about it."
Conceding only one combined run from the starters across 17 1/3 innings certainly makes that a fair assessment.
Andrew Means John Means started it off Friday in his first outing since missing one turn in the rotation with a left shoulder strain. His one hit in five innings of a limited start was followed by Cashner's seven innings of scoreless ball and capped off by Gabriel Ynoa's one run allowed in 5 1/3 frames Sunday.
Hyde called both Cashner's and Ynoa's starts their best of the year at a time in which the Orioles rotation does not have a name listed at the fifth starter spot. Bullpen games have not been uncommon, but if the rotation can come close to replicating even a fraction of the production it did this weekend, losses may start to become more stagnant.
"The last three games we really threw the ball well," Hyde said when asked if quality starts can build on each other. "And we did a nice job out of the 'pen, too. … We gave ourselves a chance to win."
"I think we're going to keep improving and keep winning," Ynoa said through team translator Ramón Alarcón. "I think it's a good opportunity for everybody to continue to get better."
Enjoy these moments
Over 68,000 fans came through Orioles Park at Camden Yards this weekend -- the second highest-combined home series total outside of the home opener.
What that magnitude of fans received -- outside of the floppy hat and Maryland-inspired jersey giveaways -- were on-field offensive explosions and the most exciting baseball weekend in Baltimore in quite some time.
It wasn't just because the Orioles put together a pair of historic wins. They played clean baseball for the most part, not being tagged for an error the entire series. For the first time this season, they forced the opposition to use a position pitcher on the mound after having done so themselves three times this year.
The Orioles are trudging along in the year's second half with momentum. It's anyone's guess how often they win going forward, but Baltimore retains pleasure in the ability to put on a show for at least one weekend at home.
"I feel like, for the most part, we are a fun team to watch, even if our record doesn't show it," Hyde said after Saturday's win.
Roster move
The Orioles announced after Sunday's loss that lefty reliever Tanner Scott has been optioned to Triple-A Norfolk. Scott pitched once this weekend, not allowing a run and tallying four strikeouts in Saturday's win.
The move was done more to create a roster spot for Monday's to-be-announced starter rather than an indictment on Scott's recent performance.