O's aim to rely on experience during rebuild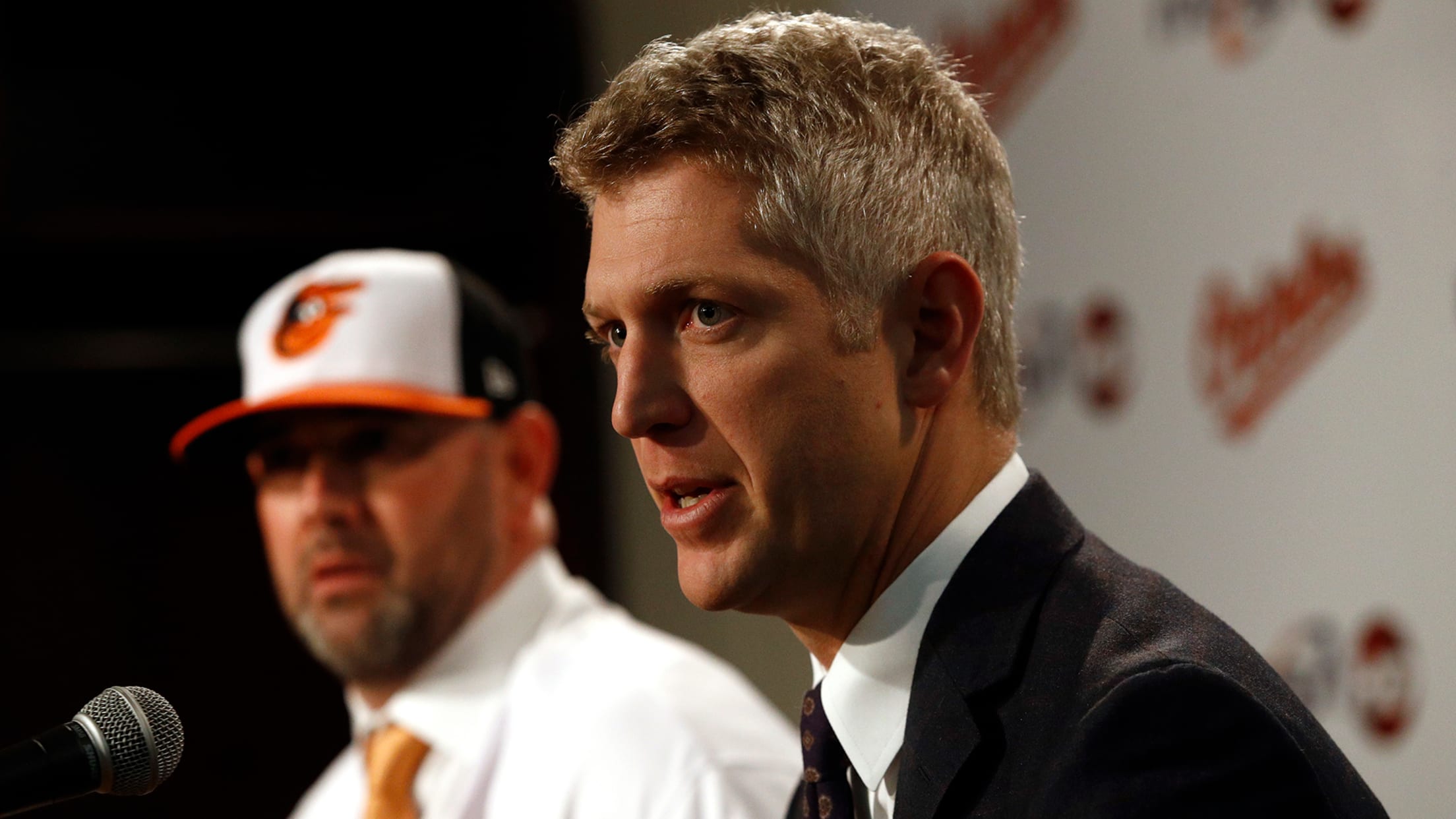 In outlining their plans to rebuild the Orioles following the least successful season in franchise history, new club officials routinely point to experience: They just did the same thing elsewhere.The new leaders of the O's front office may not have garnered many headlines before coming to Baltimore, but all played
In outlining their plans to rebuild the Orioles following the least successful season in franchise history, new club officials routinely point to experience: They just did the same thing elsewhere.
The new leaders of the O's front office may not have garnered many headlines before coming to Baltimore, but all played integral roles in turning struggling franchises into World Series champions in recent years: general manager Mike Elias and assistant general manager for analytics Sig Mejdal with the Astros in 2017; manager Brandon Hyde in Chicago in '16.
The Astros started from a lower point, and the Cubs had more history to fend off, but both went about it in essentially the same way: Enduring lean years spent stockpiling young talent, drafting well, emphasizing player development and eventually winning, all against a backdrop of data-driven decisions. Now, the lone guarantee during these transitional times in Baltimore is that the O's plan to move forward with the intention of molding themselves in this vision.
:: Spring Training coverage presented by Camping World ::
"Brandon went through this with the Cubs, and I went through this with the Astros," Elias said. "Both of those rebuilding processes went incredibly fast. I can't say that will always be the case with these things. There are circumstantial factors that might affect the speed with which a team revisits the playoffs. I'm hopeful we can do it. I know what we need to do to get there."
With pitchers and catchers set to report Tuesday to Baltimore's Spring Training camp in Sarasota, Fla., O's officials have no illusions to how early on they are in that process. Their 115 losses in 2018 were more than the Astros or Cubs endured. Houston averaged 108 losses over Elias' first three years with the club, when he served as scouting director under general manager Jeff Luhnow. The Astros have won an average of 94 games over the past four seasons behind a core anchored by players Elias helped draft. The Cubs averaged 95 losses during Hyde's first three years in Chicago, then averaged 97 wins over the next four.
In each place, the long-term goal was the same: Build an elite talent pipeline that would sustain the organization for years of contention.
"I have a clear goal for this season, to see the overall level of talent in the organization go up," Elias said. "I want to see it move in the right direction. And on top of that, I have a lot of goals behind the scenes with what we're doing in terms of improving the functionality and overall infrastructure of every department of baseball operations."
To that end, Elias and Hyde spent their first few months on the job surrounding themselves with familiar people. Elias' first move was to make Mejdal his top lieutenant, who, under the title of assistant general manager for analytics, will be tasked with revamping the O's information systems and infrastructure. Elias also brought Minor League pitching coordinator Chris Holt along from the Astros before plucking Hyde from a field of six managerial candidates. Hyde then tabbed Tim Cossins and Jose Flores, old friends from his days with the Cubs, for his big league staff. New pitching coach Doug Brocail was hired in part because of his familiarity with Elias and Mejdal, with whom he had worked in Houston from 2011-14.
Elias and Mejdal's connections to new international scouting director Koby Perez stretch back even further, to their early days with the Cardinals in the mid-2000s. Perez came from the Indians to give the O's credibility on the international amateur market, which they've long ignored.
Their new hope is that the Caribbean area becomes one of multiple pipelines that eventually pump talent to Baltimore. Another is the Draft. The Orioles own the No.1 pick this June, their first top-five selection since having six in a row from 2007-12. A similar stretch could be in store in the near future. Meanwhile, Baltimore will also look to infuse its farm system with young talent via trade, either by flipping veterans or dipping into its bundle of international bonus pool money.
All told, the O's have been careful not to put a timetable on the rebuild; instead, promising it will be attempted brick by brick.
"It's going to depend on how well we draft, how well they progress, how well the players here progress and who's in the system right now," Elias said.
This spring, like winter, promises to be a season of change. But it provides an initial opportunity at that latter initiative. Twelve of the Orioles' Top 30 prospects, per MLB Pipeline, will be in camp, including five as non-roster invitees. Baltimore officials will use the spring to get an idea of how holdovers like Ryan Mountcastle, Austin Hays, Hunter Harvey and Ryan McKenna factor in, as well as get first looks at Yusniel Diaz, Dillon Tate, Dean Kremer and others acquired during last summer's flurry of midseason trades.
"It's been a real get-to-know process," Hyde said. "I'm familiar with them from video. I know their stats and where guys played last year. But I don't know the players that well. That's what the next two months is going to be, getting to know them as much as we can, making good decisions and realizing this is a development deal."