Ozzie's son takes turn in manager seat
Former skipper beams with pride as Ozney paves way in Astros' organization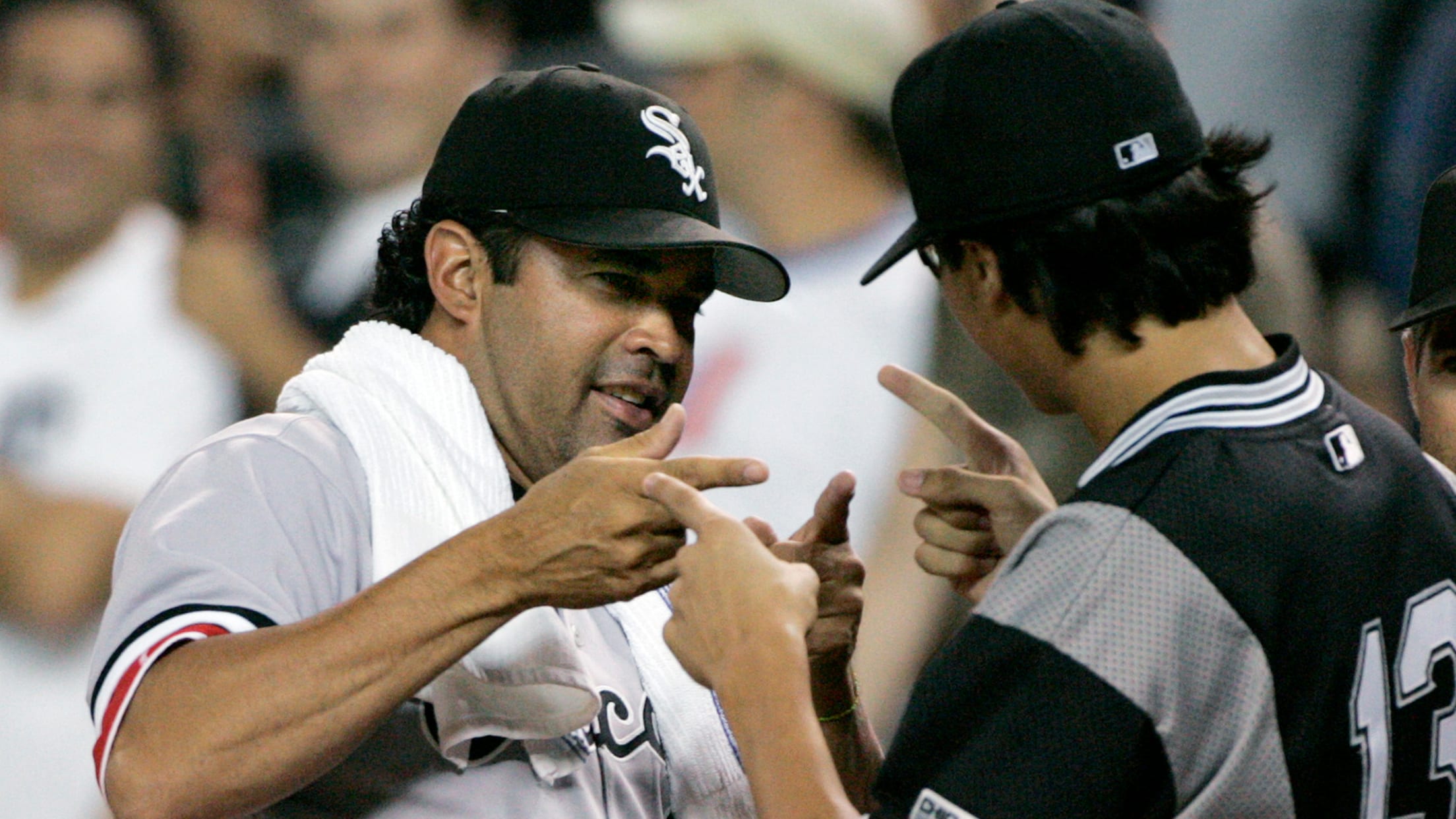 CHICAGO -- Imagine this Major League Baseball scenario playing out somewhere, six or seven years down the line.Actually, the teams and locale aren't as important to this story as the fact both managers will have the same last name: Guillen.On one side is Ozzie Guillen, who had a historic eight-year
CHICAGO -- Imagine this Major League Baseball scenario playing out somewhere, six or seven years down the line.
Actually, the teams and locale aren't as important to this story as the fact both managers will have the same last name: Guillen.
On one side is Ozzie Guillen, who had a historic eight-year run as White Sox manager, including a 2005 World Series championship, before one year managing the Marlins in '12. He's going against Ozney Guillen, who, at the youthful age of 27, has joined the Astros' organization as manager for Class A Short-Season Tri-City of the New York-Penn League.
The youngest of Ozzie and Ibis' three sons played for his father with Los Tiburones in the Venezuelan Winter League, and the elder Guillen admitted to being a bit nervous when his son was at the plate. Just imagine the feelings brought about managing against him.
"I would kick his [butt]," Ozney said with a laugh during an interview with MLB.com from the Dominican Republic, where his career with the Astros already has started.
Ironically, Ozney's most recent connection to the Astros came when the White Sox finished their 2005 World Series sweep. There's a heart-warming scene of Ozzie, Jr., Oney and Ozney hugging their dad in the Minute Maid Park visitors' dugout seconds after Juan Uribe's throw to Paul Konerko for the final out.
Like most things for the tight-knit Guillens, this is a family accomplishment. Ozney became emotional during the phone interview when explaining how he shared the life-changing news with his mother.
"I told my mom, 'We did it,' and it was awesome," Ozney said. "My parents have worked so hard to put me in this position. My dad has taken so much criticism from everybody. I just thank them every day. This would never have been possible without them."
This managerial move officially took place for Ozney two weeks ago. He was at home watching reruns of The Office when he received a call from the Astros. He had gone through three interviews -- the first job interviews of his life -- and even met with Astros general manager Jeff Luhnow.
But Ozney had an initial feeling this was a courtesy call, with maybe an offer of another position not in coaching.
"When I got drafted, I didn't cry. When I got my manager's job, I cried," said Ozney, who also had interest from the Phillies and Rockies. "This is my goal. I don't call it a dream. It is my dream, but it was my goal."
"We feel more proud about that than anything in the game," said Ozzie during his White Sox return last weekend for SoxFest. "That's one of the best news I have in the game, because he did it himself. He opened his own doors."
After being selected in the 22nd round of the 2010 Draft by the White Sox, Ozney elected to go the collegiate route with two years at Miami-Dade College and one year at St. Thomas University. Stints with Normal, Sioux Falls, Bridgeport, Ottawa and New Britain in Independent, unaffiliated baseball followed, but when his left shoulder popped out in Venezuela for a third time this past season, he opted to forgo surgery and refocus his dugout life.
"My last season in Independent ball was more [that] I needed one more year of just living this life of playing," Ozney said. "But it was the way of the universe telling me, 'You are ready. It's your time. Go do it.'
"In my head, I'm like, 'You are not going to be a big league baseball player. You know this. But you could definitely be a big league manager or coach,' and that's definitely really cool."
Ozney grew up in baseball talking nuances of the game with everyone, from then-managers Jeff Torborg and Jack McKeon to what he called "Hall of Fame of coaches" Greg Walker, Harold Baines, Tim Raines, Joey Cora, Alex Cora and Perry Hill. His desire to be a manager came as early as age 16, but Ozney went about this process methodically to help figure out his best fit.
He created and sent out resumes, and reached out to baseball figures such as J.J. Lally of the White Sox, Boston manager Alex Cora, Desi Wilson of the Cubs, Raines, Josh Bonifay, Jorge Velandia, Houston hitting coach Alex Cintron and Justin Jirschele, a 28-year-old managerial success in the White Sox system, not looking for a job but looking for input. They felt this bilingual, erudite young man was ready for his first professional challenge.
"I'm rooting for him, obviously," Ozzie said. "He has his mind in the game, and he's going to do what he loves to do. He's got a chance to be good."
"Playing baseball was cool, but I'm so much more excited now for my career," Ozney said. "[The Astros] just want to mold me and make me better. They care, and as a first-year manager or coach or anything, that's literally all I can ask. I'm so grateful for this opportunity. They've given me so much confidence in myself that 26 years of living in this baseball world has never given me."