Lopez salutes doctor-dad for baseball fever
Walker, Berti, O'Brien headed to Jupiter complex for on-field work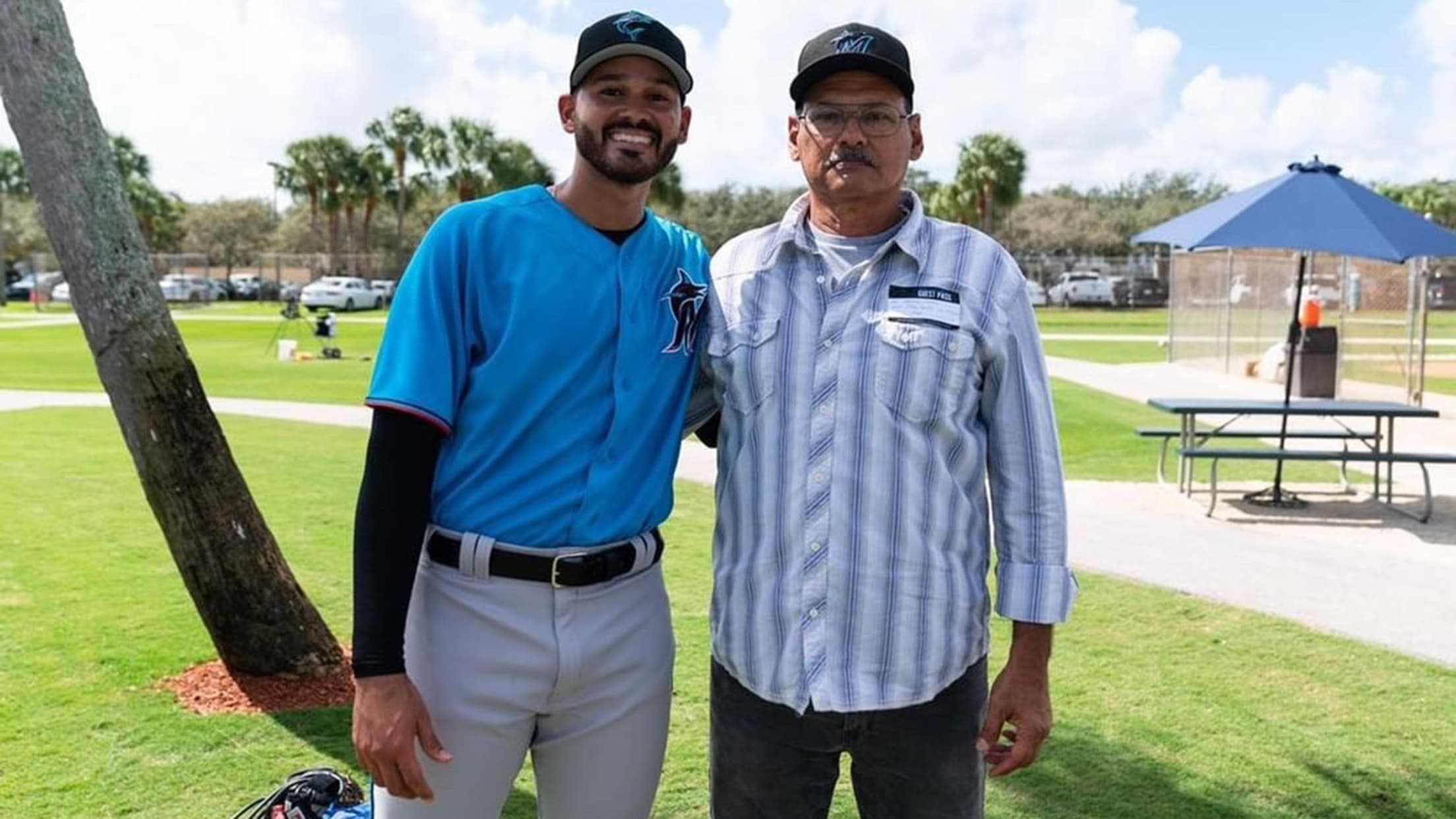 MIAMI -- Marlins right-hander Pablo López regularly is able to share his big league dream with his father, Danny. Although he lives in Venezuela, Danny Lopez -- a doctor -- makes frequent trips to South Florida to watch his son pitch. To Pablo Lopez, Father's Day is a reminder to
MIAMI -- Marlins right-hander Pablo López regularly is able to share his big league dream with his father, Danny.
Although he lives in Venezuela, Danny Lopez -- a doctor -- makes frequent trips to South Florida to watch his son pitch.
To Pablo Lopez, Father's Day is a reminder to show his appreciation for all the guidance he received from his dad.
"My dad played amateur ball in Venezuela when he was in college to become a doctor," the Miami 23-year-old right-hander said. "He was always a fan of baseball, even after he stopped playing. He would go to games, and he taught me everything I know about baseball. I have memories of being 5 or 6, being at the yard with him. Playing catch. He taught me how to catch fly balls and ground balls."
During Father's Day games, for the fourth consecutive year, players wore specially designed New Era caps to raise awareness and funds for the fight against prostate cancer. Players also had the option to wear Stance multi-pattern blue-dyed socks. MLB will again donate 100% of its royalties from the sales of specialty caps and apparel emblazoned with the symbolic blue ribbon -- a minimum $300,000 collective donation -- to the Prostate Cancer Foundation and Stand Up To Cancer.
This effort also includes the annual Prostate Cancer Foundation "Home Run Challenge," which has given fans the chance to make a one-time monetary donation or pledge for every home run hit by their favorite MLB clubs from June 1 through Father's Day (June 16), all the while tracking where their team stacks up in a "Team vs. Team" competition. Every dollar donated through the Home Run Challenge goes to PCF to fund critical research to defeat prostate cancer. As of June 13, more than $1.26 million has been pledged via the Home Run Challenge in 2019. Since inception, the Home Run Challenge has raised more than $51 million for PCF, the world's leading philanthropic organization funding and accelerating prostate cancer research.
In Sunday's series finale with the Pirates on Sunday, the Marlins wore their "Miami Blue" caps and jerseys.
Several Marlins players frequently have their kids at the ballpark, mingling with the team in the clubhouse.
"I love the kids around," Marlins manager Don Mattingly said. "I think it's very good for us. The kids keep it real for you."
Utility infielder Yadiel Rivera often has his 4-year-old son, Yadiel, at the park, wearing a Marlins jersey with the same No. 2 as his dad.
"It's pretty special to have my kid here, watching me play," Rivera said. "It's pretty special to have him in the stands, giving support."
Father's Day is also an occasion for MLB to raise prostate cancer awareness.
Founded in 1993, Prostate Cancer Foundation has funded nearly $800 million of cutting-edge research by 2,200 scientists at 220 leading cancer centers in 22 countries around the world. Because of PCF's commitment to ending death and suffering from prostate cancer, the death rate is down more than 52% and 1.5 million men are alive today as a result. PCF research now impacts 67 forms of human cancer by focusing on immunotherapy, the microbiome, and food as medicine. Learn more at pcf.org.
Worth noting
• When the Marlins begin their seven-game road trip on Monday at St. Louis, several of their players on the injured list will be heading to Jupiter, Fla., to continue their progression at the Roger Dean Chevrolet Stadium complex. Neil Walker (right quad strain), Jon Berti (left oblique strain) and Peter O'Brien (left rib contusion) all are doing on-field baseball activities and getting closer to seeing game action.