Holiday season filled with family for Lopez
Marlins right-hander fondly remembers Christmas gatherings in Venezuela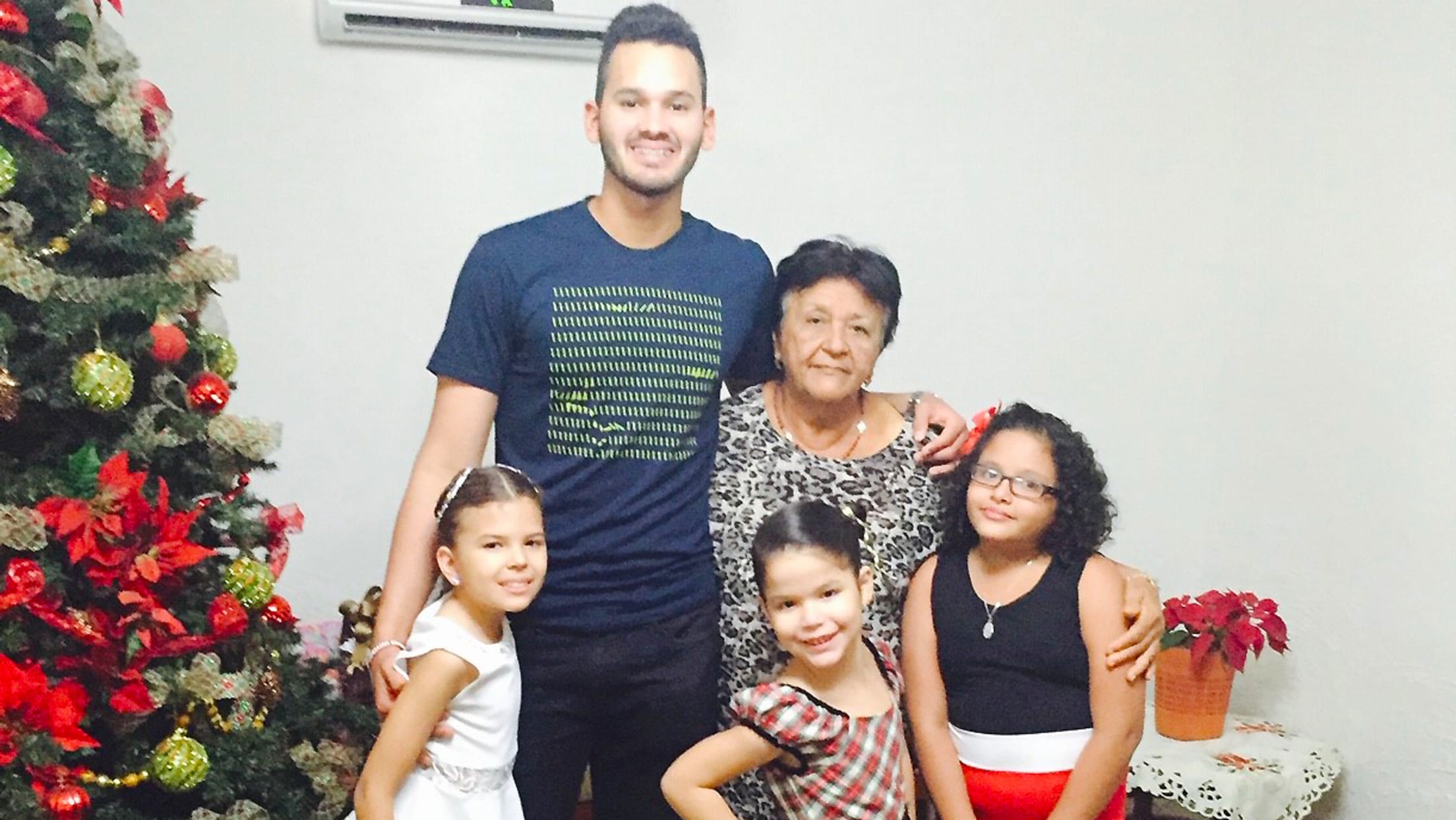 MIAMI -- To Marlins right-hander Pablo Lopez, the holiday season means time with family, big dinners and storytelling around the table.It's also a time to be thankful and reflect on his childhood in Venezuela and to reminisce about the days he received some of his favorite gifts -- Hot Wheels
MIAMI -- To Marlins right-hander Pablo Lopez, the holiday season means time with family, big dinners and storytelling around the table.
It's also a time to be thankful and reflect on his childhood in Venezuela and to reminisce about the days he received some of his favorite gifts -- Hot Wheels and motorized trucks.
"Venezuela is such a traditional country," Lopez said. "People gather around. When someone from the United States asks me if we have Thanksgiving in Venezuela, I tell them, our Christmas is pretty much like our Thanksgiving."
The 22-year-old is from Cabimas, Venezuela. Lopez is the second of three children.
A typical Christmas would be with 18 of his closest family members, including his parents, grandparents, aunts, uncles and cousins.
"The whole family gathers for lunch, both on Christmas Eve and New Year's Eve," Lopez said. "We will gather. We gather as many people as we can. Everyone welcomes the neighbors. It's a very family environment. That's how it usually goes."
A tradition in the Lopez household is exchanging gifts at midnight on Christmas Day.
"We'd open Christmas gifts at midnight," Lopez said. "At 11:59 p.m. on the 24th and at midnight, that's when we'd open the presents."
Another family tradition came on New Year's Eve. In the days leading up to the holiday, the children would draw names from a bowl and then get a present for the person selected. They'd give the present at lunch on Dec. 31.
Some of Lopez's most memorable presents were Hot Wheels cars and remote-controlled trucks, helicopters and drones.
Lopez's annual Christmas meal would typically be pork, chicken salad and a lot of baked foods.
"Growing up, everyone in the family would just gather," Lopez said. "There would be lots of music. There's usually music from early in the morning until late at night. People dancing. People on the street are just saying hi to everybody.
"Even after all the food is gone, people usually would just still stay around the table, talking, interacting with one another."
Lopez is one of Miami's promising young pitchers.
Acquired from the Mariners in July 2017 as part of the David Phelps trade, Lopez had a breakthrough season in '18. After impressing at Double-A Jacksonville to open the season, the right-hander was promoted to Triple-A New Orleans.
Combined he posted a 1.44 ERA at both Minor League levels, before making his big league debut on June 30 against the Mets.
Lopez made 10 starts for the Marlins, going 2-4 with a 4.14 ERA in 58 2/3 innings before being shut down on Sept. 1.
As a precaution, the Marlins placed Lopez on the 60-day disabled list with a right shoulder strain.
Lopez is currently training in South Florida and began his throwing program the week of Dec. 3.
"I'm feeling great," Lopez said. "Everything is going smoothly, I'm getting in shape. Running, conditioning, getting the arm back in shape. I just started throwing, nice and easy, playing catch."