Padres make 3 additions to September roster
RHPs Yardley, Reyes and infielder Mejias-Brean recalled; Green expresses support for Urias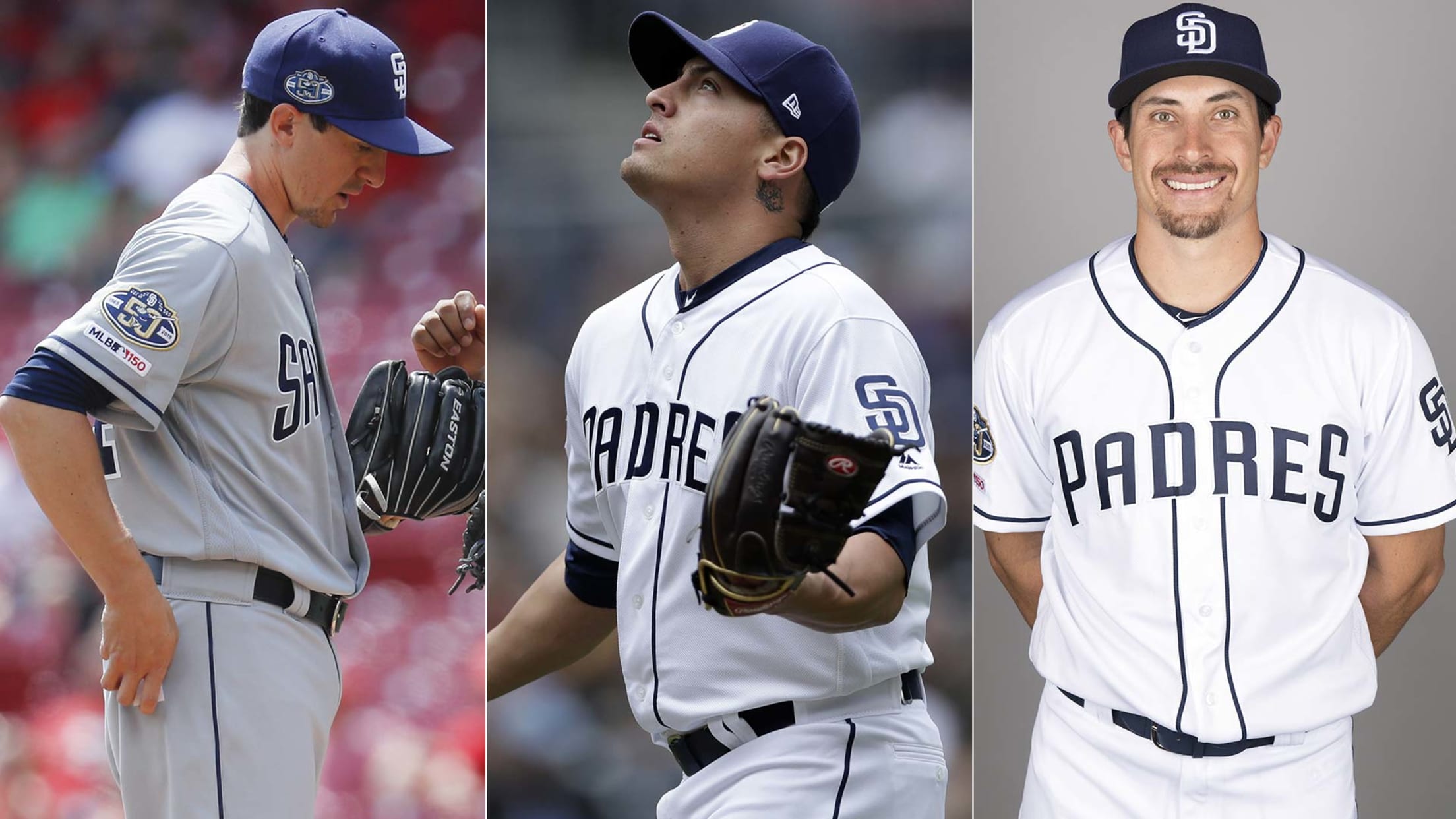 PHOENIX -- After Triple-A El Paso's season ended Monday, the Padres called up three players from the affiliate to add to their expanded September roster. Right-handers Eric Yardley and Gerardo Reyes were recalled ahead of Tuesday's game against the D-backs, along with infielder Seth Mejias-Brean. To make room for Mejias-Brean
PHOENIX -- After Triple-A El Paso's season ended Monday, the Padres called up three players from the affiliate to add to their expanded September roster.
Right-handers Eric Yardley and Gerardo Reyes were recalled ahead of Tuesday's game against the D-backs, along with infielder Seth Mejias-Brean. To make room for Mejias-Brean on the 40-man roster, the Padres transferred shortstop Fernando Tatis Jr. to the 60-day injured list.
Yardley and Reyes both pitched for San Diego earlier this year, and the duo will give the bullpen some fresh arms for the final month of the season.
In two appearances for the Padres in late August, Yardley allowed five runs (three earned) over three innings. He had a 2.83 ERA in 43 games for El Paso this season.
Reyes went 4-0 with an 11.25 ERA in 18 games over five previous stints with the Padres this season. He earned a win in his Major League debut against the D-backs on April 12. In 34 Triple-A appearances, Reyes went 4-2 with a 3.57 ERA.
Padres manager Andy Green said the club added Mejias-Brean to give them better defensive versatility. The 28-year-old infielder will primarily serve as a pinch-hitter and defensive replacement, and his first appearance will be his big league debut.
Green confident in Urias at shortstop
With Tatis Jr. out for the season, the Padres have played Luis Urías at shortstop over the past three weeks. He had been playing second base for San Diego, but he played both positions at Triple-A earlier in the year.
In 53 games at shortstop for El Paso, Urias committed seven errors and had a .972 fielding percentage. But in 20 games at the position for the Padres, he already has seven errors to go along with an .889 fielding percentage, which included a pair of errors in Monday's loss to the D-backs.
Although Urias was out of San Diego's lineup on Tuesday -- Greg Garcia started at shortstop and batted leadoff -- Green knows the 22-year-old will show he's capable of better defensively.
"He's working hard, we're confident he's going to come to the other side of this, but sometimes stepping back for a couple days is a positive," Green said. "We're confident he can catch a ball and throw it across from short very well. He did that competitively all season in the [Pacific Coast League], I went back this morning and watched every ground ball he caught this year in the PCL. He's good. He's going to be fine."