Padres name Minor League coaching staffs
Former catcher Barajas to manage Triple-A El Paso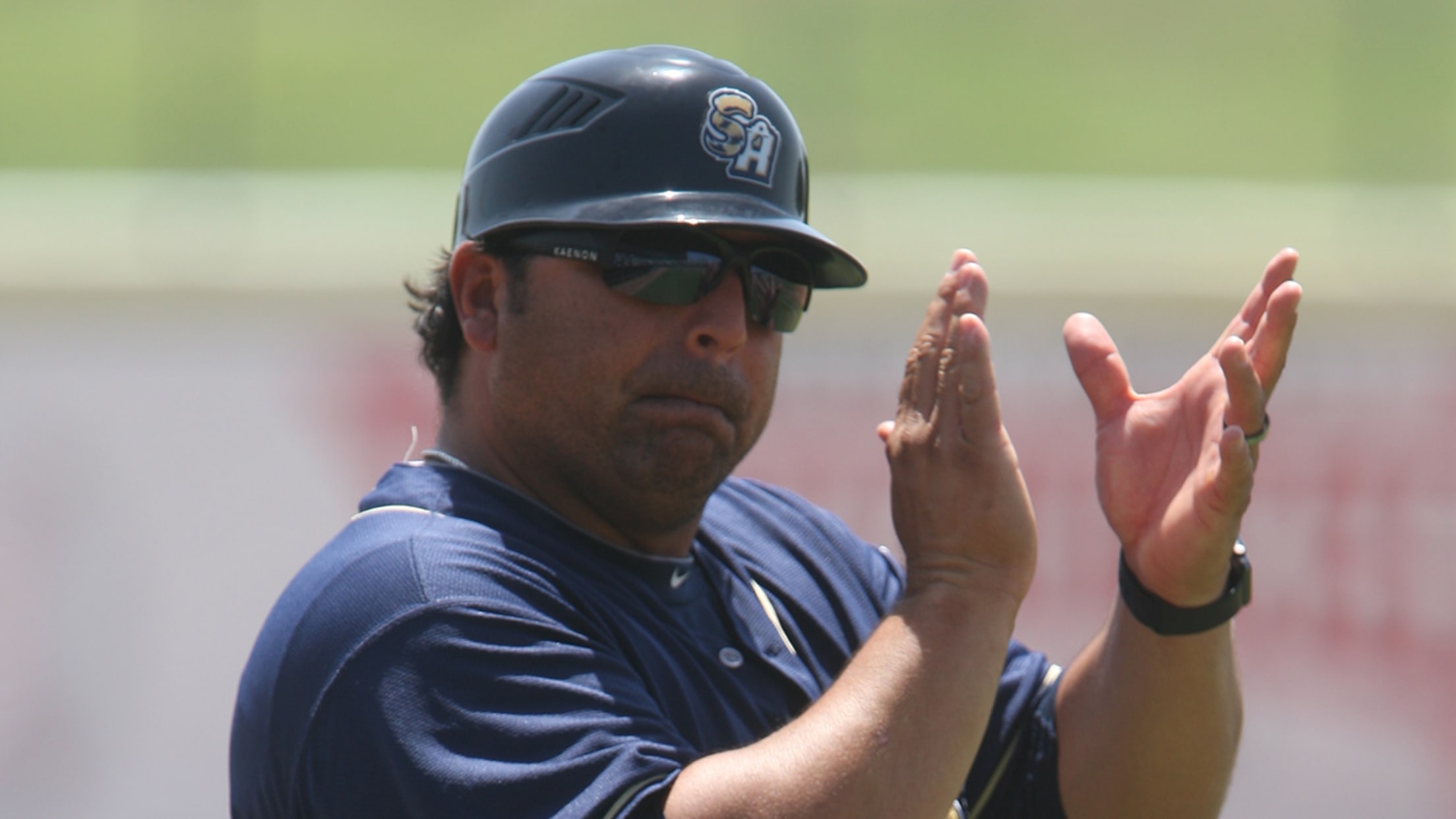 Rod Barajas will take over as the Padres' Triple-A manager in 2016. (Shawn E. Davis/MiLB.com) (Shawn E. Davis/MiLB.com)
SAN DIEGO -- The Padres have announced their coaching staffs for the upcoming Minor League season, in addition to the team's player development coordinators.Rod Barajas, in his third year with the organization, will manage the club's Triple-A team in El Paso after spending part of 2015 in the same role
SAN DIEGO -- The Padres have announced their coaching staffs for the upcoming Minor League season, in addition to the team's player development coordinators.
Rod Barajas, in his third year with the organization, will manage the club's Triple-A team in El Paso after spending part of 2015 in the same role at Double-A San Antonio.
Bronswell Patrick will serve as the pitching coach in El Paso, with Morgan Burkhart as the hitting coach. Nate Stewart and Isak Yoon will comprise the training staff and A.J. Russell will be the strength coach.
In San Antonio, Phil Wellman joins the organization as the manager. He was most recently the manager of Double-A Arkansas, an Angels affiliate.
• Padres' Minor League affiliates
Johnny Washington will serve as hitting coach after spending seven seasons as a coach in the Dodgers' system. Jimmy Jones returns as the pitching coach. Dan Turner will serve as trainer and will be joined by strength coach Dan Byrne.
At Class A Advanced Lake Elsinore, Francisco Morales makes the jump from Class A Fort Wayne as manager of the Storm. His staff includes former Padres players Xavier Nady (as hitting coach) and Glendon Rusch (pitching coach). Mike McCoy is a coach and Ricky Huerta (trainer) and Scott Cline (strength coach) round out the staff.
Anthony Contreras will manage Fort Wayne. Returning to the TinCaps' staff is hitting coach Lance Burkhart and pitching coach Burt Hooton. Raul Padron joins the staff as a coach. Mitch Matton (trainer) and Drew Heithoff (strength coach) round out the staff.
Brandon Wood, who made his managerial and coaching debut last season with the Padres' Arizona Summer League affiliate, will take over as manager at Class A Short Season Tri-City in 2016. His staff will include hitting coach Oscar Bernard and Vinny Lopez (coach). The team has yet to hire a pitching coach. Trainer Justin Hostert and strength coach Emeka Akoh are also part of the staff.
Michael Collins will manage the club's Rookie-Level affiliate in Arizona. Doug Banks will serve as hitting coach in Peoria and Pete Zamora will be the pitching coach. Ben Fritz will be a coach on the staff. Wade Yamasaki (trainer) and Eric Wood (strength coach) round out the staff.
Also returning to Peoria will be rehabilitation hitting coach Damion Easley. He'll be joined by former Padres reliever Josh Spence, who will serve as rehab pitching coach. Vicente Cafaro also joins the staff as a rehab coach. Rehab coordinator Ryan Bitzel returns and will be joined by Jay Young (rehab strength coach).
For the Padres' Dominican Summer League affiliate, former Padres Minor Leaguer Jeremy Rodriguez will return to manage. Jhonaldo Pozo and Julio Ramirez will be the hitting coaches, Jackson Quezada and Nelson Cruz are pitching coaches. The trainers will be Maritza Castro and Juan Cabrera, while the strength coaches are Dan Hayes and Noel Fernandez.
The organization also named its Minor League roving instructors and player development coordinators.
The staff includes: Luis Ortiz (field/hitting coordinator), Mark Prior (pitching coordinator), Ryley Westman (coordinator of instruction), Eric Junge (pitching instructor), Gorman Heimueller (roving pitching coordinator), Jordan Wolf (strength and conditioning), JoJo Tarantino (medical coordinator), Kevin Hooper (infield coordinator), Tony Tarasco (outfield/baserunning coordinator), Shaun Cole (coordinator), Dave Bingham (instructor), John Nester (catching instructor), Evaristo Lantigua (Latin America instruction coordinator) and Daniel Cepin (development coordinator).