Winter updates on Bethancourt, Pirela
Catcher playing left field and pitching in Panama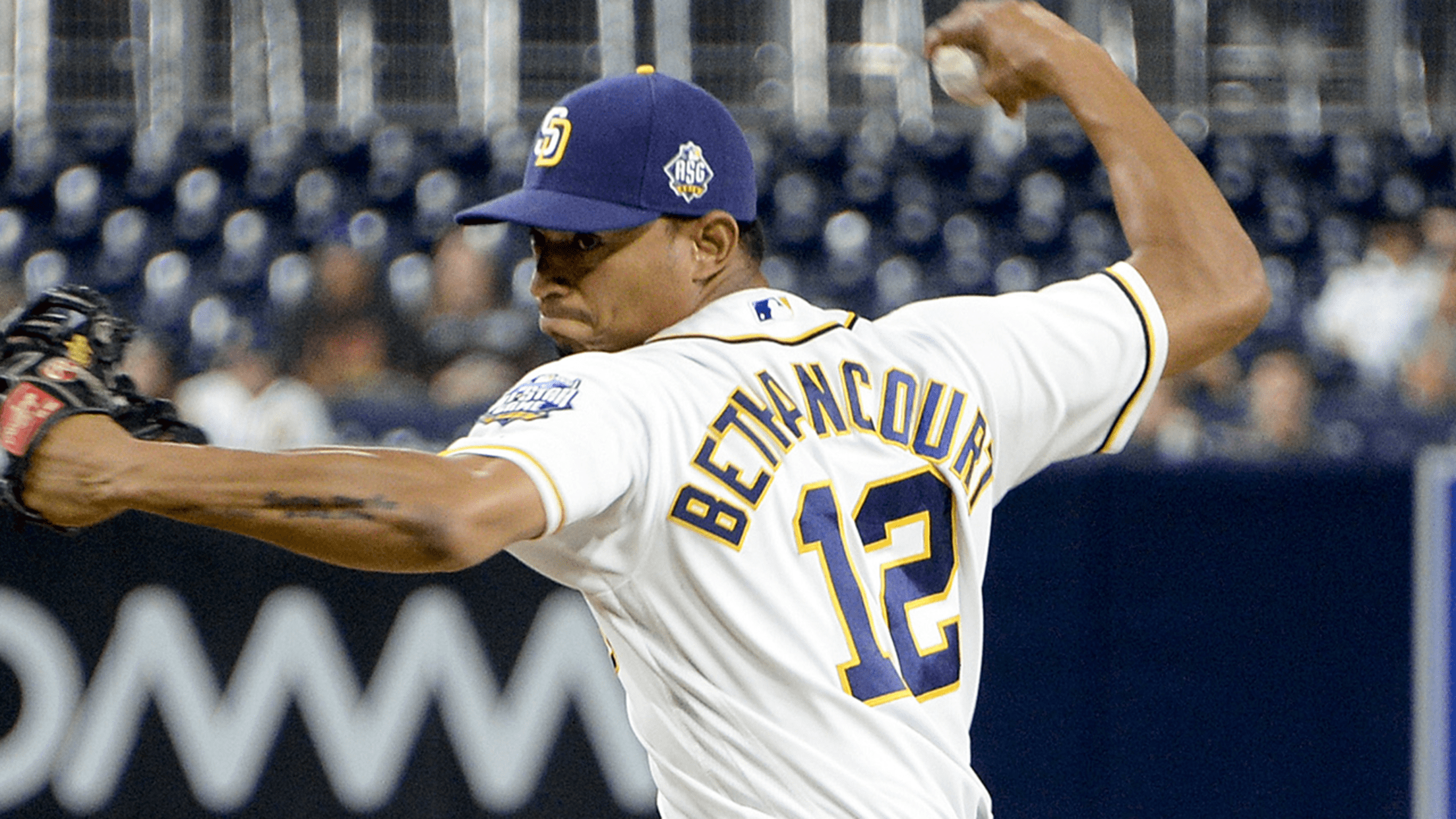 A catcher and outfielder by trade, Christian Bethancourt is working to add pitching to his repertoire this winter. (Padres)
Bill Center, longtime sportswriter for U-T San Diego, is an employee of the Padres.Christian Bethancourt has played 10 games -- seven as a left fielder and three as a relief pitcher -- in Panama as he begins an effort to become a hybrid catcher/pitcher/outfielder.Hitters are 2-for-11 against the 25-year-old Bethancourt
Bill Center, longtime sportswriter for U-T San Diego, is an employee of the Padres.
Christian Bethancourt has played 10 games -- seven as a left fielder and three as a relief pitcher -- in Panama as he begins an effort to become a hybrid catcher/pitcher/outfielder.
Hitters are 2-for-11 against the 25-year-old Bethancourt as a pitcher. He hasn't allowed a run in three one-inning appearances, with two strikeouts and no walks. His fastball has ranged from 93 to 97 mph.
Bethancourt has not caught in his native land, but he is starting in left on days he is not scheduled to pitch. As a hitter, Bethancourt is 4-for-31 with the Caballos de Cocle, with a double and four runs scored. He has a .229 on-base percentage.
Meanwhile, Jose Pirela doubled in three at-bats and scored the game's only run Tuesday night as Zulia defeated the Caribes, 1-0, to advance to the championship round of the Venezuelan Winter League playoffs.
Pirela is hitting .286 with two home runs in the playoffs. He is playing left and hitting second, third and fifth in Zulia's batting order.
Infielder Fernando Perez is still active in the Mexican Pacific League playoffs, although he has been playing part-time with Hermosillo over the past week. Perez, a product of Otay Ranch High, is hitting .417 (5-for-12) in the playoffs.
Three other Padres prospects remain active in the Australian Baseball League.
Second baseman River Stevens has hit safely in nine of his past 10 games (14-for-37) to raise his season batting average to .342. That is the third-highest average in Australia. Stevens also ranks 10th with a .388 on-base percentage.
Catcher Marcus Greene Jr. is hitting .310 in Australia, and he is tied for the league lead with six homers and is fourth in RBIs with 23. He is 13-for-31 (.310) over the past 10 games.
Right-hander Zech Lemond has a 1.20 ERA over 15 innings in 10 appearances in Australia. He has allowed 10 hits and six walks while striking out 15.