Padres decline Moreland's option for '21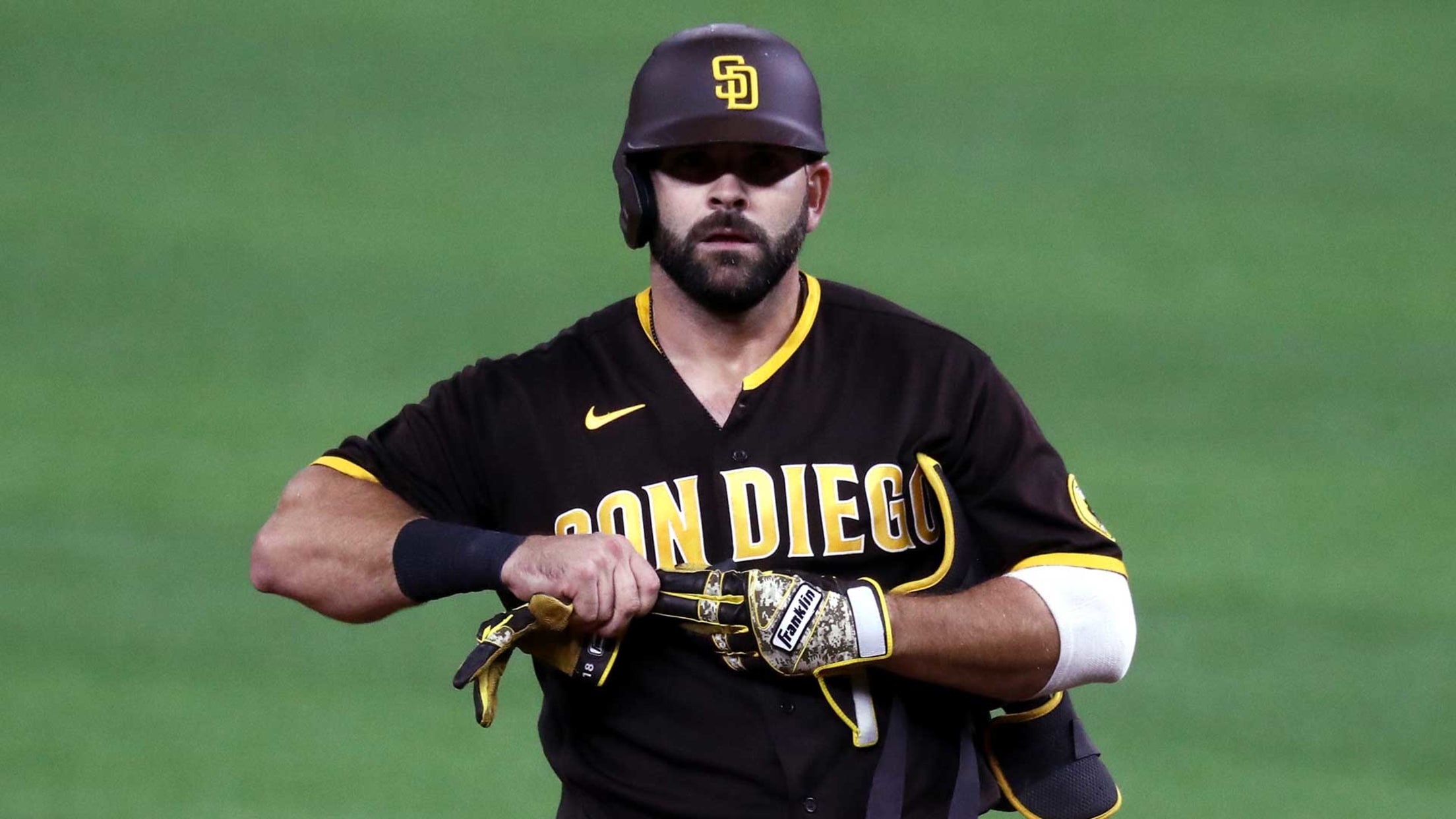 SAN DIEGO -- The Padres have declined their team option on Mitch Moreland for the 2021 season, making the veteran first baseman a free agent this winter. San Diego landed Moreland in a Trade Deadline swap with Boston, and he served as the team's primary designated hitter during the postseason
SAN DIEGO -- The Padres have declined their team option on Mitch Moreland for the 2021 season, making the veteran first baseman a free agent this winter.
San Diego landed Moreland in a Trade Deadline swap with Boston, and he served as the team's primary designated hitter during the postseason after filling in for an injured Eric Hosmer in September.
• Key decisions, dates: Padres offseason FAQ
Between two teams in 2020, Moreland batted .265/.342/.551. He struggled down the stretch with the Padres, but was excellent in the playoffs -- as he's often been throughout his 11-year career.
Moreland, 35, was owed $3 million on his 2021 team option. Instead, the Padres elected to pay a $500,000 buyout on his contract, after they'd sent prospects Jeisson Rosario and Hudson Potts to Boston to acquire him two months ago. (Both Potts and Rosario were deemed expendable because they were Rule 5 Draft-eligible and part of the team's 40-man roster crunch this winter.)
With Hosmer at first base, there was no obvious role for Moreland in the Padres' 2021 lineup.
"It was a combination of factors," Padres general manager A.J. Preller said of Sunday's decision. "Ultimately, first move of the offseason, just looking for a little bit more flexibility from a positional standpoint and also from a payroll standpoint."
Preller noted, however, that the Padres are still open to bringing Moreland back. But they'd first like clarity regarding whether the designated hitter will remain in the National League in 2021. It seems unlikely Moreland would return exclusively as a bench piece.
"I talked to Mitch a couple times in the last few days, and I told him this may not be goodbye," Preller said. "It's just right now, at this point in time, with some of the uncertainty regarding the DH and just seeing how the market is going to play out, we just want to see how the next few weeks play out for us. We may have some more conversations regarding Mitch going forward."
If he doesn't return, Moreland's impact lefty bat will be sorely missed on the San Diego bench. The Padres' offense seems set at all eight positions entering the 2021 season. But there are suddenly serious question marks about their backups.
With Moreland, Jurickson Profar and Jason Castro all free agents, Preller has some work to do this winter to construct a playoff-caliber bench.