Padres draft Harvard-bound son of Hoffman
San Diego selects high school shortstop in 36th round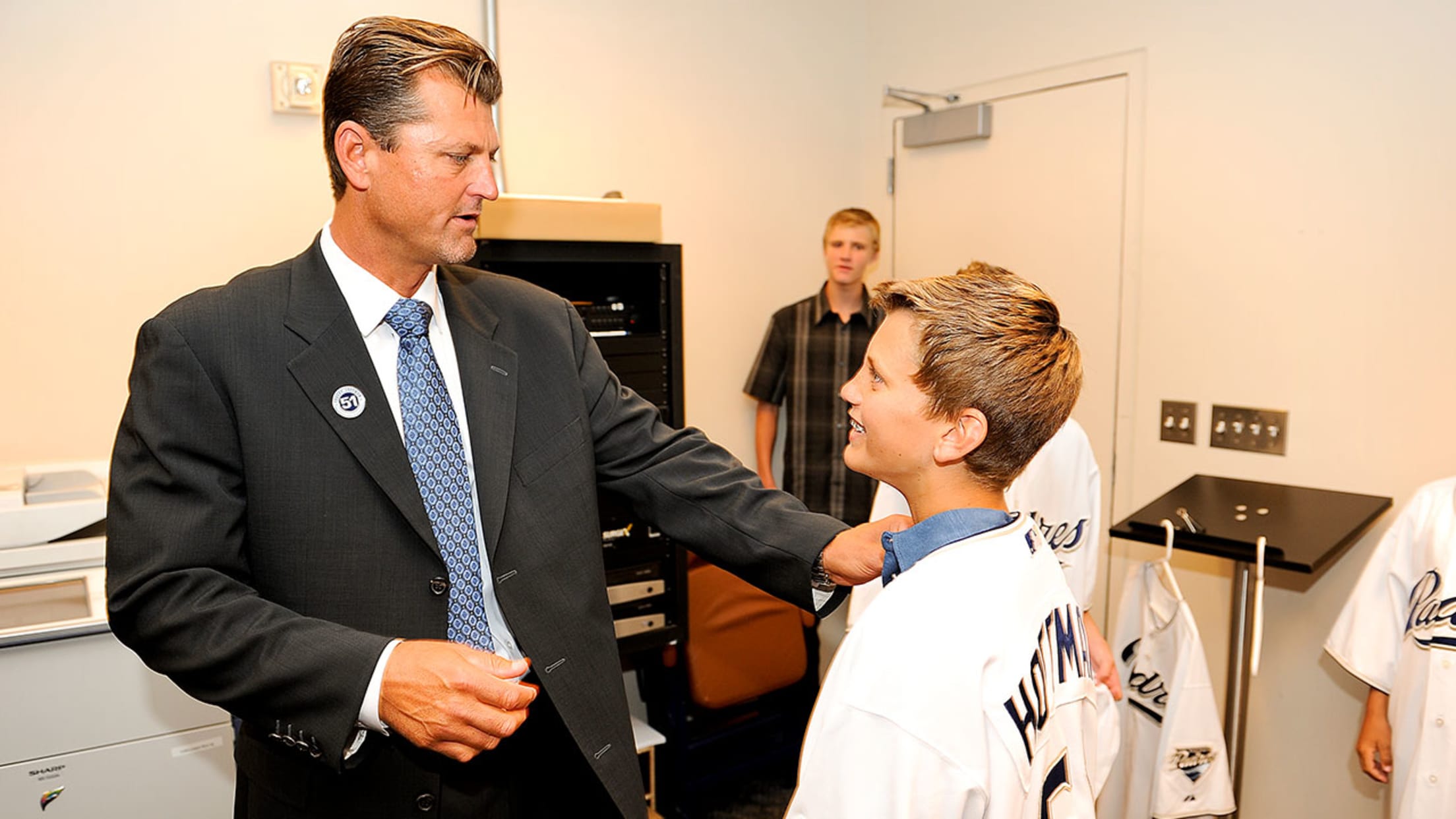 Quinn Hoffman with his dad, Trevor, during Trevor's number retirement ceremony in 2011. (Andy Hayt)
SAN DIEGO -- In the 36th round of this year's Draft, the Padres went local, selecting a scrappy young shortstop named Quinn Hoffman out of Cathedral Catholic High School.You may have heard of his father, Trevor.He accomplished a thing or two during his time as closer for the Padres.:: Complete
SAN DIEGO -- In the 36th round of this year's Draft, the Padres went local, selecting a scrappy young shortstop named Quinn Hoffman out of Cathedral Catholic High School.
You may have heard of his father, Trevor.
He accomplished a thing or two during his time as closer for the Padres.
:: Complete 2016 Draft coverage ::
Following 16 Hall of Fame-caliber seasons with San Diego, Trevor Hoffman's primary job at this point is being a father. In that regard, Saturday marked a proud day for the Padres legend.
"It's been a bit of a whirlwind," said Trevor Hoffman. "It really started all last summer with a lot of the summer showcases. ... You talk about things culminating, you've got graduation, [Quinn's high school] championship game that night and grad parties. Obviously, this is the cherry on top of a great couple weeks."
As far as Quinn's chances of joining his father's organization, it appears as though that will have to wait. He's committed to play baseball at Harvard, and will begin taking classes there this fall, according to Trevor.
"He's heading off to school, but we're very proud of how far he's really come since he walked on to a high school campus," Trevor said. "Three, four years of being on a college campus will help him that much more as well."
Trevor Hoffman is nothing short of a legend in San Diego. He spent 16 seasons with the Padres, with whom he recorded 552 of his 601 career saves. His No. 51 is retired, and he stands a good chance of being inducted into the Hall of Fame, after receiving 67.3 percent of the vote earlier this year.
Currently, Hoffman serves as a senior advisor in the Padres' baseball operations. Along with Dave Winfield, he's one of the two spokespeople for this summer's All-Star Game at Petco Park, and he'll manage the United States team in the Futures Game.
Quinn's uncle Glenn Hoffman, meanwhile, serves as the Padres' third-base coach and spent nine seasons in the big leagues, playing mostly with the Red Sox.
As for Quinn, he's a solid ballplayer himself. He batted .289 with a .354 on-base percentage, while starting at shortstop for Cathedral Catholic -- which wrapped up the San Diego Section Championship a week ago (on the same day Quinn graduated).
"I watch him more from the perspective of a proud dad," Trevor Hoffman said with a laugh. "... But I can see the skillset he possesses. His hands, his feet move pretty good.
"And he's got a good arm."
Like father, like son.