Play Ball Weekend off to strong start at Petco
Friday's fun included Wiffle ball, appearances from d'Arnaud and Hedges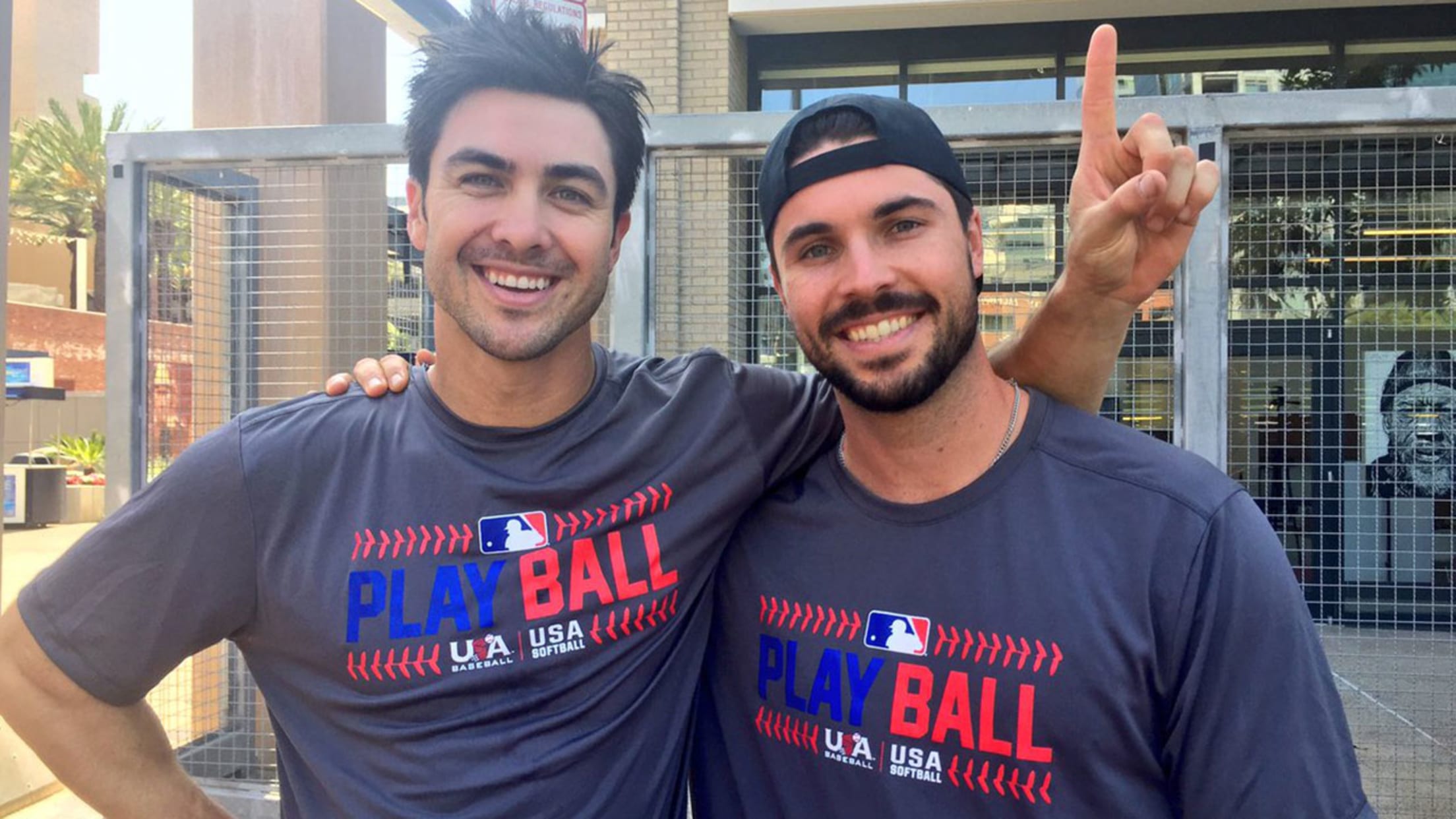 Chase d'Arnaud and Austin Hedges spoke to area youth during a Wiffle ball game Friday as part of MLB's Play Ball Weekend. (Padres)
SAN DIEGO -- When a Wiffle ball game breaks out, everyone wants to get into the fun. How else to explain Padres announcer Mark Grant wearing a bucket hat and high-fiving a girl in ponytails?Major League Baseball's Play Ball Weekend was on display before the Padres faced the Colorado Rockies
SAN DIEGO -- When a Wiffle ball game breaks out, everyone wants to get into the fun. How else to explain Padres announcer Mark Grant wearing a bucket hat and high-fiving a girl in ponytails?
Major League Baseball's Play Ball Weekend was on display before the Padres faced the Colorado Rockies on Friday night, as two softball teams from the San Diego area squared off at Park at the Park, the Wiffle ball diamond inside Petco Park.
"This is awesome," San Diego Firecrackers coach Sal Mata said. "What a great experience for the girls."
Youth Game Takeover with the Desert Divas and Firecrackers at @PetcoPark as we get @PlayBall Weekend started ⚾️ #PlayBall pic.twitter.com/YsMv5UuWyv

— San Diego Padres (@Padres) June 2, 2017
The Firecrackers took on the Imperial Valley Desert Divas, with Grant working the on-field microphone. His play-by-play layered smiles upon the laughs the girls, ages 10-13, were having.
"This is really cool," Maya Loper, 12, said.
Loper hit a three-run homer in the first inning, which brought with it a high-five from Grant. It was hard to decipher who was more excited about the hit.
"It felt pretty good," Loper said.
The feeling among the players, coaches and parents is that playing ball -- in any fashion -- is the way to go.
"It doesn't have to be baseball or softball leagues -- just playing Wiffle ball is fun," Grant said.
Getting ready to kick off @PlayBall Weekend as we welcome local youth softball players participating in the Play Ball Takeover! pic.twitter.com/wOsvylrn3f

— San Diego Padres (@Padres) June 2, 2017
A Play Ball Weekend pregame ceremony will take place Saturday, with children from Star/Pal youth sports being recognized and taking the field with the nine Padres starters. San Diego's representative from MLB's inaugural Trailblazer Series will throw out the first pitch. Children attending games on Saturday and Sunday will receive a Play Ball bat and ball set by visiting the Padres Baseball Camp activation at the Park at the Park.
Padres catcher Austin Hedges lent a hand to the Firecrackers while teammate Chase d'Arnaud aided the Desert Divas. Hedges' advice was simple and well-received in both dugouts.
"Go out there," he said, "and have fun."
The Desert Divas were skipping with joy in the final inning. Trailing by three runs and down to their last out, Desert Divas hitter Emma Infante, 10, smoked a three-run homer to tie the game, 5-5. The exit velocity and launch angle of Infante's blast was undetermined, but the knock easily cleared the fence.
"I didn't think it was going to be a home run," she said. "I'm happy it was."
This contest was about celebrating the sport rather than the final score.
"It's very important to create a love of the game," d'Arnaud said. "It's extremely important to get kids out there, educate them, show them how fun it is to play. Sometimes kids can put too much pressure on themselves anyway, so it's just good to get outside, be in the sun, have some fun, make some friends, meet some new people. It's a good social event."
The Firecrackers scratched across a run in the final inning for a 6-5 victory.
"The girls were so excited to do this," Desert Divas coach Gabe Infante said. "That the Padres would engage us in this is really special."
The teams enjoyed on-field access to the Padres' batting practice. Numerous players and coaches stopped by to talk to the girls.
Nearly 200 @MLB, @milb clubs to celebrate #PlayBall Weekend June 3-4. https://t.co/amt9hwb7ps pic.twitter.com/beIQRyHNcx

— Play Ball (@PlayBall) June 1, 2017
"Get the kids out from in front of the cellphone, and the TV sets, and out playing ball somewhere," Padres manager Andy Green said. "We definitely encourage them to do that any way we can."
The second annual Play Ball Weekend features a variety of youth engagement activities by nearly 200 Major League and Minor League clubs to highlight the fun of youth baseball and softball. It is a complementary program of the Play Ball initiative, designed by MLB to celebrate youth baseball and softball participation. MLB has provided clubs with more than 300,000 youth plastic bat and ball sets to distribute in both ballparks and at community events.
Many MLB clubs are hosting skills and physical fitness clinics as well as surprise "takeovers" of youth baseball and softball games or practices featuring appearances by Major League players, alumni, mascots, public address announcers and more. Activities will include kids participating in special news conferences, pregame meet-and-greets and catches with players, ceremonial first pitches, public address duties, lineup card exchanges, taking the field with players, postgame running the bases and more. Major League players, coaches and managers will wear Play Ball Weekend patches during the weekend's games, and players on home clubs will wear custom T-shirts during batting practice on the date of their club's activations.
Teams that are on the road Saturday and Sunday will host their Play Ball Weekend activities during another homestand.
Jay Paris is a contributor to MLB.com based in San Diego.