What to expect from Padres' Allen in MLB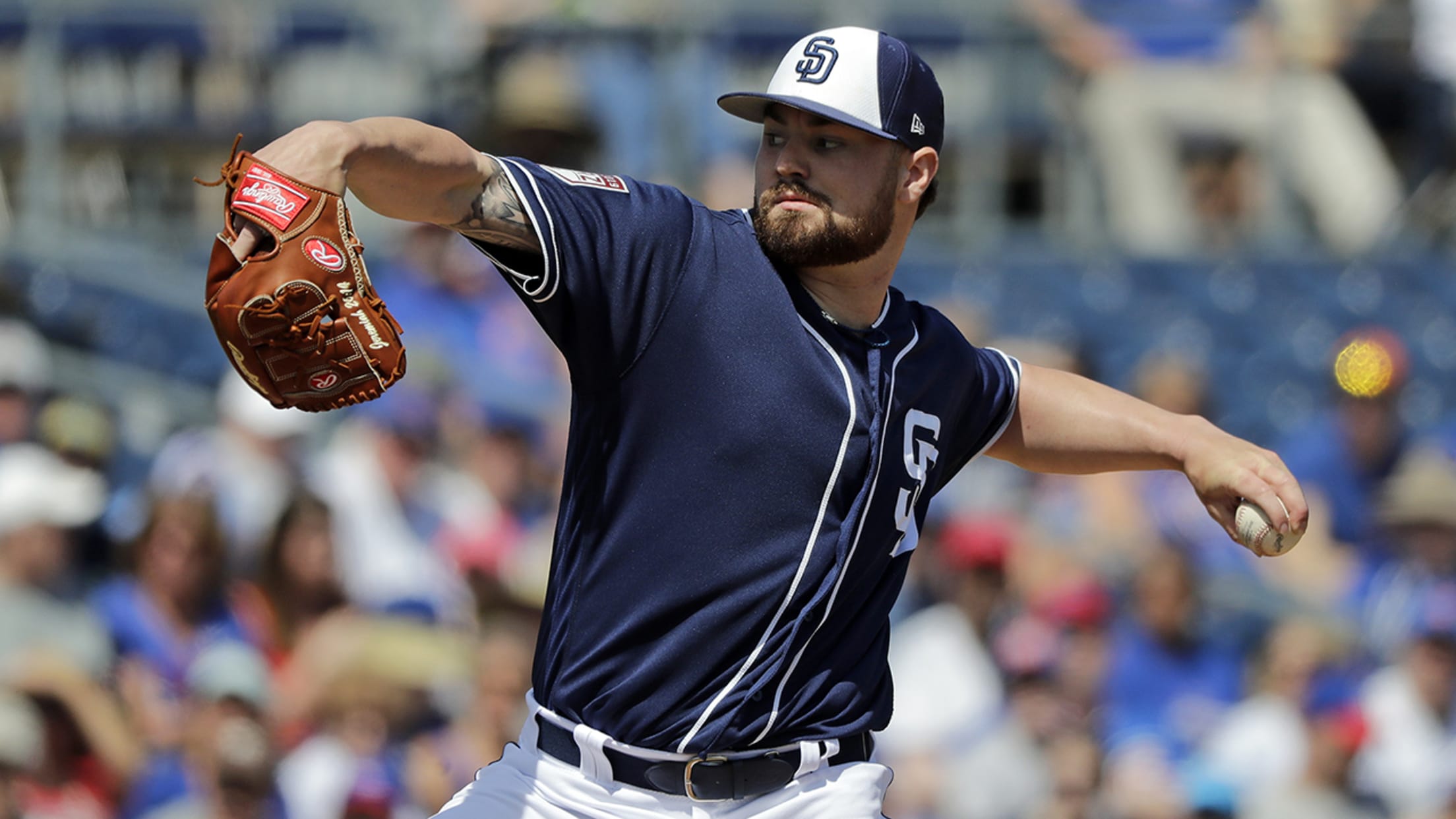 Another promising young Padres hurler is set to make his Major League debut after it was reported Monday that they will promote left-handed pitcher Logan Allen from Triple-A El Paso to start Tuesday's game against the Brewers. The Padres' No. 5 prospect will become the third pitcher from the club's
Another promising young Padres hurler is set to make his Major League debut after it was reported Monday that they will promote left-handed pitcher Logan Allen from Triple-A El Paso to start Tuesday's game against the Brewers.
The Padres' No. 5 prospect will become the third pitcher from the club's preseason Top 30 Prospects list to reach the Major Leagues in 2019, following in the footsteps of Chris Paddack and Cal Quantrill. He's ranked No. 61 on MLB Pipeline's list of the Top 100 prospects.
Originally an eighth-round pick by the Red Sox out of IMG Academy (Bradenton, Fla.) in the 2015 Draft, Allen was one of four players the Padres acquired that November when they traded closer Craig Kimbrel to Boston.
He made steady progress while climbing San Diego's system in the years following the trade before turning in a breakout campaign at age 21 in 2018, when he won four of his five starts for El Paso down the stretch after a promotion from Double-A San Antonio. He ultimately garnered Double-A Texas League Pitcher of the Year honors, finishing the season with a 2.54 ERA in 148 2/3 innings between the two levels, with 14 wins and 151 strikeouts that led all hurlers in the Padres' system.
Allen, 22, made a legitimate bid to crack the Padres' Opening Day rotation during Spring Training as a non-roster invitee, but a pair of shaky, six-run outings during his final three starts prompted the organization to send him to El Paso to open the season.
Back with the Chihuahuas, Allen had posted a 5.15 ERA and 1.44 WHIP over 13 starts before getting the call to the big leagues. He compiled 63 strikeouts against 22 walks in 57 2/3 innings (9.8 K/9, 3.4 BB/9), and opposing hitters batted .269 with eight home runs (1.4 HR/9) against him.
But while Allen's 2019 numbers so far with El Paso may suggest he's taken a step back, it's important to remember that the southpaw is pitching in a notoriously hitter-friendly Pacific Coast League, where the ball has been jumping out of the yard even more than usual this year.
From a scouting perspective, here's a preview of what the 6-foot-3, 200-pounder should bring to the table in the Majors:
Fastball: After pitching with a below-average velocity at the outset of his pro career, Allen now consistently operates in the low 90s and tops out at 94 mph with a fastball that has some late life. He's aggressive with the pitch, confidently attacking right-handed hitters on the inner half of the plate, with the ability to also locate it to his arm-side.
Changeup: Allen's changeup is a beauty -- a pitch that long has received plus grades from evaluators. He throws it with fastball-like arm speed and turns it over nicely to impart bottoming-out action as it nears the plate. It's a weapon for him against right-handed hitters, who often swing over it, and overall it serves as his preferred out-pitch when vying for strikeouts.
Slider: This is Allen's go-to breaking ball, and he's comfortable throwing it against both right- and left-handed hitters in any count. He often throws it early in the count, demonstrating feel for throwing it backdoor to righties to get called strikes. In general, the pitch, with its late break, helps keep hitters off of his fastball, leading to many off-balance swings.
Curveball: While not as effective as his slider, Allen does do a good job of landing his big curveball in the zone. It can be hittable, though, because it breaks early, which is also why he relies on it more as a change-of-pace offering and deploys it more against lefties than righties.
Control: Allen's walk rate has hovered between 3.1 and 3.5 BB/9 in every season since 2016 and sits at 3.1 in 418 innings for his Minor League career. He repeats his quick-tempo, high-leg-kick delivery well enough for that to translate at the highest level, while his ability to generate both strikeouts (9.5 K/9 in his career) and ground balls (46.3 percent in '19) helps him offset some of the free passes he issues. His command is average when he's at his best, though at times he will struggle to keep the ball down in the zone and yield hard contact as a result.
Beyond his four-pitch mix, Allen has a strong track record as workhouse on the mound, having logged 125 innings in 2017 during his first true full-season campaign before establishing a career-high workload in 2018. He's capable of pitching deep into starts and has completed at least six innings in 31 of 60 starts in the past three seasons. He's also a fast worker, something that Padres fans and especially his new Padres teammates surely will appreciate.