Lopez relishes chance to play on Mother's Day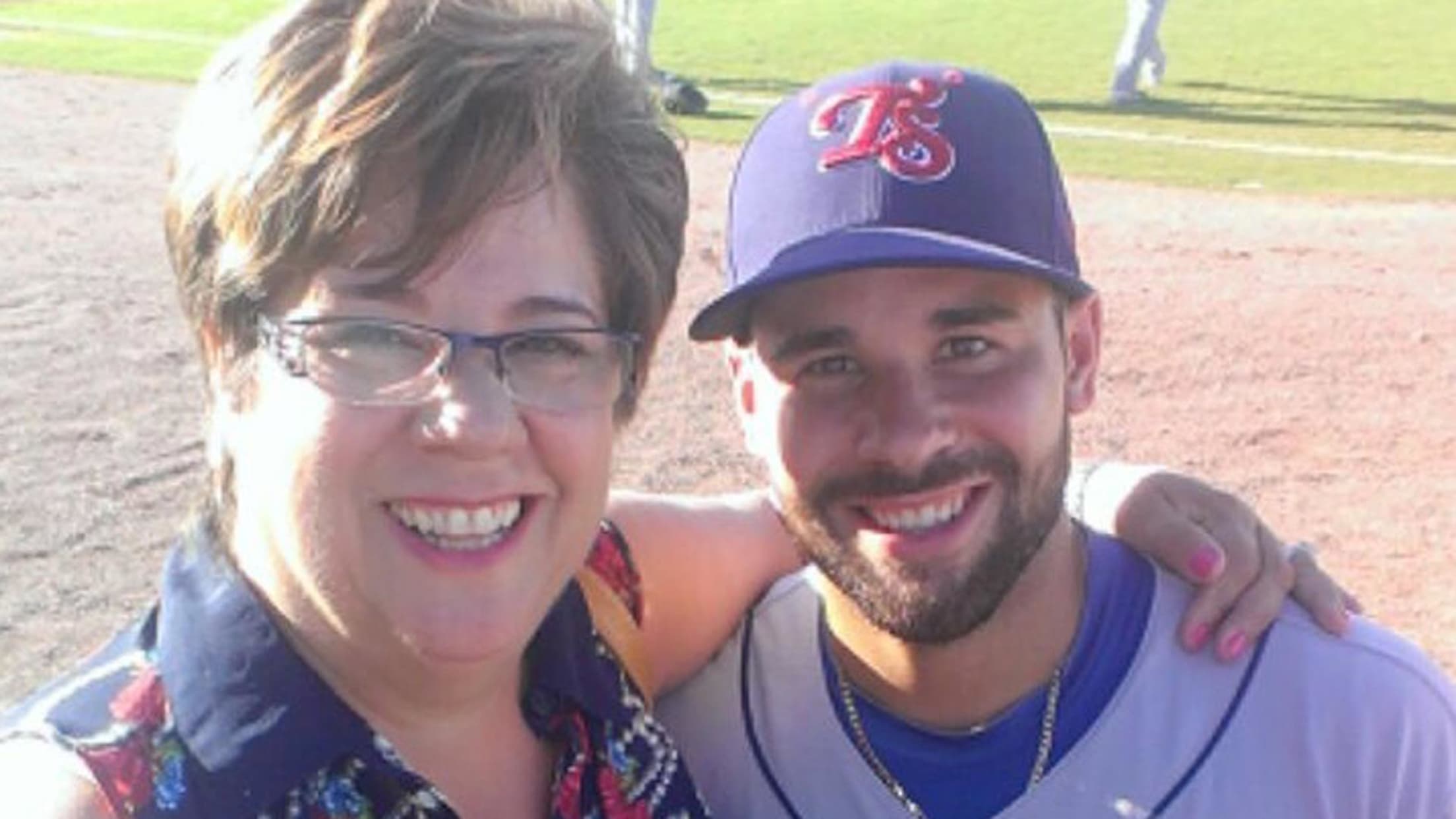 SAN DIEGO -- Raffy Lopez woke up late on Sunday morning, and who could blame him? The 30-year-old Padres backstop caught 13 innings on Saturday night, after all.But when Lopez arrived at Petco Park and saw his name on the lineup card ahead of the Padres' 5-3 victory over the
SAN DIEGO -- Raffy Lopez woke up late on Sunday morning, and who could blame him? The 30-year-old Padres backstop caught 13 innings on Saturday night, after all.
But when Lopez arrived at Petco Park and saw his name on the lineup card ahead of the Padres' 5-3 victory over the Cardinals, he didn't think of the physical burden from 22 innings behind the plate in 22 hours.
He thought of Mom.
"I'd have one eye and still try to figure out a way to get out there, especially on Mother's Day," Lopez said. "It's a special day for me."
A Minor League journeyman, Lopez was already six years into his professional career when two life-altering events collided in the span of one weekend during the 2015-16 offseason.
A day before his wedding, Lopez's mother, Wanda, suffered a brain aneurysm. With Wanda Lopez in a coma, Raffy Lopez married his wife. Wanda passed away later that same offseason.
Naturally, it shook Lopez, who recounted the calming influence of his mother. He's convinced he's come out stronger for it.
And he's convinced that strength has carried onto the baseball field.
"Mentally, it doesn't get much tougher than that," Lopez said. "Those few days, and then the wedding day, mentally, you're challenged. And so, being [in the Majors] now, you're not mentally challenged as much, because I've been challenged as much as you can be. Now, I'm playing, and it's just: 'Go play.'"
Go play. That's all Wanda Lopez ever asked Raffy. And so he played on Sunday -- quite well, in fact.
Lopez went 0-for-2, but he worked a pair of walks and caught an eight-inning gem from Clayton Richard. (Lopez's elite framing skills at the bottom of the strike zone played no small part.)
"It's funny, she was not a huge baseball fan," Lopez said. "She was my way to get away from baseball when my dad would piss me off or something like that. I'll never forget a couple years ago that she said, 'Don't think you have to keep playing this game. Play because you want to. Play because you love it.'
"She was always the one that let me take a step back from baseball, then at the same time she'd show up to games and we'd hear her screaming in the background."
As fate would have it, Lopez's name wasn't on the lineup card in 2016 or '17 on Mother's Day while he toiled in the Minors. He cherished being able to pull on his pink catchers gear before nearly 30,000 fans at Petco Park.
"I actually got a little teary-eyed when I took the field," Lopez said. "It's just a special day. You see everyone out there, you see the pink, everyone with their moms. It definitely was in the back of my head -- my path the last two years ... including the loss of my mom. It just made it that much more special. My first Mother's Day game since she's been gone is in the Majors."