Padres' roster battles ahead of spring opener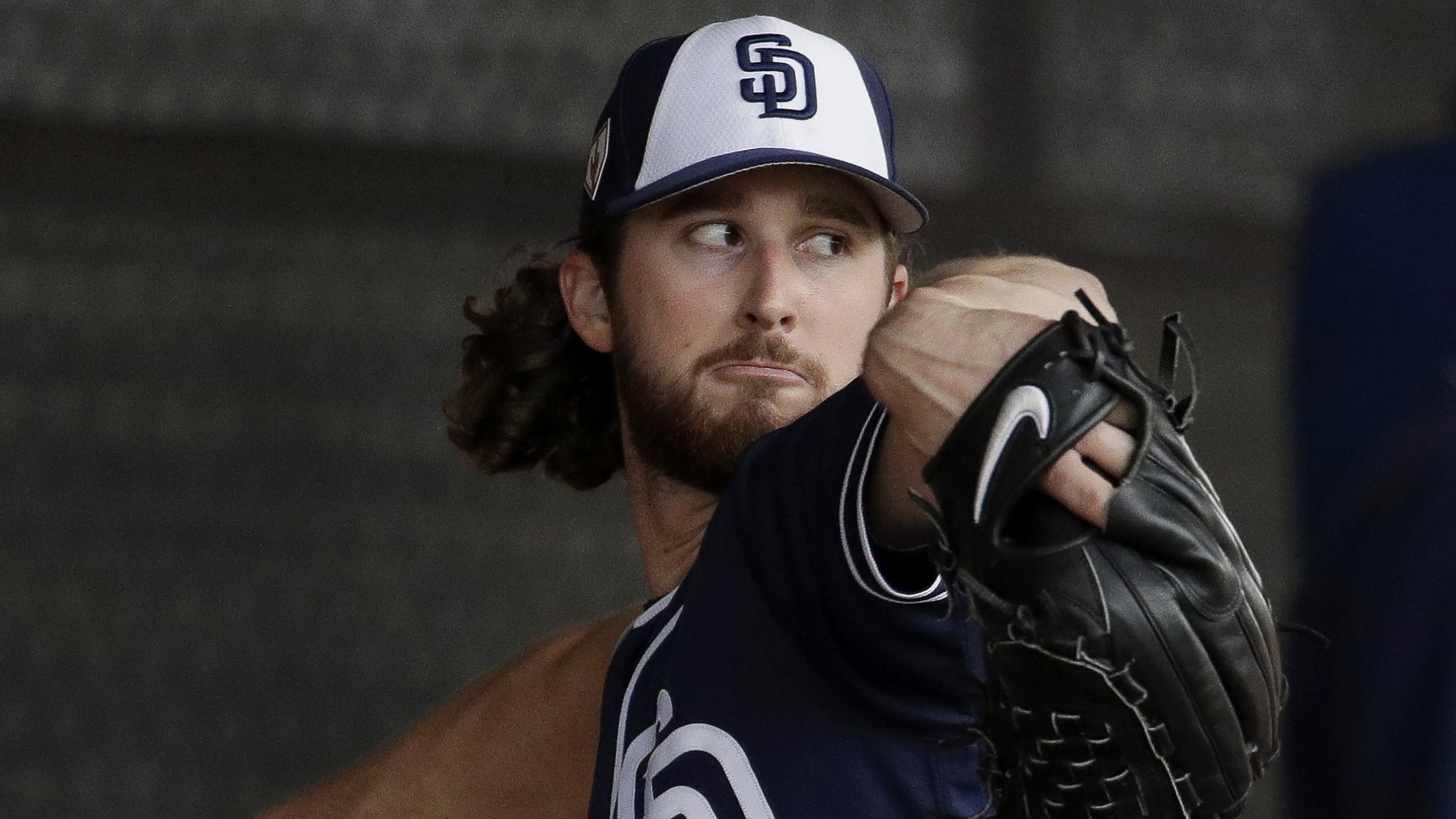 PEORIA, Ariz. -- No, Manny Machado won't be playing when the Padres open their Cactus League slate on Saturday against the Mariners. The star free-agent signing is unlikely to suit up for San Diego in game action until next weekend at the earliest. (He's yet to take part in a
PEORIA, Ariz. -- No, Manny Machado won't be playing when the Padres open their Cactus League slate on Saturday against the Mariners.
The star free-agent signing is unlikely to suit up for San Diego in game action until next weekend at the earliest. (He's yet to take part in a full workout, after all.)
But there are still a few storylines to monitor as Padres baseball returns for its 50th-anniversary season. Here's what to watch for on Saturday, as Bryan Mitchell opposes Seattle's Felix Hernandez at 12:10 p.m. PT at Peoria Sports Complex:
Mitchell begins rotation quest
With a strong finish to the 2018 season, Mitchell won a place in camp this spring. Now, he'll have to win a spot in the Opening Day rotation.
"I know the spot I'm in," said Mitchell, one of about 10 candidates for five starting roles. "Everything's out there for me. I'm just going to pitch my game, not worry about anything else."
Mitchell is out of options, which means it's rotation or bust for him. The 27-year-old right-hander posted a 5.42 ERA in 16 appearances (11 starts) last year, but he finished with a 2.19 mark in four September starts after he returned from an elbow impingement. He credits his two-seam fastball for the improvement, but there's still more to prove. Mitchell's peripheral stats in September -- namely 5.5 strikeouts per nine innings and an average exit velocity above 90 mph -- don't bode well.
Franchy back in action
Franchy Cordero will suit up for the Padres on Saturday, the first time he'll do so since his 2018 season ended in May due to elbow surgery. Cordero is one of six outfielders who got regular starts for the Padres last season. The competition for playing time in the outfield is the most high-profile race on the roster.
"It's going to be a friendly competition, but it's also going to be intense," Cordero said through an interpreter.
Cordero also landed a new teammate in the locker next to his Friday: Machado.
"Never imagined that would happen," Cordero said with a grin.
Catching battle begins
The Padres' catching competiton is a multi-layered one, with four backstops set to compete for either two or three spots on the big league roster. No one has a more volatile place in that competition than Francisco Mejia.
Mejia could open the year as the starter, though that seems unlikely with Austin Hedges coming off a strong 2018 campaign, so he may start the season at Triple-A El Paso. Mejia's spring performance will go a long way toward proving whether he's got a place splitting time with Hedges.
Mejia will start behind the plate Saturday. Chris Stewart and Austin Allen might also play their way into the mix. (And if Allen's bat proves potent enough, it's possible the Friars carry three backstops.)
Infield jobs up for grabs
Even with Machado in the picture, the Padres have infield places available. Machado, Eric Hosmer and Ian Kinsler are roster locks, and Luis Urias is close. But there are probably still two more infield jobs open.
Three contenders will start Saturday. Ty France, the third-base favorite before the Machado signing, will be at the hot corner, Greg Garcia will start at short and Jose Pirela will be at second.
Of the three, Garcia is the best fit for the Opening Day roster. He can play second, short and third, and he's a lefty on-base threat. It's easy to envision a platoon in which Garcia spells the right-handed-hitting duo of Kinsler and Urias on occasion.
Pirela and France, meanwhile, open Cactus League play on the outside looking in. They're going to have to play their way onto the roster this spring.