Ross close to beginning extended rehab
Opening Day starter to resume throwing within week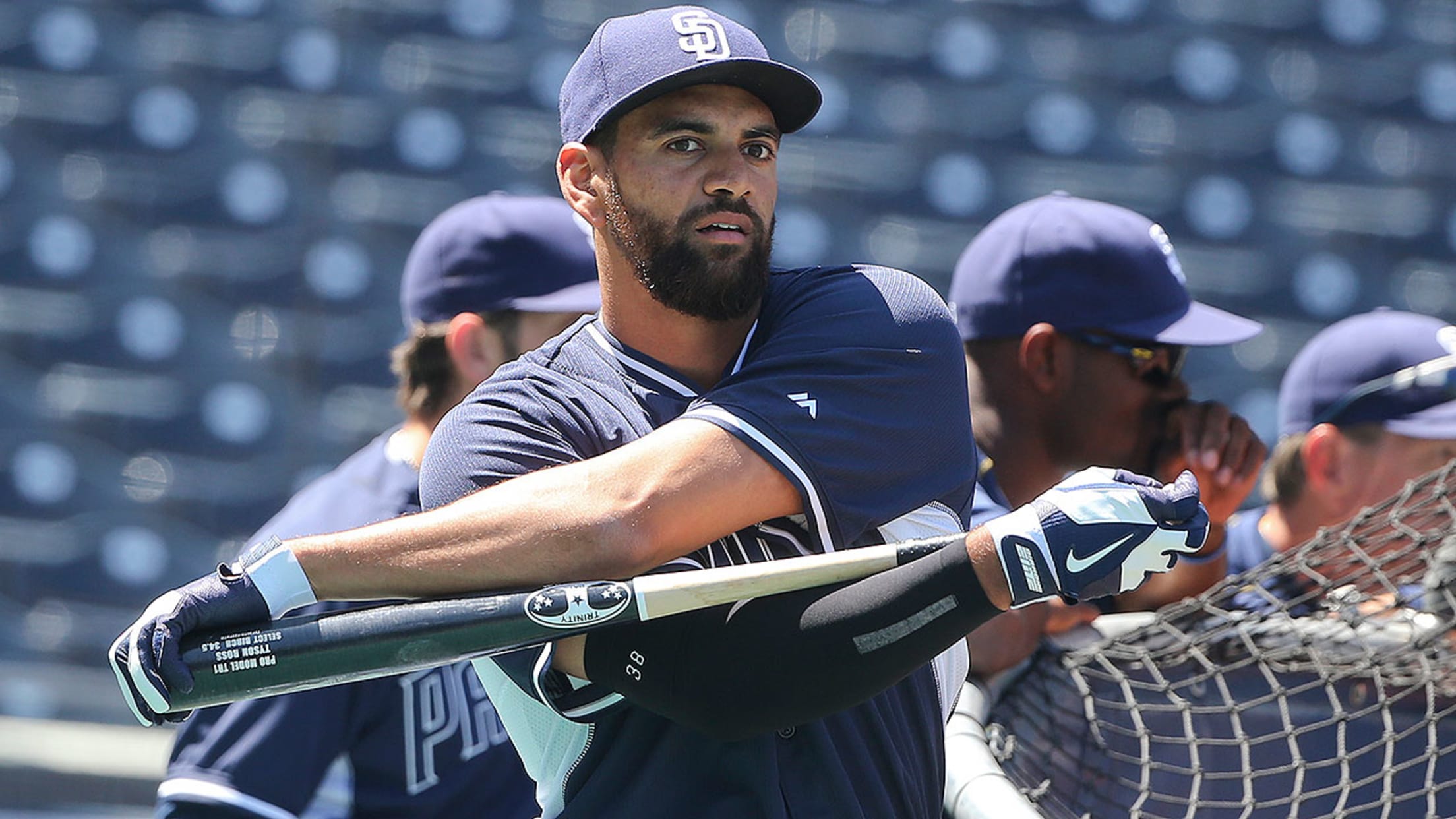 Tyson Ross, 29, hasn't pitched for the Padres since a loss to the Dodgers on Opening Day. (AP)
PHOENIX -- The Padres are hopeful that injured Opening Day starter Tyson Ross could resume throwing within the next week, as he continues to recover from the right-shoulder inflammation that has sidelined him since the first week of April.Manager Andy Green said Friday that Ross is taking part in weighted-ball-throwing
PHOENIX -- The Padres are hopeful that injured Opening Day starter Tyson Ross could resume throwing within the next week, as he continues to recover from the right-shoulder inflammation that has sidelined him since the first week of April.
Manager Andy Green said Friday that Ross is taking part in weighted-ball-throwing drills to strengthen his shoulder. For much of Ross' rehab, Green has been hesitant to use a timeline. But evidently Ross is close to playing catch, and Green said, "I'm very hopeful it's in the next week."
"We're at the point where pretty much everything has been done, and he'll eventually be throwing a baseball," Green said.
For a while now, playing catch has been the next step for Ross, who hasn't thrown since the injury flared up after his first start. For the past month and a half, Ross, 29, has been strengthening his shoulder to reach that point.
Once Ross begins playing catch, he's still a long way from making his return.
"It's going to be an extended rehab process," Green said. "You take this much time with him getting him ready to throw, you're not going to fly through the rehab. You're going to make sure he's stretched out properly, given proper rest and that he feels good before he goes on the mound."
Green hinted this month that a return before the All-Star break is unlikely.
Ross started for the Padres on Opening Day, allowing seven earned runs in 5 1/3 innings against the Dodgers. He owns a 3.16 ERA since joining the Padres in 2013 and was named to the '14 National League All-Star team.
"I don't think any team survives very well without your Opening Day starter," Green said. "From a leadership perspective, he's an incredibly hard worker. He's wired right. He does everything the way you'd like it to be done. So, yeah, it hurts. But other teams endure losses as well."
Myers returns to the lineup
First baseman Wil Myers was in the starting lineup after sitting for the final two games of the Padres' series in San Francisco because of lingering forearm tightness.
Myers got a pinch-hit appearance in the 10th inning of Wednesday's game and said he probably could've started if necessary. But with Thursday's off-day, the Padres thought it prudent to give Myers extra rest.
"Obviously it was tough that you can't play, but for the long term, for the rest of the season, it was the right move," Myers said. "Me and Andy agreed that this is something that's good for me for the rest of the year, so that's what we went with."
On May 15 in Milwaukee, a nagging forearm also held Myers out of the lineup.
Thornton rejoins club, not activated
Lefty reliever Matt Thornton joined the Padres in Arizona -- where he lives -- and could be activated as early as Saturday. Thornton made the Opening Day roster, but didn't appear in a game before going down with left Achilles tendinitis.
He made three rehab appearances for Class A Advanced Lake Elsinore, allowing two earned runs over three innings. More importantly, Thornton was tested defensively, fielding bunts and ground balls -- and felt no lingering effects of the injury.
Said Thornton: "It was good that I could prove that I could go field the bunt. It was kind of a do-or-die play. Planted on my leg of the bad Achilles -- it's not bad any more. ... Everything's progressed the way we wanted it to."
Regarding the bunt attempts, Green joked of his 39-year-old reliever, "Everybody's picking on the old man."