Padres want Myers focused on 1 position for '19
After bouncing around diamond, veteran outfielder will play left field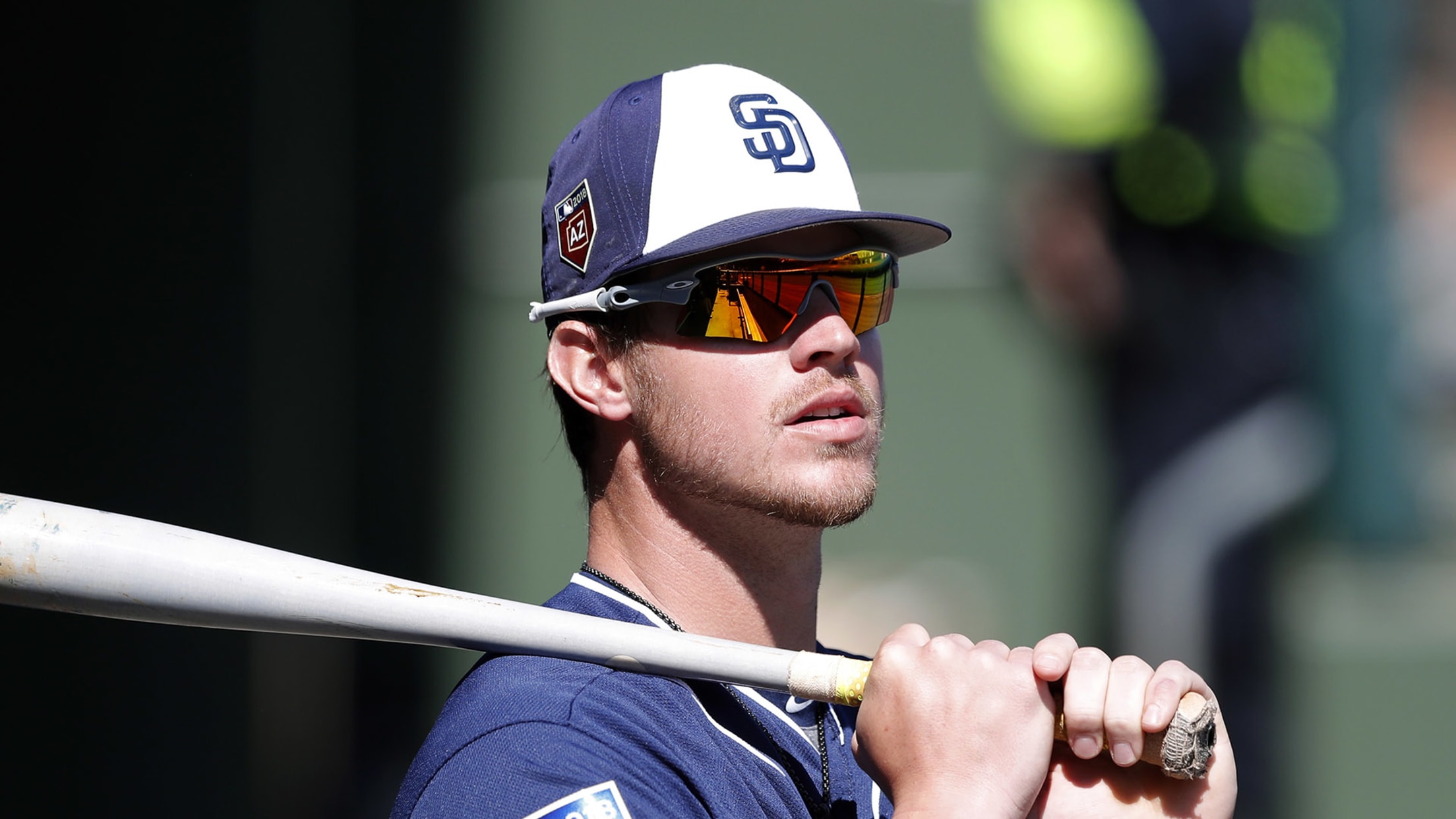 San Diego Padres' Wil Myers stands in the dugout before a spring training baseball game against the Texas Rangers, Thursday, March 1, 2018, in Surprise, Ariz. (AP Photo/Charlie Neibergall) (Charlie Neibergall/AP)
PEORIA, Ariz. -- Wil Myers reported to camp as a left fielder over the weekend. This year, the Padres fully intend to keep him there.:: Spring Training coverage presented by Camping World ::Positionally, it's been an eventful few years for Myers in San Diego, where -- over a four-season span
PEORIA, Ariz. -- Wil Myers reported to camp as a left fielder over the weekend. This year, the Padres fully intend to keep him there.
:: Spring Training coverage presented by Camping World ::
Positionally, it's been an eventful few years for Myers in San Diego, where -- over a four-season span -- he's been a starter in center field, then first base. Then right field, then left field, then third.
Two months ago, the Padres finally decided to settle things for Myers, moving him permanently to left, where he was rated very highly by most defensive metrics early last season.
"I learned a lot of things about left field, and I learned what it was like to play outfield at a high level," Myers said. "I'm excited to take that into this year and continue on that."
The move was a sensible one, given Myers' struggles at third base. But it creates quite the logjam in the outfield corners. Hunter Renfroe and Franmil Reyes -- also righty power threats -- are coming off scorching second halves in 2018.
Myers, on the other hand, never found his groove. He missed time in April with a nerve issue in his right arm. Then, he missed all of May with an oblique strain. Myers missed a couple weeks in early August with a foot contusion.
Last spring, Myers bulked up before camp, leading some to speculate whether those injuries were tied to his added weight and muscle. There's no clear evidence that they were, but Myers took a different approach this offseason. He focused on running and agility work, and he's 10-15 pounds lighter than he was at this point last year.
• Padres Spring Training tickets | Schedule | Buy gear
"Last year was a year of injuries, and there were a lot of things that were out of my control," Myers said. "This year, I didn't come in as big. I worked on some things that would put me in the best shape for Spring Training. ... I feel good, and I feel healthy."
Myers posted a .253/.318/.446 slash line over 83 games last season -- solid numbers, but not close to his All-Star form from 2016, when he hit 28 homers and tallied as many stolen bases.
"With the stops and starts, there was never a time where he found consistent rhythm on the baseball field," Padres manager Andy Green said. "He started to find his groove and got hurt. Then he came back, and like a lot of guys who come back off injuries, it's some fits and starts.
"He ran through stretches where he did swing the bat well. I don't think the year was what he'd hoped for, but sometimes injuries do that."
Myers brought an infield glove to camp, but he said not to read into that, adding that it's only "for emergencies."
Of course, there's another possibility in which Myers doesn't play left field for the Padres this season. He's been the subject of trade speculation for most of the offseason, given the current outfield logjam.
As things stand, the Padres seem content to let their corner outfielders battle for playing time. But with an A.J. Preller-led front office, trades tend to materialize quickly. Myers knows that, and he's not letting it bother him.
"I know there are trade rumors out there for everybody," Myers said. "Nobody's untradeable. I knew that going into [the offseason]. When you hear those things, you just block it out."