Myers out of lineup after tweaking forearm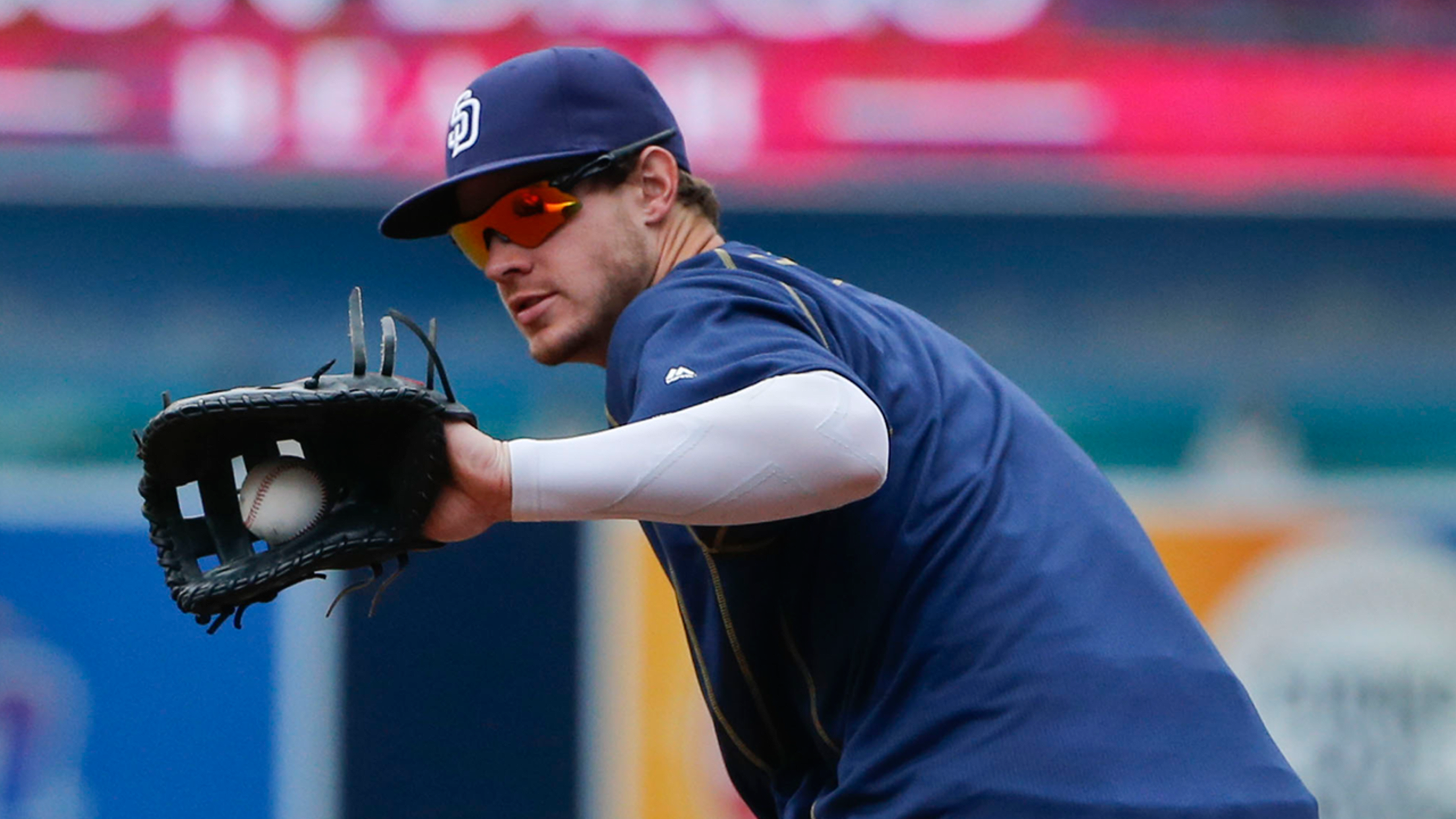 Wil Myers has played in 45 of the Padres' 46 games this season, including 43 starts. (AP)
SAN FRANCISCO -- Wil Myers felt something in his left forearm when he picked a throw in the dirt at first base Monday night. A day later, he was out of the starting lineup for the Padres' 8-2 loss -- and it looks like he'll miss Wednesday's start as well. The Padres
SAN FRANCISCO -- Wil Myers felt something in his left forearm when he picked a throw in the dirt at first base Monday night. A day later, he was out of the starting lineup for the Padres' 8-2 loss -- and it looks like he'll miss Wednesday's start as well.
The Padres had planned on giving Myers time off -- he's played 45 of 46 games this season, while starting in 43. But it also isn't a coincidence that the off-days come Tuesday and Wednesday in San Francisco after his forearm acted up for the second time in nine days.
The only prior game Myers had missed this season came May 15 in Milwaukee, when he dealt with a similar injury -- tightness in the under-side of his forearm.
"We're aware of what he's going through from a health perspective," said Padres manager Green. "That doesn't mean he's not available or can't be used. I think if you're sitting around a time where you have an off-day coming up [Thursday], and you're trying to figure out how well you rest somebody to make sure they come back and they don't have any residual effect of something they felt in Milwaukee.
"So he's very much available, but we are cognizant of what he's going through."
If the injury is indeed what's holding Myers out of the lineup, it doesn't appear serious. Myers said he felt brief tightness when he picked Alexei Ramirez's throw in the dirt after a Buster Posey chopper in the bottom of the fourth inning.
"On the pick, [I felt it] just a little bit," Myers said. "It was just right through here, right through the forearm. A little bit of tightness there, that's about it."
Myers added "everything's fine now" and that he tested it pregame. Myers is hitting .262/.290/.432 this season with seven homers.
Quackenbush optioned
To make room for starter Andrew Cashner on the roster before his start Tuesday, the Padres optioned right-handed reliever Kevin Quackenbush to Triple-A El Paso. Quackenbush has pitched in a team-high 24 games this season and has posted a 4.64 ERA with a 1.22 WHIP.
Green said the Padres will be looking for better fastball command from Quackenbush at Triple-A, adding that he expects to see Quackenbush back with the big league club down the road.
"We don't have a date set where he returns," Green said. "It'll be predicated on our needs and his performance. We do expect him to be back with us though."
Thornton's return appears imminent
Matt Thornton made what could very well be his final rehab appearance with Class A Advanced Lake Elsinore on Tuesday night, as he recovers from tendinitis in his left Achilles. He tossed a perfect seventh inning, getting a strikeout and a pair of ground balls.
If all goes according to plan, Green said the left-hander could return to the Padres during this weekend's series in Arizona -- though the club isn't certain whether Thornton will need one further appearance with Lake Elsinore.